Hillary Clinton's Top Twitter Fan
And what the campaign thinks of him.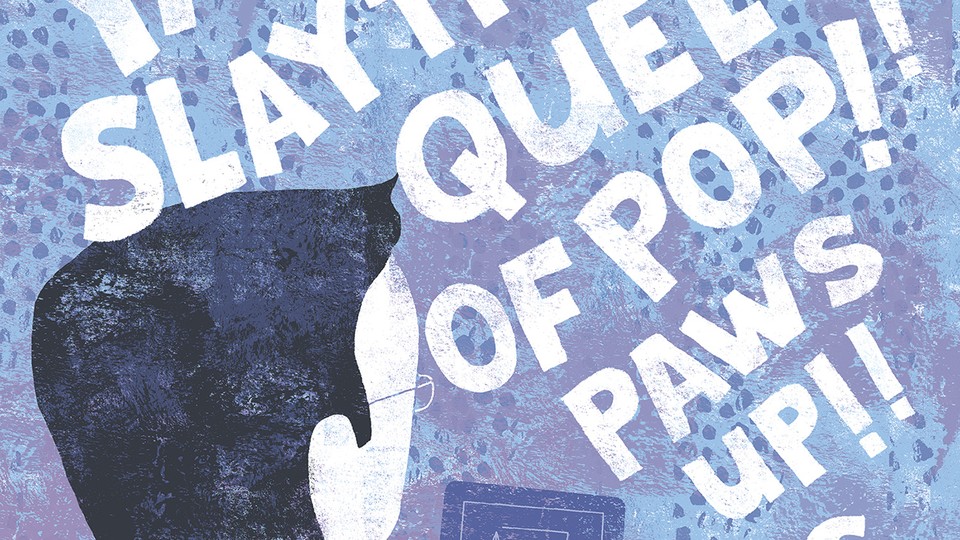 Every time Hillary Clinton tweets, a maelstrom of replies greets her across the Twitterverse. Some commenters answer excitedly with "Hillary for president!" or "you go girl!" Many implore her to visit their states or to follow them back on Twitter. And there's no shortage of vitriol, of course: People call her a liar; they insist she's corrupt; they dismiss her as part of the 1 percent. There are tweets about Benghazi; others ask what she's hiding in her deleted emails; still more bring up foreign donations to the Clinton Foundation.
But the first response to many of Clinton's tweets, her campaign has noticed with amusement, comes from a user with more than 3,600 followers who goes by the Twitter handle "Monique's Mother." The reply to a tweet about Clinton holding "fireside chats" in Mason City, Iowa? "YESSS! SLAY THAT FIRESIDE, QUEEN OF POP!" To one welcoming two new staffers to the Clinton team, Monique's Mother had this to say: "YASSSS QUEENS! Like a Destiny's Child reunion! Queen of pop!" A photo of the Hillary "H" logo a campaign volunteer made out of berries garnered this response: "SLAY US WITH THOSE BERRIES!!! YASSSSS! QUEEN OF POP."
(James O'Brien)
"I can only hope he replies to @Beyonce with PRESIDENT! and a praise hands emoji," says Ian Sams, a Clinton spokesman. "It's only fair."
The mind behind "Monique's Mother" (a reference to the movie The First Wives Club) is Nick Walsh, a 30-year-old social-media manager at an entertainment marketing firm in Los Angeles. His other pastimes include selling mounted Beanie Baby heads and clocks made of old Hardy Boys hardcovers on Etsy. When I talk to him over FaceTime, the New Jersey native tells me that his online pop-star treatment of Clinton is an ironic hobby—something he does because he "likes the absurdity" of treating Clinton the way many online fans treat mega-stars such as Beyoncé or Taylor Swift. He's also a real-life fan of Clinton's, he tells me, and has been since before her 2008 campaign. It's less about the specifics of her record than about what he calls "the female aspect": "I would love to have a female president," he says. "I think that's awesome."
The impetus for Walsh's Twitter campaign was finding out that Clinton, in her own way, really did have something in common with those pop stars: She won a Grammy in 1997 for the audio version of her book It Takes a Village. Walsh tweeted about the Grammy in early May, complete with a photo of Clinton accepting the award, and said he was surprised by the positive response he got.
(RELATED: What Young Feminists Think of Hillary Clinton)
Since then, Walsh has gone all in on his new hobby, and, despite his distaste for politics more generally, Clinton is now a regular part of his day. He has his phone set to get notifications each time she tweets, and, between the hours of 8 a.m. and 10 p.m. Pacific time, he'll try to reply. He does it when he wakes up in the morning, when he's sitting in a meeting at work, when he's going about his day. (When he's busy, he keeps it to a quick, standard "QUEEN OF POP"; if he has more time on his hands, he'll get more creative, and perhaps even dip into the stock of Clinton photos and gifs he has amassed.) His primary motive seems to be getting noticed—by Clinton's Twitter haters, by her campaign, and by others on the social-media site. "I want them to look forward to my tweets," he says of Clinton's team. "I want them to be like, 'The "Queen of Pop" guy is tweeting again.'"Š" When I ask how long he'll keep it up, he replies: "Until I win a meet and greet with her."
When I ask how long he'll keep it up, he replies: "Until I win a meet and greet with her."
Walsh is hardly the first to find Clinton a figure ripe for ironic idolization (and Internet fun). Most famously, in 2012, the Tumblr blog Texts From Hillary used a now-iconic photo of Clinton wearing sunglasses while gazing down at her Blackberry to create a character who gives stone-cold replies to various celebrities and politicians. And that Hillary—rather than the one in the headband—left an imprint on a new generation of American voters. "Texts From Hillary was a turning point in that it kind of gave people a different way of looking at her," says Laura Olin, who ran social-media strategy for President Obama's 2012 campaign and now works with other Obama alums at the firm Precision Strategies.
That image is one Clinton has been eager to embrace. When she joined Twitter back in 2013, she made the Texts From Hillary photo her avatar. And since she declared her presidential candidacy in April, her campaign has sometimes struck a playfully self-referential tone that's a notable departure from the tenor of 2008: In announcing its online store last week, for example, Clinton's campaign included what it called an "Everyday Pantsuit Tee"—an allusion to Clinton's oft-mocked signature style.
(RELATED: The Rise of Hillary Clinton)
Indeed, you could argue that Walsh's stunt works precisely because it contains a bit of truth: To some extent, the idea of Hillary Clinton—like the idea of, say, Oprah Winfrey—has taken on a life of its own. The Clintons have been in the public eye for so long that, beyond being a person and a politician, "Hillary Clinton" is also a persona, a character with cultural meaning. Or, as Walsh puts it, the Clintons "are almost like America's royal family—aside from the Kardashians."