Hillary Clinton Cannot Afford to Lose Black Voters
Turnout will drop compared to Obama's two elections, but she's about to roll out a policy platform aimed directly at African-American voters.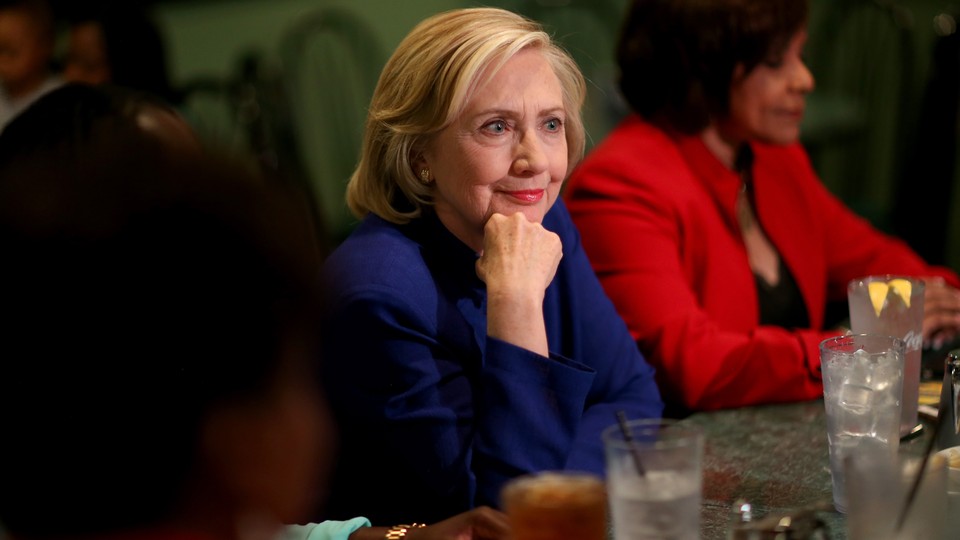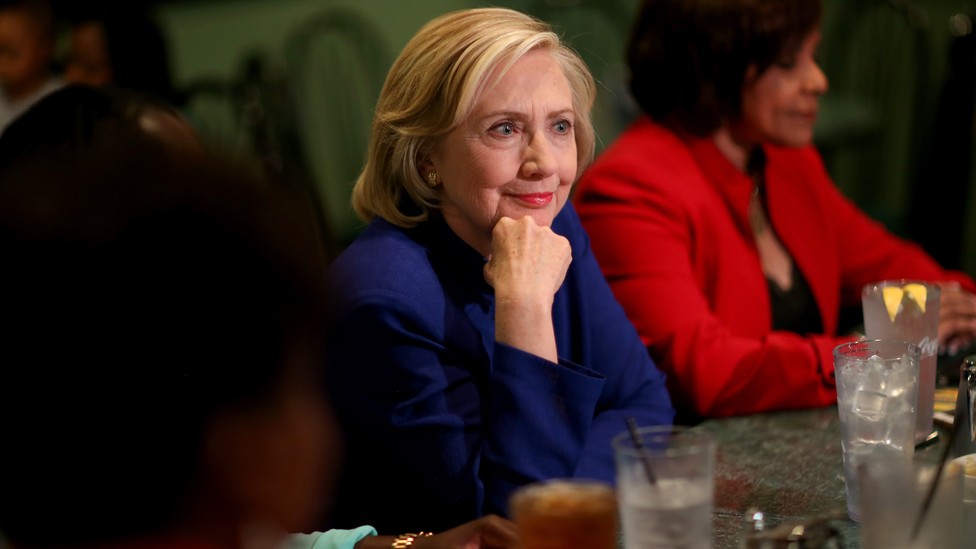 Barack Obama didn't need to do much—almost anything—to win record turnout from African-American voters. Hillary Clinton will need to pull out all the stops to score just a fraction of that support.
An exaggeration? Black political leaders don't think so.
"Make no mistake, there will be some drop-off," said Rep. Emanuel Cleaver of Missouri, a former chairman of the Congressional Black Caucus, whose comments echoed those of other influential African-American Democrats.
Indeed, black leaders concede it will be nearly impossible for Clinton to replicate the level of turnout Obama's candidacy generated among this core demographic—a group of voters central to the national coalition necessary for a Democrat to win the White House. So she'll need to coax them to the polls by honing specific messages about policies relevant to the black community, something her team says she's preparing to unveil.
(RELATED: What Young Femenists Think of Hillary Clinton)
On Thursday, Clinton will call for expanded early voting in every state, including weekend and evening hours over many days before Election Day—positions supported by Democrats who say working-class voters need greater access to the polls.
And she'll specifically criticize laws in North Carolina, Texas, and Wisconsin that, she argues, reduced rather than expanded access to the polls.
These are significant targets for Clinton. Democrats have their eyes on changing demographics in counties in North Carolina, Texas, and elsewhere that might begin to shift those states away from Republicans, perhaps as soon as 2016.
Black voters, specifically, are growing as a share of the electorate in many states. But while pollsters think Clinton will win them by similar margins to Obama—95 percent of African-Americans voted for the president in 2012—her team should not underestimate the challenge she will have motivating African-Americans to show up when the first black president isn't at the top of the ticket.
(RELATED: Hillary Clinton Is Alone at the Top of Democratic 2016 Hill Endorsements)
In 2012, the U.S Census Bureau estimated that just more than 66 percent of eligible black voters showed up at the polls—the highest turnout ever for this demographic group, higher even than turnout among whites. Indeed, Obama's support among black voters "went off the charts," said Brookings demographer William Frey—enough so that minority turnout, especially black turnout, was a deciding factor in the president winning a second term.
And in states like Virginia, North Carolina, and Florida, a difference in turnout of even a few percentage points could have big repercussions, Frey added.
"You could call it the excitement factor," he said. "At least in these states "¦ where blacks are a huge part of the minority population, she's going to need that."
In other words, unlike Obama, Clinton will really have to work for high black turnout.
"I can't in all honesty say that she will receive the same level of support as an African-American president," said Rep. Marcia Fudge of Ohio, "but clearly I do believe that if her message is strong she can get close."
(RELATED: The Rise of Hillary Clinton)
Late last week, Clinton appointed LaDavia Drane, the former executive director of the CBC, as her African-American-outreach director. Drane joins a staff at Clinton's Brooklyn headquarters with several other high-profile African Americans among its ranks, including Marlon Marshall, the director of state campaigns; Maya Harris, a top policy adviser; and Karen Finney, a senior spokeswoman.
Harris, sister of California Democratic Senate candidate Kamala Harris and formerly of the Center for American Progress, has done research specifically on encouraging greater turnout of minority women, and she argued that they are a reliable voting bloc when they're given strong policy reasons to vote. That's true of black voters overall, she noted, and is part of the campaign's calculus.
"One thing we know is that issues matter—that at the end of the day, whether [African-American] voters are going to turn out is going to depend on whether they have been motivated to turn out," Harris told National Journal. "Secretary Clinton is well-situated to do that, both in terms of what she has already demonstrated in her life's work and in the issues she's talking about."
That motivation will come partly from policy proposals and partly from focusing on parts of Clinton's biography, the campaign says. Speaking in South Carolina last week, she put deliberate focus on her early career experiences at the Children's Defense Fund and her work for women and children. The campaign is also talking about specific policy positions that are relevant to the black community—health care, a minimum-wage increase, substance-abuse issues, and perhaps most noticeably, criminal-justice reform, which Clinton addressed in a speech at Columbia back in April. Clinton aides are quick to note that it was her first policy speech as a candidate—and with its proposals to provide body cameras for police officers nationwide and end the "era of mass incarceration," it was a direct response to unrest over police activity in Baltimore and other cities.
(RELATED: Hillary Clinton's Quiet Self-Sabotage)
"Her speech in New York was amazing," said Bakari Sellers, a former South Carolina state legislator who backed Obama in 2008 but is now supporting Clinton. "It's a serious plank in terms of African-American outreach, it's one that can be developed, it's one that can help galvanize not just your typical participants "¦ but also a new generation of voices."
The other key piece of necessary strategy is the ground game. Cleaver said African-American leaders are welcoming signs from Clinton that her team will build a robust turnout operation in urban areas, which is something Obama—whose candidacy was naturally a source of excitement to many black voters—didn't need to do. Clinton's 2016 team, with campaign manager Robby Mook at the helm, is placing heavy emphasis on grassroots strategy; it has sizable field teams in the four early states.
"The president did not have to do a lot in the urban core, and didn't—he used his resources elsewhere," Cleaver said. "So I think you're going to find elected officials celebrating the fact that there's a great deal of attention being paid to the ground game."
That starts in South Carolina, the only one of the four early states with a large African-American population. Clinton's campaign has hired a team of staffers and field organizers—including state director Clay Middleton and state political director Jalisa Washington, both of whom are African Americans with strong ties to the state's politics. A half-dozen field organizers are already in place in the state, focusing on traditionally African-American neighborhoods and gathering places as they start to introduce themselves and the campaign to the state's voters.
"We are going to where the voters are. So we are in faith-based communities, we are at churches, we are at several social-justice organizations," Middleton said. "We have field organizers that look like the community and understand the community and can relate to those individuals."