Here's House Republicans' Plan To Fight California's Drought
Can Congress find common ground to help the West this time?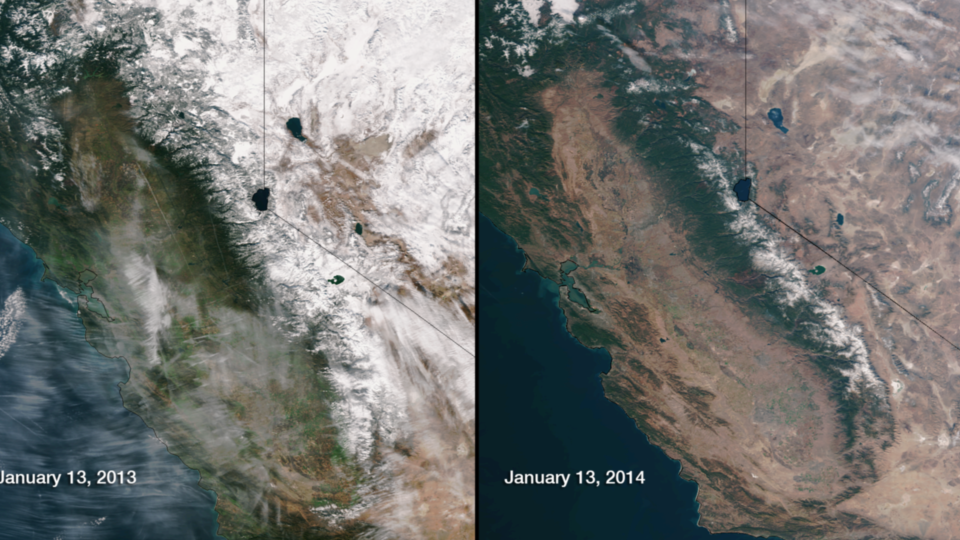 House Majority Leader Kevin McCarthy has called the years-long drought plaguing his home state of California a matter of life and death. And now he's got a plan that he thinks can fix it.
The California Republican delegation, along with other key Western lawmakers, today introduced a bill that would loosen environmental restrictions on water being pumped to farms and cities in the drought-ridden Central Valley. The bill, officially introduced by David Valadao, also would free up major water storage projects in the west, offering more flexibility for the construction of dams and reservoirs.
Sponsors are touting the bill as the best shot for Congress to address the drought that's forced California to impose mandatory water restrictions. But it remains to be seen whether it can get support from Democrats, environmentalists, and the fishing industry, who have fought back other GOP bills that they say would overstep the Endangered Species Act while only delivering a short-term fix to the water crisis.
Of the 22 original cosponsors of the bill, only one—California Rep. Jim Costa—is a Democrat.
The bill would sidestep a Fish and Wildlife Service order that restricted the amount of water pumped to farms and cities, instead letting it flow to sea in order to protect the Delta smelt, a threatened fish species. The bill would reopen those spigots and allow water to flow from the Sacramento-San Joaquin Delta to the agriculture-rich Central Valley until regulators can prove that the smelt and other species, such as the salmonid (a family of fish including various types of salmon), are being harmed by the pumping. Should they find the fish are being harmed, regulators would then have to undertake a study of viable alternatives before against imposing the limit. It also requires federal regulators to consider different surveys and monitoring techniques in evaluating the fish population.
The Western Water and American Food Security Act also would set deadlines for federal regulators to open up several water storage projects in the west.
Overall, sponsors say, the bill gets water flowing without imposing new restrictions on the already-parched state and without overstepping the Endangered Species Act. California is in the fourth year of a devastating mega-drought, while states such as Washington, Arizona, and Nevada also are plagued by water shortages, which has made politicians lean on a regionwide bill to address the problem.
Republicans have long accused the government of protecting fish over people, saying the environmental restrictions are flushing away water that should be given to farmers and California residents.
But Democrats say that's a shortsighted view, pointing out that record-low rainfall and snowpack has caused the crisis. They've called for more money for emergency drought relief projects, freeing up water movement around the west, increasing water conservation, and, of course, battling back Republican attempts to undo regulations that would fight climate change, which has been tied to more frequent droughts in the region.
Previous Republican-backed drought bills have cleared the House with little or no Democratic support, only to die in the Senate, where Democrats have said the language undoes environmental regulations. California Democrat Barbara Boxer has been accused of killing the House bills, although there has been widespread opposition from the left (even California Gov. Jerry Brown has objected to previous versions of the drought legislation).
In a statement, California Democratic Sen. Dianne Feinstein said the House bill "includes some useful provisions to increase the flexibility of water delivery, as well as some provisions that would violate environmental law, which I've said many times I cannot support."
"I continue to believe we need a comprehensive approach with both short- and long-term solutions to include increased flexibility as well as desalination, water storage, and water recycling," Feinstein said. "This is an incredibly complex issue, and I will continue to work with all sides to come up with workable solutions."
A GOP aide said that the bill had been drafted in concert with Feinstein's office and that Republicans are confident a version of their bill could gain support from at least six Democrats necessary to get 60 votes in the upper chamber. Any differences, the aide said, could be smoothed out in conference.
Senate Energy and Natural Resources Committee chairman Lisa Murkowski has said she'd like to move a drought bill this summer that covers the entire West.
The state, meanwhile, has imposed a mandatory 25 percent water restriction this spring, although it exempts environmental and agricultural uses.