GOP's Obamacare Bills Won't Touch Hill Health Insurance
Republicans don't seem eager to use post-King v. Burwell legislation to take on the employer contribution that most lawmakers and aides receive.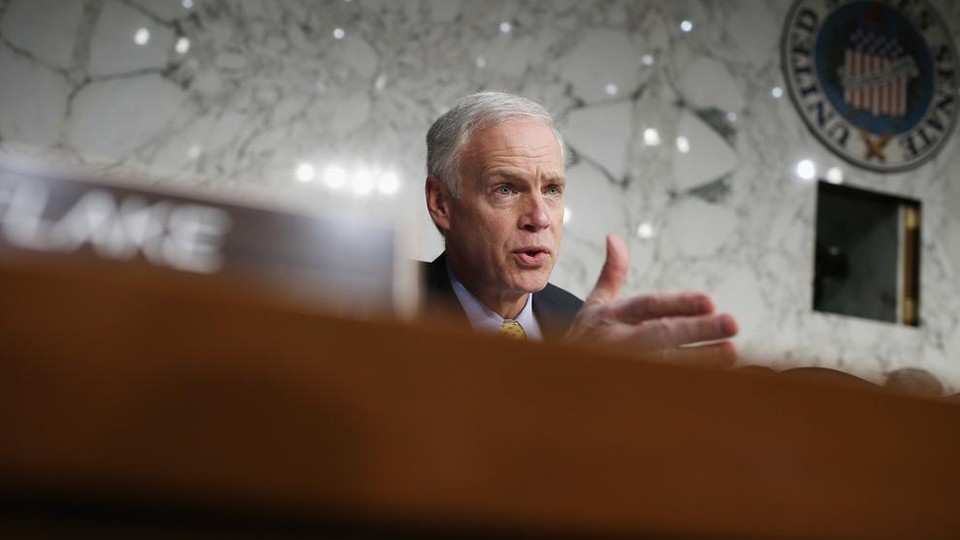 Millions of Americans are wondering whether they'll lose their health insurance subsidies, anxiously awaiting a Supreme Court ruling on the King v. Burwell case. But there's a smaller group that doesn't need to worry—members of Congress and their staff.
Lawmakers and many of their aides get their health insurance on the District of Columbia's small business exchange, and King isn't questioning the part of the law governing that exchange. More importantly, despite some Hill critics of the congressional insurance setup, there doesn't appear to be an appetite among most Republicans to throw this topic into proposed bills to address the King ruling after it happens.
Under GOP Sen. Ron Johnson's bill, Americans could keep their health care plan and subsidy well into 2017, further setting the stage for a feud over health-care policy in the 2016 election. And his bill—which also eliminates the individual and employer mandates—has a powerful cosponsor: Senate Majority Leader Mitch McConnell.
But the bill doesn't address health care for members of Congress nor for their staff, even though Johnson has been outspoken on that subject.
"I'm trying to keep it as simple as possible," Johnson, whose bill has 31 GOP cosponsors, told National Journal, "and in many respects, as uncontroversial as possible—trying to address what would be a real chaotic situation, some real turmoil, really concern real people that are on the exchanges, are getting the subsidies and getting the American people involved in the 2016 election."
Johnson has argued against Congress being considered a small business—thus receiving an employer contribution to staffers' health care—and even brought the issue to court in a case that was dismissed.
This controversy exists because, in the heat of the ACA debate, a Republican idea was added that requires Congress members and staff to switch from the Federal Employees Health Benefits program to an exchange. Sen. Chuck Grassley was among those who pushed for this, but he told National Journal in March that he intended for all office staff to be put on the exchange, whereas the law limits it to "official office" staff (he blames the Democrats for this). Senate Republicans passed a nonbinding party rule in December that said all staff—including committee, leadership, and personal office—should be put on the exchange.
The law didn't specify which exchange. The Office of Personnel Management ruled that members and staff wanting health insurance through their employer would opt into D.C.'s small business exchange. This means they are eligible to receive an employer contribution to their health coverage—and Sen. David Vitter has taken up a crusade against this fact, which he calls "Washington's Obamacare Exemption."
There are several reasons why this likely won't change anytime soon (unless the Affordable Care Act is repealed altogether).
King addresses those states who hopped onto the federal exchange, and D.C.—which the ACA considers a state—created its own. The case questions whether or not subsidies can be doled out for those enrolled in coverage through Healthcare.gov, whereas members and staff are on D.C.'s exchange.
Members and "official office" staff are on the small business exchange, where recipients don't receive subsidies; rather, their employer pays a contribution toward their health insurance. Additionally, the part of the ACA dealing with members of Congress and their staff is a short requirement in the law—one that the Supreme Court isn't scrutinizing.
Thus, for members and staffers, "it shouldn't have any direct effect," said Timothy Jost, a Washington and Lee University law professor.
As they craft bills to reform or scale back the Affordable Care Act, Republicans could have used those vehicles to change or clarify the way Congress gets its own insurance. But they're not.
Three House chairmen—Reps. Paul Ryan, Fred Upton, and John Kline—are hammering out a reaction to King if it swings the GOP's way. They haven't talked about congressional health care because they're looking at "a larger picture of how the exchanges would work," Kline told National Journal.
"We haven't talked about that because we're looking for a bridge to take us from the King v. Burwell decision until sometime after we get a new administration in 2017," Kline said, "so that kind of detail we haven't put in there yet."
The same goes for another at-the-moment, vague plan in the Senate from Sens. Lamar Alexander, John Barrasso, and Orrin Hatch. "We're focusing on a response to the Supreme Court, and we don't know how they're going to rule yet," Barrasso told National Journal. "The focus is specifically with the King case."
Sen. Bill Cassidy's bill—which McConnell also cosponsored—was released last week, and the Louisiana Republican operated under a similar mind-set. "We deliberatively avoid those other issues because this is a King response," he told National Journal. "There's a heck of a lot I would like to do with Obamacare in general, but that's not what the Supreme Court is addressing, and so we are addressing that which the Supreme Court addresses."
Some additional King replacement bills—such as one by Rep. Tom Price and another by Sen. Ben Sasse—don't mention congressional health care in their text.
While there are several King plans floating around both chambers—with no decisions on what to do—that doesn't mean Republicans haven't crafted ideas for their dream scenario: the elimination of Obamacare. Price has one such bill, and so does the Republican Study Committee.
So, under Price's plan, what would happen to congressional health care if the ACA is repealed? His bill doesn't say.
"It's silent on it," the Georgia Republican said, "so it leaves it up to the employer just like it would for every other individual in the country."