GOP Imperils Obama Legacy Via National-Service Cuts
Will Obama haplessly watch another priority fall victim to the political culture he vowed to change?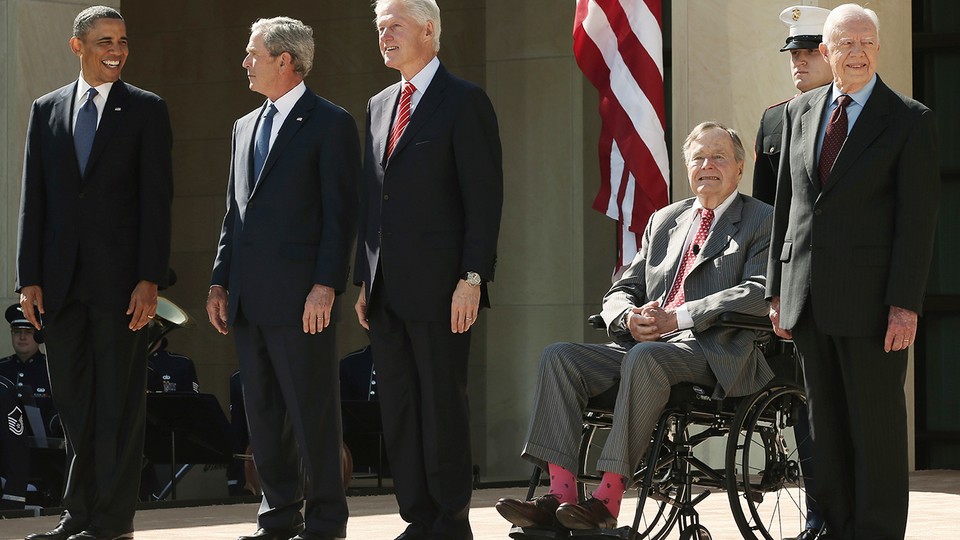 A national-service program seeded by President George H.W. Bush, launched by President Bill Clinton, and expanded by President George W. Bush faces drastic cuts under President Obama, posing a new threat to his legacy.
Republicans in Congress are taking an ax to the budgets of the AmeriCorps family of programs, and Obama seems unable or unwilling to protect them. More broadly, the culprit is a culture in Washington that abhors compromise—a Republican Party that won't raise taxes and a Democratic Party that won't tame entitlement spending to jointly lower national debt while protecting vital public projects.
In short: The problem is short-sighted, cowardly leadership.
Caught in the middle is a bipartisan success called the Corporation for National and Community Service, which oversees AmeriCorps and scores of other programs that pay national-service workers small stipends. Those programs include Teach for America, Habitat for Humanity, City Year, and Vista. (Disclosure: My elder daughter was a member of the City Year corps in Detroit, and I received an award from the service community in 2014 for writing about this topic.)
Each program competes for federal money, measures and reports results, and raises private-sector contributions to match government grants. In addition to receiving stipends that help pay tuition and make ends meet, the mostly young workforce learns the value of serving others for a greater good.
It's a bargain for taxpayers: For every federal dollar invested, national-service members deliver as much as $3 in services. In the brutal new economy, nonprofit organizations are struggling to meet people's needs, and the Corporation for National and Community Service fills the gaps, winning praise from Republican lawmakers, including those now poised to gut the program. GOP national security experts and retired military leaders consider the federal spending a small investment in furthering a national ethos of service.
Among the program's successes: improving academic performances in the nation's poorest schools and helping veterans with the transition from war to peacetime.
And yet, a GOP-led House Appropriations subcommittee is proposing to slash the service corporation's budget by one-third, from $1.05 billion to $687.8 million. That is 42 percent less than Obama requested, and would force the elimination of more than 40,000 of AmeriCorps' 75,000 positions.
That's draconian. During his first presidential race, Obama pledged to "expand and fund AmeriCorps" from 75,000 to 250,000 positions, putting service-minded millennials to work on the nation's toughest problems. Under Bush, the program had grown from 50,000 slots.
After just three months in office, Obama signed the Edward M. Kennedy Serve America Act authorizing the expansion of the program to the goal of 250,000. He had kept his promise, Obama bragged, and he declared 2009 the dawn of a "new era of service."
But the dawn never broke. Congress never funded the quarter-million hires, not even when Democrats controlled both chambers from 2009 to 2010. Enrollment never crept above 80,000.
Of all his broken promises, this might hit closest to home for Obama, a former community organizer with a special affinity for AmeriCorps. As I've written before, it also reflects a familiar pattern of his presidency: Raise hopes for big change, watch dogged rivals crush those hopes, and hear Democrats gripe about his strategy or resolve.
When I asked AnnMaura Connolly on Thursday morning what the White House was doing to counter the GOP cuts, the president of Voices for National Service said with more than a hint of frustration: "That would be a good question to ask them. I have been emailing the White House with abandon today with no luck so far."
I also emailed a White House spokesman. No reply yet.
Easier to reach was the subcommittee chairman, Rep. Tom Cole, an Oklahoma Republican. (Disclosure: my youngest daughter interned for Cole last summer.) He called the proposed cuts a matter of "priorities, not antipathy."
In the same bill, the GOP-controlled panel is proposing budget increases for the National Institutes of Health, the Centers for Disease Control, and education services for special-needs children. In many cases, Cole said, those programs—long favorites of the Democratic Party—would get more money than Obama put in his own budget.
Cole's counterparts in the Senate are also expected to slash AmeriCorps budgets, though not quite as much. Negotiations with the White House will likely lead to changes in the bills, Cole said, but he held out little hope for AmeriCorps supporters. "If I had more money," he said, "I'd put it into early childhood education," another progressive cause.
Some conservatives have been critical of AmeriCorps, associating it with Clinton and questioning the merits of even a modest stipend. Cole said those perceptions are "a factor, not a big factor" in the proposed cuts.
He said lawmakers are hamstrung by a tight budget, and blamed Obama for passing up a chance to strike a "grand bargain" on the budget after his reelection, when Republicans were bowing to demands to raise taxes on the wealthy. That may be, but the White House has good reason to point the finger back at Republicans, who seem unwilling to compromise on taxes beyond letting Bush-era tax cuts expire.
Truth is, they're both at fault. Due to a variety of political and social trends, there is little incentive for the two major parties to cooperate, little room to lead. Until the GOP raises revenue and Democrats trim spending, parts of the budget not "entitled" to programs like Medicare and Social Security will continue shrinking—squeezing out successful "discretionary" programs dear to both liberals and conservatives.
Programs like the Bush-Clinton-Bush national-service mission, all rooted in the first Bush's "Points of Light" initiative.
You don't have to tell that to John Bridgeland, a founding member of the service coalition who ran the younger Bush's domestic policy team and national-service initiative.
"Congress hasn't lived up to its part of the bargain in recognizing the power of national service to heal our broken citizenship," said Bridgeland, a Republican.
He ticked off the horrors: "Social trust in one another is half of what it was a generation ago, including among millennials. Our communities, places like Ferguson and Baltimore, are fraying. Many wonder whether we are living in two nations, one for children from well-off families and others for families that are not well-off. And we have a Congress that can't work together to get things done for the country."
"National service is an antidote for that," he added. "It brings people together from different political affiliations, races, ethnicities, income levels, and geographies to work on common problems together."
And yet, this sick Congress may kill a cure.