GOP Establishment Readying New Primary Challenge for Dovish Rep. Walter Jones
Republicans in North Carolina and D.C. think they've found a candidate to beat Walter Jones: a retired brigadier general with nearly three decades of Army experience.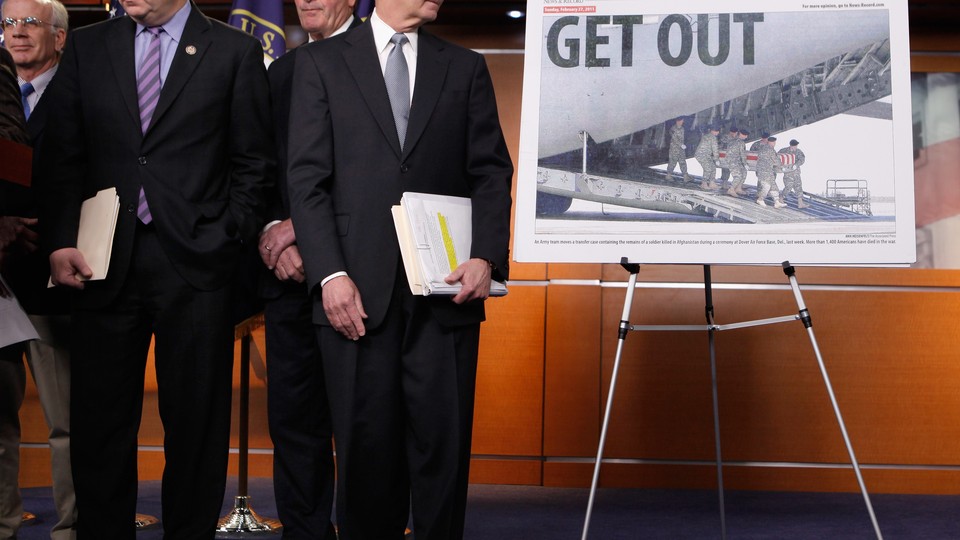 The Republican establishment is ready to take another crack at unseating Rep. Walter Jones—and it might have found a new candidate to lead the charge.
Anthony Tata, the Republican secretary of transportation in North Carolina and a veteran with nearly three decades of military experience, is preparing to run in a primary against the longtime GOP House member, according to a half-dozen sources with knowledge of the planned campaign. One source close to Tata, granted anonymity to speak candidly, said the secretary is "seriously looking" at a campaign but cautioned there was not yet a timetable for his decision.
His candidacy would be the latest Republican effort to defeat Jones, a controversial figure within the GOP who has spoken out forcefully against the Iraq war and foreign aid to Israel. His dovish views have alienated him from House GOP leadership and the party's foreign policy hawks. During Jones's 2014 campaign, a pair of Republican outside groups, Ending Spending Fund and Emergency Committee for Israel, combined to spend more than $1 million trying to defeat the incumbent in his primary.
(RELATED: Chuck Schumer Wants Kay Hagan Back)
Jones, who represents the heavily Republican 3rd Congressional District along North Carolina's eastern shore, barely squeaked by with 51 percent of the primary vote against former George W. Bush aide Taylor Griffin. A primary against Tata could be more difficult: The GOP base has grown increasingly hawkish during the rise of ISIS and President Obama's nuclear-arms negotiations with Iran, so much so that polls show foreign policy now ranks among Republicans' top issues.
And Tata has a background that could cause trouble for the antiwar Jones—who last week voted against the USA Freedom Act, the House's compromise bill to extend certain provisions of the Patriot Act—in a Republican primary. A graduate of the U.S. Military Academy, Tata served nearly three decades in the Army, including a tour of duty in Afghanistan, before retiring as a brigadier general. Even while acting as North Carolina's transportation secretary, he has been a regular guest on the conservative talk-radio circuit to discuss foreign policy.
His allies say the secretary's experience makes him the ideal candidate for 2016.
"He has seen firsthand—in the field—what it takes to defeat terrorists like ISIS and al-Qaida," said Carter Wrenn, a longtime Republican strategist in North Carolina who is advising Tata. "Right now, that's the kind of leadership we need in Congress. I hope he will decide to run."
Republican antipathy for Jones goes deeper than just the foreign policy establishment: In 2013, he helped organize an effort to oust John Boehner as speaker. That move came after GOP leadership removed Jones from his post on the Financial Services Committee in 2012, ostensibly because he hadn't raised enough money for the party.
(RELATED: Conservative Group Launches Ads Against Republicans)
Tata, however, might not have Jones to himself.
Sources close to Griffin say they "fully expect" him to run again, noting that he nearly defeated Jones the first time and that it often takes two tries to knock off an incumbent. Newcomers to the primary, the source added, will have a difficult time introducing themselves to all corners of a sprawling congressional district.
But Tata might have one key advantage: Many Republicans watching the potential primary matchup suggested that he, not Griffin, would be the preferred choice of many donors and outside groups. "Tata is viewed as a more serious candidate than Griffin, and he probably will end up with more institutional and establishment support in the party than Griffin," said one unaligned Republican who has met with Tata about a possible run. "The big question is does Griffin step down, or does he fight this out?"
(RELATED: Vulnerable GOP Senators Bracing for 'Political Issue of the Year')
A fight between Griffin and Tata might be a best-case scenario for Jones, who could then watch two establishment-friendly candidates split the anti-incumbent vote between them.
One former Jones strategist, Bob Rosser, said he had heard rumors about Tata's possible candidacy. They didn't surprise him.
"He's had primaries before, and he had a tough one last time," Rosser said. "But [Jones] came out a lot better anybody probably expected."
This story has been updated with additional information about Taylor Griffin's plans.
---
Jack Fitzpatrick contributed to this article