Even in Chicago, Democrats Sprint Away From Obama on Trade
In two Democratic primaries on his home turf, candidates are blasting the president's trade agenda.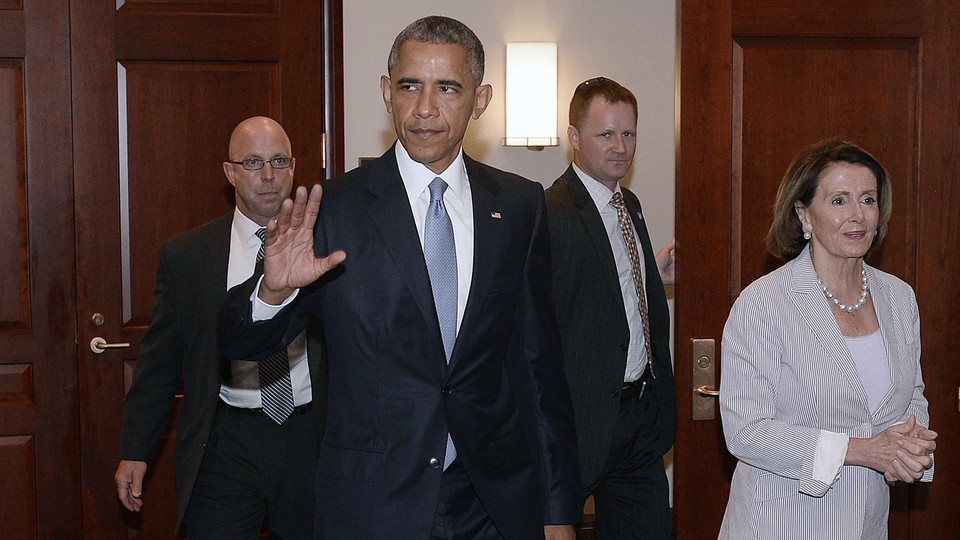 Nearly every weekend during the 2008 Democratic primary, Illinois state Sen. Michael Noland campaigned for Barack Obama in Midwestern states, sometimes in brutal, sideways rain. Today, he is proud to have the desk in the same spot where Obama's once was—in the very last row of the Senate chamber—and says Obama "will be remembered as one of the greatest presidents."
But even in Obama's home base, trade has driven a deep rift between the president and his fellow Democrats. And Noland is no exception.
As Noland prepares to run for a Chicago-area House seat, he and two Democratic rivals, Raja Krishnamoorthi and Tom Cullerton, are persistently slamming the president's stance on trade, right in the heart of Obama's home state. In another primary on the president's turf, Democrats Nancy Rotering and former Rep. Brad Schneider also have taken aim at Obama's fast-track effort, which would help him complete a massive Asia-Pacific trade deal.
"The president remains fairly popular in the state," said Greg Goldner, a veteran political consultant in Chicago. "All of the candidates are playing to organized labor, which is still a very potent base in Democratic primaries in the districts."
By a narrow margin Tuesday, the Senate advanced the fast-track bill, with a vote on its final passage expected Wednesday. The legislation would allow a president to negotiate trade deals that Congress can only approve or reject, not change. If GOP leaders' plans remain intact, Congress also would send Obama a bill to help workers who lose their jobs from trade deals.
At the same time, the labor movement has ramped up pressure on lawmakers to vote against fast-track, which they say will cost American jobs and slash wages. And Chicago-area Democrats locked in primaries that could be decided by a spare few thousand votes can ill afford to get on the wrong side of labor on a litmus-test issue.
Their opposition echoes the views of most Democratic lawmakers in Congress, who also are bucking the president on trade. But in the city where Obama spent two decades and laid down his political roots, the candidates say the president just isn't making a good case.
"Whenever you're pushing a massive piece of legislation that's going to include so many other countries and also your own, you need to be out there campaigning," Cullerton said. "You want your home state on your side."
Of nine House Democrats in the Chicago area, only one—Rep. Mike Quigley—is backing Obama's trade agenda.
Cullerton, Krishnamoorthi, and Noland are competing in the open-seat race in the Democratic-leaning 8th District, home to major manufacturers in plastics and the tool-and-die industry. Labor unions are less of an emphasis further north in the more moderate 10th District, where Schneider and Rotering are running for the nomination to take on Republican Rep. Robert Dold. But groups such as teachers unions and AFL-CIO affiliates still can be highly influential in a Democratic primary.
In both districts, the Democratic candidates are quick to note their admiration for the president, who they say they support on most other issues. In blasting his trade agenda, their main criticisms include environmental concerns, insufficient worker protections, and a lack of transparency.
Krishnamoorthi, for example, stresses that his disagreement with the president is policy-based, not personal. In 2004, he was the issues director for Obama's Senate campaign, a credential he notes on his campaign website's biography. He also worked on Obama's failed primary campaign against Democratic Rep. Bobby Rush in 2000.
"I think the world of the president," Krishnamoorthi said. "That being said, I am running for Congress ... and I need to be very sensitive to what the people of the 8th District need."
In the 10th District, the Rotering and Schneider campaigns didn't make their candidates available for interviews. In statements, though, both said they support trade but raised concerns about its impact on American workers.
Their objections mirror those of the lawmakers they hope to join in the House, where only 28 Democrats backed fast-track last week. Of those, 20 were members of the New Democrat Coalition, a group of centrist Democrats that counted Schneider as a member during his one congressional term.
After that vote, the coalition sent a press release touting its role in passing the legislation. Schneider's campaign said he would rejoin the group if he's elected, despite that. In the meantime, Illinois labor groups are keeping a close watch on how Schneider and other candidates keep addressing the issue.
"We have a legitimate concern that the people who are with us today may not be tomorrow," said Carson Starkey, field director of the Illinois Fair Trade Coalition. "We would still expect candidates to reaffirm their positions."
Starkey and others who oppose fast-track point to past trade deals, especially the North American Free Trade Agreement, that they say badly hurt American workers. When Bill Clinton pushed for that deal, his whip team included Chicagoans such as Mayor Rahm Emanuel, then a White House aide, and Bill Daley, the son of a former mayor. It passed in 1993.
More than two decades later, with a Chicagoan heading the White House, those ties aren't winning over Obama's home-state backers.
"I know in his heart the president wants to do the right thing," Noland said. "He just needs to know the support isn't there."