Even Behind Closed Doors, Senators Aren't Getting Their OPM-Hack Questions Answered
Lawmakers say they are still in the dark about basic details of multiple data breaches that affected federal workers last year.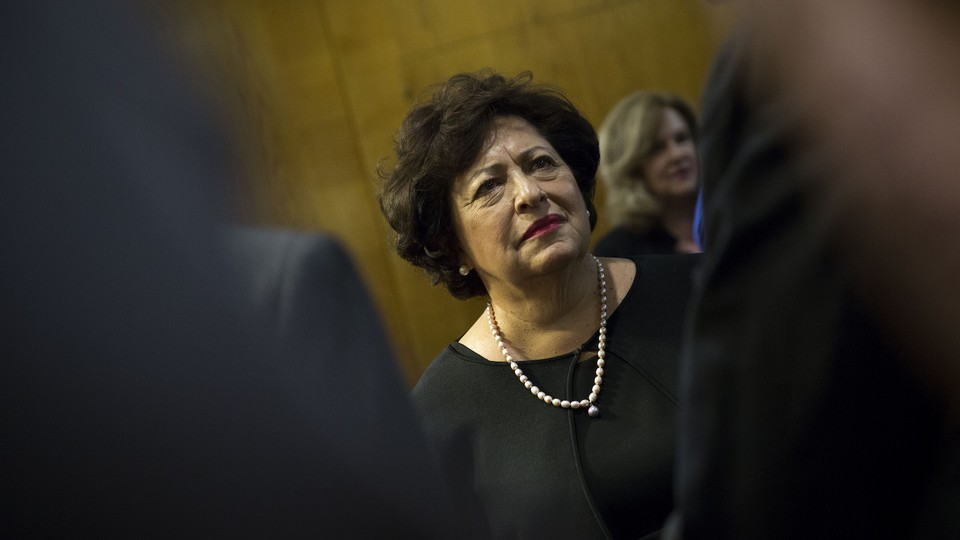 After weeks of revelations about cyberattacks that may have exposed the personal information of as many as 18 million federal workers, Katherine Archuleta, the director of the Office of Personnel Management, gave senators a classified briefing Tuesday to try to put lawmakers' questions to rest.
But senators from both sides of the aisle say they were far from satisfied with what they learned behind closed doors.
"It's not anything that you don't already know," Arkansas Republican John Boozman told reporters as he left the classified briefing in the Capitol Tuesday afternoon. "It's what you read in the papers. I still don't think we know exactly what's gone on, so we're working hard to find that out."
The briefing, which also featured testimony from Homeland Security Secretary Jeh Johnson, was attended by more than 30 senators, including Senate Majority Leader Mitch McConnell and key lawmakers involved in cybersecurity issues. Senators were there to learn more about the string of recently revealed security breaches at OPM that affected millions of federal employees—and at least three members of Congress.
At issue are a pair of cyberattacks that breached OPM's data servers in 2014, resulting in the theft of the personal information of as many as 18 million current and former federal workers. One attack, which occurred in April 2014, affected more than 4 million employees. Another, which was much larger in scale, likely affected the more sensitive personnel records gathered whenever someone applies for a security clearance.
Lawmakers unhappy with Archuleta's handling of the personnel agency's cybersecurity both before and after the breaches have called for her resignation, a chorus to which Republican presidential candidate Jeb Bush added his voice Tuesday.
The OPM director defended herself earlier Tuesday at a public hearing in front of a subpanel of the Senate Appropriations Committee, where she demurred when asked some specific questions about the hacks that targeted the OPM, promising to share more information in a classified setting.
But members of that subcommittee said they didn't hear anything new in the secret briefing later that day, even when it came to basic information about the extent of the hack.
"Generally, we don't yet know the magnitude of the breach, or the consequences, or number of federal employees, or personal information—the scope of the damage done," said Kansas Republican Jerry Moran. "So those questions that arose in this morning's hearing were not answered in this afternoon's classified briefing."
He continued: "There was no additional information provided that indicated anything different than the explanation we heard this morning, which was inadequate."
Boozman, the chair of the subcommittee that held this morning's hearing, said he intends to convene another hearing, this time behind closed doors, to get at some of the questions that remain unanswered.
"We just need to keep digging," Boozman said.
Some senators are taking a different approach in their attempts to pry information from the administration about the hack. Sen. Ben Sasse, a Republican from Nebraska, sent a 10-page, extensively footnoted letter Tuesday morning with 27 questions about the breach to the directors of OPM, the Office of Management and Budget, and the Homeland Security Department.
Asked if he learned the answers to any of his questions during the classified briefing, Sasse said, "I don't think the administration has enough urgency about giving people comfort and making sure that the exposures aren't ongoing."
He added: "There are key parts of the administration that aren't talking to each other in ways that would add up to a coherent answer, and that's why I addressed my letter to three parties."
Although the White House has said it continues to support Archuleta in her role as OPM director, calls for her to step down are intensifying. Minutes after he left the secret meeting, Sen. Steve Daines, a Republican from Montana, issued a statement calling for her resignation. Bush said this morning that the president should fire the director, whom he called a "political hack."
Archuleta, for her part, has avoided taking the blame for the incident. "I don't believe anyone is personally responsible," she said of the data breach at this morning's hearing. "If there's anyone to blame, it's the perpetrators," Archuleta said.
The OPM director will return to the spotlight at congressional hearings later this week. She will appear in front of the Senate Homeland Security Committee Wednesday, and on Thursday, she will be grilled by members of the House Oversight Committee, a panel she faced withering questions from last week.