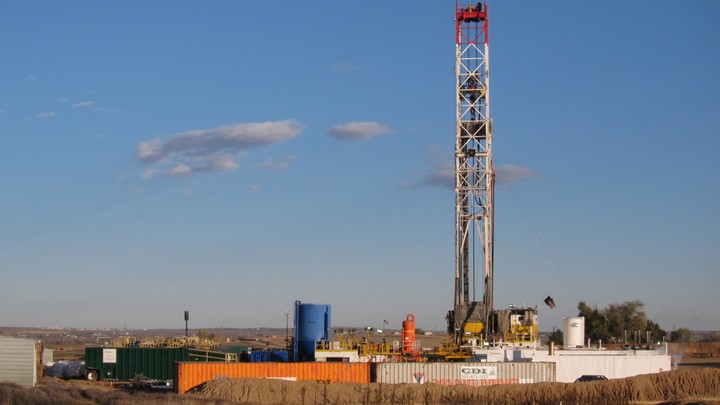 In a long-awaited and politically sensitive study, the Environmental Protection Agency has found that hydraulic fracturing has no major impact on drinking water, dealing a big win to the gas industry.
Although the EPA found some instances in which the controversial extraction technique had an impact on drinking water, the practice has "not led to widespread, systemic impacts on drinking water resources," the report found.
The boom in natural-gas extraction and production via fracking has led to complaints about the environmental costs, something best illustrated in the Oscar-nominated documentary Gasland. Uncertainty about the impact of fracking—not only on water, but on air pollution and seismic activity—has led New York and Maryland to put a moratorium on the practice and has fielded calls for more study.
The study does rebut the oil and gas industry's claims that there have been no instances of water contamination from fracking, but overall it has provided a boost to the industry and its supporters, who touted the findings as confirmation that fracking is safe. 
The report has also been met with criticism, however, regarding the scope of the research, with environmentalists charging that a lack of involvement from the industry should cast doubt on the findings.
"After more than five years and millions of dollars, the evidence gathered by EPA confirms what the agency has already acknowledged and what the oil and gas industry has known," said Erik Milito, upstream group director for the American Petroleum Institute. "Hydraulic fracturing is being done safely under the strong environmental stewardship of state regulators and industry best practices."
On the whole, the number of instances in which fracking impacted drinking water was "small compared to the large number of hydraulically fractured wells across the country," according to the draft assessment, requested by Congress in 2010.
EPA, however, did find specific instances when the practice could pose a risk to drinking-water resources, such as when gases and liquids seep out of inadequately cased or cemented wells or when wastewater is improperly released into drinking-water sources. Drinking water is also vulnerable, EPA said, in areas with low water availability.
Although most of the impacts would be confined to areas around drilling sites, EPA did note the potential for wider impacts from, say, a wastewater-truck spill or the release of untreated water that spreads downstream.
Green groups have said they have concerns about data gaps in the study. In a statement, Sierra Club President Michael Brune said the findings confirmed that "dirty oil and gas fracking contaminates drinking water," but he cast aspersions on the agency for leaving "many critical questions unanswered."
And Food and Water Watch Executive Director Wenonah Hauter said the study "falls far short of the level of scrutiny and government oversight needed to protect and health and safety of the millions of American people." The report, Hauter charged, was tainted because the oil and gas industry had refused to cooperate on prospective case studies.
EPA's report acknowledged "limiting factors" that could impact the findings, such as insufficient pre- and post-fracking water-quality data and a lack of accessibility for some industry data. But EPA science adviser Thomas Burke said the limitations could "guide us in the future" as researchers continue to look at the link between fracking and water.
"We feel very confident in our conclusions about identifying key vulnerabilities," Burke told reporters. "The study was not, nor was it intended to be, an empirical catalogue of all incidents of contamination."
Burke added that the EPA had a "generally very cooperative relationship" with the industry, which he said was a "major source of information."
The study covered water through all phases of the fracking process: acquisition, chemical mixing at the well-pad site, well injection of fracking fluids, collection of wastewater, and treatment and disposal. Burke said it was the "most complete compilation of scientific data to date," including more than 950 studies and other data sources.
The study, which is still in draft form, will be submitted to the EPA's Science Advisory Board for review and is open to public comment.
The report is another thread in a long-running debate over the public-health impact of fracking. New York Gov. Andrew Cuomo in December extended a state moratorium on the practice, citing uncertainty about the environmental and health costs.
Maryland's legislature has also passed a fracking ban, which took effect last week.
Republican Rep. Chris Collins of New York said the new EPA study should force Cuomo to "reverse his previous decision to ban fracking, which was based upon controversial scientific studies and made to appease far-left environmentalists."
This story has been updated with additional information.
We want to hear what you think about this article. Submit a letter to the editor or write to letters@theatlantic.com.
Jason Plautz
is a Colorado-based reporter covering energy and environment policy.