Draft of Pope Francis' Climate Change Encyclical Leaks
It calls on world governments to work together to fight climate change.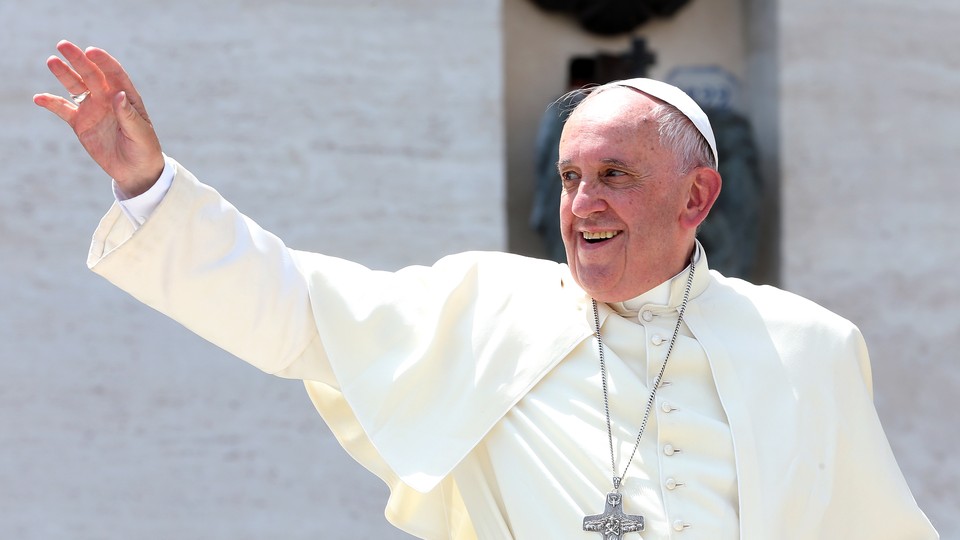 An Italian magazine has leaked a draft of Pope Francis's anticipated encyclical on climate change, which says global warming is a threat to the world's poor and calls on governments to work together to solve the problem.
A 192-page Italian-language version of the encyclical, set to be released Thursday, was leaked by L'Espresso. An official statement from the Vatican says the document does not represent the final text, and a spokesman told Bloomberg that the leak was a "heinous act."
The document, titled "Laudato Sii," is meant to influence the United Nations climate talks in Paris at the end of the year, but is expected to also make waves in the national debate about climate change. Green groups and the faith community are calling it potentially one of the most influential documents on climate change, while skeptics have been quick to dismiss the potential impact.
Based on a Google translation of the document, here's what you need to know about what the draft says.
1) Global warming is real
While the document largely focuses on theology and morality, it does go headlong into the science of the causes and impacts of climate change. The draft document says there is a scientific consensus that the climate is warming because of human actions, and that it is reflected in rising sea levels and increasing extreme weather events. The document even goes further into specific consequences of climate change on biodiversity and marine life, among others.
2) Fossil fuels are a problem
The encyclical states that fossil fuels, such as oil and to a lesser extent natural gas, should be phased out without delay in favor of renewable energy. While renewable power is built up, the encyclical says, it is permissible to rely on fossil fuels, but that overall, the extraction and burning of oil and gas is evil. The document further calls for countries to adopt policies that will reduce emissions of carbon dioxides and other gases.
One policy that Francis dismisses is the use of carbon credits, which he says could give rise to speculation rather than direct action to reduce emissions.
3) Governments should act on climate change—and do it right
The timing of the encyclical is no mystery—Vatican officials have said the document is meant to influence the United Nations climate talks in Paris this year. Francis repeatedly calls on governments to fight climate change, both domestically and through international agreements.
Francis says previous international negotiations, specifically the 2012 UN meetings in Rio de Janeiro, produced ineffective results because countries were looking after the own interests rather than the common good. Francis also is calling on countries to set their own long-term policies on climate change, warning that environmental regulations should not change as governments come in and out of power.
4) Poor people are feeling the impact
Given Francis's focus on the poor throughout his papacy, it was expected that his encyclical would highlight how climate change has impacted poor nations and communities. The document says that the impacts will fall heaviest on developing countries, which will feel a greater brunt from warming and are seeing depletion of crops, water, and other natural resources. Further, Francis points out that poor people may flee countries because of environmental degradation and decries a general indifference to this plight from the developed world.
5) Rich countries should take the burden
The document goes after inaction by developed nations, which Francis says have been consuming resources without concern for the planet and the poor. Francis highlights other negative impacts of the developed world, such as the privatization of green spaces and the improper disposal of resources by industrial activity. Because of that, Francis says that it's incumbent on developed countries to consider the needs of the poor while addressing climate change and emissions.
Earlier action, he says, was held back by countries trying to protect their own interests rather than thinking globally; a future agreement, he says, must rely on developed countries taking responsibility for their previous emissions and cutting back on consumption, while also helping poorer countries invest in renewable energy.
---
Clare Foran contributed to this article