The 'Carnival Barker' Joins the 2016 Circus
To the chagrin of Republicans and delight of Democrats, Donald Trump jumped in to the presidential race with his typical gusto.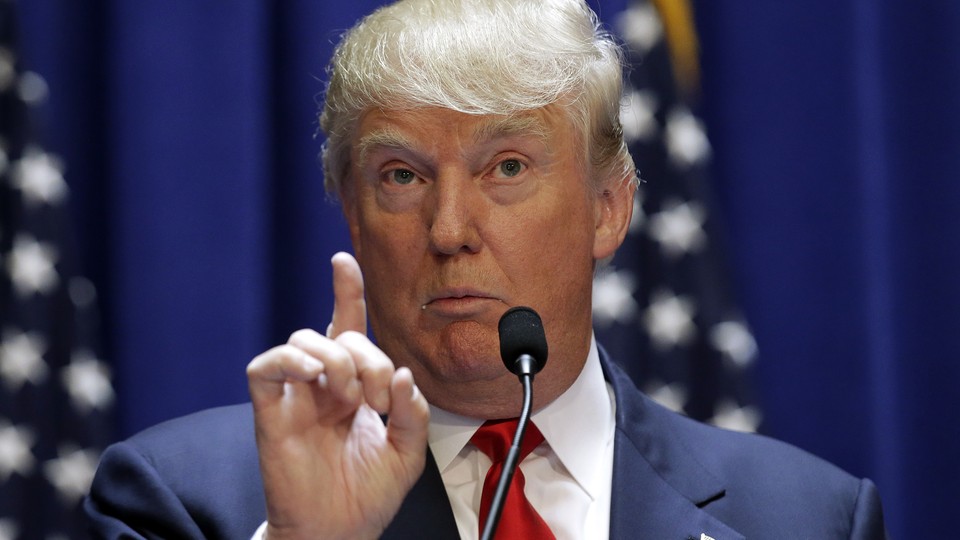 NEW YORK—The Donald J. Trump campaign for the presidency began here on Tuesday with the expected gusto: Descending a gold-rimmed escalator into an atrium packed with reporters and cameras inside the eponymous tower, the golden-haired mogul promised to be "the greatest jobs president God ever created." He lampooned the men and women now running the government—as well as those running to run it—as idiots and losers, and he vowed to bully foreign terrorists and American businessmen alike in his drive "to make America great again."
Yes, the Trump campaign started with a flourish, and fittingly, it also began with a bald lie. "This is some group of people. Thousands," he said, as he surveyed a modest audience that must have seemed several times larger in his mind. In truth, Trump strode past perhaps a couple hundred supporters wearing t-shirts emblazoned with his name and slogan ("Make America Great Again"), and holding signs distributed by his campaign. Another hundred-or-so members of the media were jammed into the pit-like atrium below, giving the appearance of a large crowd and demonstrating that he did, in fact, understand the first rule of campaigning: Always hold your events in a space a little too small.
"There's never been a crowd like this," Trump crowed. He had a point there. While Trump's modest draw was dwarfed by the hordes that attended the kick-off events for Hillary Clinton, Bernie Sanders, and most of the dozen other Republicans running, none of those amateur showmen thought, as Trump apparently did, to put their most devoted supporters in the balcony. If nothing else, his priorities are clear: Press in the front, voters in the back. (Except for George Stephanopoulos, that is. The ABC News star arrived too late to get a good view of The Donald and was forced to watch Trump's announcement on a monitor off to the side.)
After a 15-minute, nativist diatribe in which he declared that the American Dream "is dead" and that the U.S. has become "a dumping ground for everybody else's problems," Trump finally declared what everyone had come to hear. "Ladies and gentleman," he said, "I am officially running for president of the United States." With that formal announcement, the hearts of a dozen (or perhaps a hundred) GOP operatives sank. As Buzzfeed's McKay Coppins has ably documented, Trump has been toying with a run for public office for the better part of 25 years, but he's never actually done it—until now.
And really, why not run? The Republican field is a splintered free-for-all, and to the chagrin of the party establishment, Trump could find himself on the 10-person debate stage by dint of his universally recognized name alone, without even setting foot in Iowa and New Hampshire. As of this moment, Trump is polling ahead of Rick Perry, John Kasich, Rick Santorum, Lindsey Graham, Carly Fiorina, Bobby Jindal, and George Pataki—that's two current governors, two former governors, and a sitting U.S. senator, if you're counting. He's 69 years old (so it's probably now or never), his reputation among the political elite has nowhere to go but up, and he has nothing to lose except money—and he's done that plenty of times before.
Of course, as others have noted, Trump could be punking us again. He could fade quickly back into reality TV, or he could use the auspices of a campaign to promote himself for a few months and drop out before the voting starts. The banners, t-shirts, and bumper shirts at his Manhattan launch event were paid for by an "exploratory committee," and he apparently hasn't yet filed his paperwork with the FEC. But Trump insisted that he would ("without extensions"), and from the Trump Tower he was headed to Iowa and then on to New Hampshire and South Carolina later in the week. For now, he's a candidate.
There are few people who cause the political establishment more agita than Trump. President Obama famously called him a "carnival barker," a rare presidential statement with which many Beltway Republicans would agree. They fear he'll make a mockery of their nominating contest, bringing down an already-damaged party brand in advance of the general election. More cynical observers would say that Trump is the candidate a disengaged, celebrity-obsessed America deserves.
Yet all the hand-wringing might be a bit much. "Carnival barkers" have a long history in American politics, and voters have long been drawn to anyone who can credibly claim they are not politicians. The people of California have twice elected Republican actors as their governor, including Ronald Reagan, who went on to become president. Minnesota voters sent the fake-wrestler Jesse Ventura to the statehouse and the comedian Al Franken to the Senate. As for his views, Trump's political incorrectness is no more objectionable than that of many lawmakers who have repeatedly been elected to Congress—that more conventional proving ground for the presidency. (I'm looking at you, Louie Gohmert.) And say what you will about Trump, but he already has at least one astonishing and unprecedented political accomplishment on his résumé: He almost single-handedly forced the democratically elected president of the United States to prove that he was constitutionally eligible to hold the office. That's not to say that Trump has a chance—he doesn't. But is he really all that out of place on the stage?
Democrats greeted Trump's entry into the race with relish, happily bestowing upon him the kind of gravitas that Republicans won't. "Today, Donald Trump became the second major Republican candidate to announce for president in two days," said Holly Shulman, a spokeswoman for the Democratic National Committee. "He adds some much-needed seriousness that has previously been lacking from the GOP field, and we look forward hearing more about his ideas for the nation."
So who were the people who turned up on Tuesday morning, walked into the lobby of the Trump Tower, put on Trump t-shirts, and screamed (at the exhortation of a man with a bullhorn), "We want Trump! We want him now!" For the most part, these are the people who tell pollsters that electing a "strong leader" is their highest priority. "I like how bold he is," Simone Perry told me. "He's not afraid to say what's on his mind. He's not a politician." Perry, a 40-year-old from the Bed-Stuy section of Brooklyn, said she voted for Obama and (gasp) for Bill de Blasio. "But I don't think that was the right thing to do," she said sheepishly, disavowing her past support for the liberal New York mayor.
Plenty of the Trump faithful were tourists, including a group of choir girls from—where else?—Iowa, who stumbled onto the event while they were browsing at Tiffany's next door. "I didn't even know he was running," said Lauren Pfeil, who will turn 18 in time for the caucuses next year. They didn't need a lot of convincing. "I'm for Trump right now, because he's made a strong impression on me," explained Katherine Smoldt.
No one cheered louder for Trump than Lori Burch, a 56-year-old retiree from Jersey City who leaned over a railing alongside the escalator and offered him vocal encouragement several times during his speech. "Thank you, darling," Trump said at one point, when her enthusiasm became too much to ignore. Burch told me that she, too, voted twice for Obama, but said she was done with "career politicians." "The man's been bankrupt, and he came back," she said of Trump.
He sure did put on a show. In what may have been a first for a presidential campaign launch, Broadway classics blared from the speakers at dance-club levels. The exception was, "You Can't Always Get What You Want," which was an odd choice for a campaign rally. Did it represent a platform of belt-tightening austerity? Or did it refer to the man himself, who is now running for president whether anyone likes it or not? The irony is that although Trump may be offering himself up as the anti-politician, there is nobody who does a better job at telling people what they want to hear, regardless of how accurate or nonsensical it is.
Trump on Tuesday presented himself as the Herculean savior of the American dream. He promised to repeal and replace Obamacare, rebuild the nation's infrastructure, construct a "Great Wall" on the Southern border ("Nobody builds walls better than me"), defeat ISIS, and literally intimidate the titans of American business into re-opening factories that had been shipped overseas. "We're dying," he lamented. "We need money." And of course, he has plenty of that. Seeking to put to rest years of speculation about his true wealth, Trump's campaign gave reporters a laminated sheet outlining his financial assets and debts, claiming a net worth of $8.7 billion—enough to make Mitt Romney and the Clintons look like paupers by comparison.
Trump repeatedly lapsed into the sort of anti-immigrant screed to which he's been prone in recent years. He referred to immigrants coming over from Mexico as "criminals" and "rapists," although he said that some, "I assume, are good people." Mostly, however, Trump did what he does best: He bragged about his success. And the hundreds—not thousands—in attendance seemed to eat it up. There might be a constituency for his antics, but they are unlikely to wear well over the long months of the campaign. After 45 minutes of Trump talk on Tuesday morning, the enthusiasm inside the tower lobby was waning. The Donald returned to some semblance of his script, finished up, and walked out to more loud music.
Mercifully, he took no questions.