Democrats Mend Fences After Bloody Trade Fight
Liberal lawmakers were unhappy with Obama, but they don't expect the bad feelings to linger.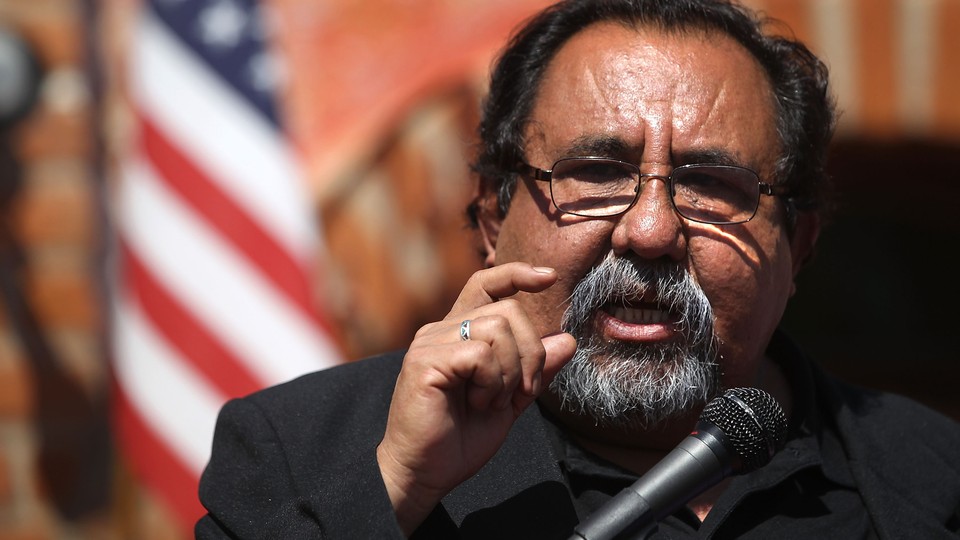 After weeks of all-out fighting over President Obama's trade agenda—and a bitter defeat for its Democratic opponents—the combatants in the House Democratic Caucus are ready to bury the hatchet.
The House on Thursday passed Trade Adjustment Assistance, paving the way for that measure and Trade Promotion Authority to head to Obama's desk. TAA passed on a 286-138 vote, just two weeks after the House overwhelmingly defeated a similar measure. The first time, most Democrats voted against the worker-assistance bill—which they would normally support—in order to stall the fast-track bill. This time around, Democrats gave in, backing TAA and ending the fight for now.
"I don't see the congressional Democrats making this an ongoing war," said Rep. Raul Grijalva, a cochair of the Congressional Progressive Caucus. Grijalva was one of the leading opponents of Trade Promotion Authority, but in the end was able only to delay it for a matter of weeks. "Those of us who were opposed to this strategy—it's not something that you use as a reason for being opposed to anything the president does. And I don't see that being the net effect."
That doesn't mean Democrats are done fighting over trade. TPA prevents Congress from amending the pending Trans-Pacific Partnership, but members will still get an up-or-down vote when the 12-nation trade deal is completed. Democrats say they're gearing up for that debate, rather than airing sour grapes over their TPA defeat.
"This was one area of disagreement, and we're going to continue to work on TPP," said House Ways and Means Committee ranking member Sander Levin, a leading voice on the issue and ultimately an opponent of the TPA bill. "And I'm hopeful for a more productive relationship and a more productive outcome."
House Minority Leader Nancy Pelosi also said she is ready to move on to the TPP debate.
"[T]his is the end of phase one," Pelosi said on the House floor Thursday. "... And we all stand ready to go to the next phase, and that next phase is to keep a very sharp, clear, bright light focused on the provisions of the TPP."
Levin added that Democrats' areas of agreement—and the remaining obstacles they face—supersede the trade dispute. "We celebrated the Supreme Court decision, all of us," he said, soon after the Court announced its ruling upholding the Affordable Care Act. "We're going to be talking with the administration on Iran. We've got work to do on highways. We've never taken it personally, and we're proud of this president on most issues. Here we have a significant disagreement and we want to keep working on it."
Even during the heat of the trade debate, most members tried to downplay their public squabbles with the administration. "I think it's obvious that most Democrats disagree with fast-track," said Rep. Brad Sherman, speaking after Obama made his trade pitch to the caucus two weeks ago. "That does not mean that we disagree with the dedication and the record of this president. We are very proud of this president; we have had his back again and again."
Added Rep. Barbara Lee: "I don't think the president nor members are being disingenuous; it's just we have different points of view."
Moderates, too, don't expect the backlash to last long. "The closer a vote gets, the more friction between the two forces. Friction creates heat, and we're in the middle of the heat," said Rep. Denny Heck, a member of the moderate New Democrat Coalition, which supplied many of the Democratic TPA votes. Heck himself voted against it, but counts as friends many of its supporters.
And while some progressive groups and labor unions have threatened primary challenges for the Democrats who backed TPA, that message isn't resonating in the Capitol. "I have not heard a single member support or even in tone be positive toward primarying one of their colleagues—not a one," said Heck. "Things can get pretty emotional around here, but I sure have not heard that. "¦ Not one whisper."
Grijalva echoed that. "The Progressive Caucus and our members, we're not in for retribution. We thought they took a wrong vote, and the consequences of that vote are in their district. But in terms of us rallying around to defeat them, we're not into that. It's a strategy that in the short term might satisfy the anger, but in the long term doesn't bring us any numbers to this House."
Still, the disappointment remains. "If this is indeed a legacy vote for the president, there will be a legacy of it," Grijalva said. "And I hope sincerely that we will not be in a position to tell everybody, 'I told you so.' But the fact is that he prevailed with Republican support, and we lost. But beyond that, carrying on an ongoing opposition to the president to be spiteful—no."