Democrats' Big-Money Primary to Replace Chris Van Hollen
The race to replace the outgoing House Democrat is coming with a hefty price tag.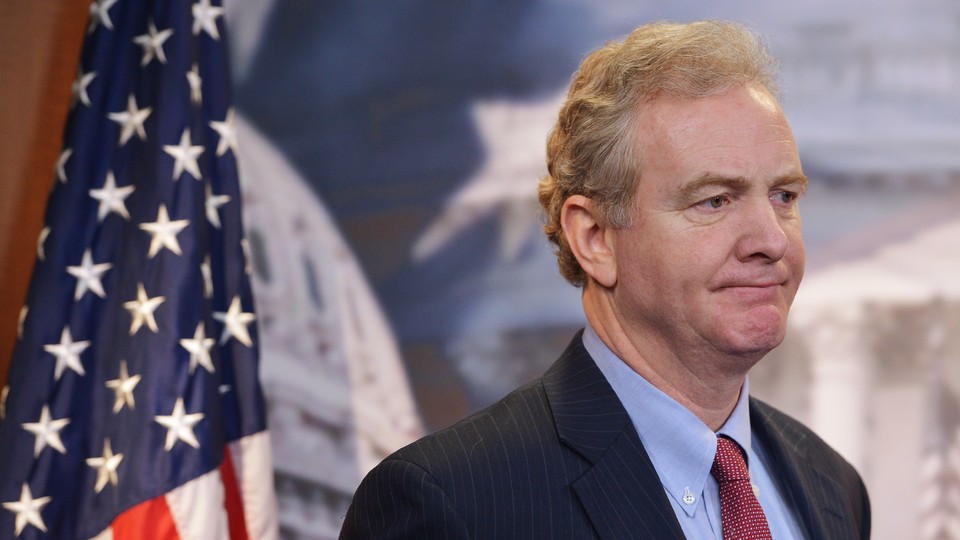 The race to replace Rep. Chris Van Hollen will almost certainly be won by a Democrat, and the party's top local politicians are well aware of that. Eyeing a district where 62 percent of voters favored President Obama in 2012, five well-credentialed candidates have already jumped in hoping to make a safe House seat their own. With the field expected to expand, it appears that candidates' highest hurdle to getting the seat won't be beating a Republican opponent in the general election, but rather surviving a crowded field in the Democratic primary.
And there, with little policy daylight separating the contenders, the ability to rack up campaign cash will go a long way toward picking the winner.
Democrats suggest it will take at least $1 million to mount a viable primary campaign, with some pegging the figure as high as $3 million. By contrast, successful House candidates spent an average total (primary and general election combined) of $1.45 million in 2014, according to the Center for Responsive Politics.
"Without a doubt, this will be a very, very expensive primary. And while money will not dictate the winner, money may dictate who's the most competitive," said former Van Hollen chief of staff C.R. Wooters. (Wooters isn't backing anyone in the race and was not speaking on Van Hollen's behalf.)
Keeping competitive in Maryland's 8th District, which encompasses many of the state's suburbs surrounding Washington, is even more difficult because of the cost of television advertising in the pricey Washington media market. In 2002, when Van Hollen won the seat, he first had to defeat Kennedy family member Mark Shriver in the nation's most expensive congressional primary that year.
The five candidates already running are: state Sen. Jamie Raskin, a popular figure in progressive circles; state Del. Kumar Barve, a leader among Indian-American elected officials; state Del. Ana Sol Gutierrez, who's connected in the Latino community; Will Jawando, who worked in the Obama administration and on Capitol Hill; and Kathleen Matthews, a former television news anchor and ex-Marriott executive who's married to MSNBC's Chris Matthews.
For now, Raskin and Mat­thews are seen as early front-run­ners in the crowded field. But there's con­fid­ence that oth­er can­did­ates could rise, es­pe­cially if strong donor bases lift them. Some out­side groups, ran­ging from EMILY's List to Latino or­gan­iz­a­tions, are look­ing to get in­volved, po­ten­tially adding wild cards to the race.
The seat became open in March, the result of Sen. Barbara Mikulski's unexpected retirement, which set off a down-ballot scramble in the state. The 8th District field will likely grow in coming days, when former Montgomery County Councilmember Valerie Ervin, a Democrat, is expected to hop in.
Much attention has been heaped on Matthews' likely base of supporters, given her and her husband's deep network of Democratic donors and allies in Washington. For nearly a decade, she was the chief global communications and public affairs officer for Marriott, another potentially lucrative source of support. She's also built up prominence from her long career as a television reporter.
"She comes in with a formidable presence outside of Montgomery County for raising money," said Darrell Anderson, Montgomery County Democratic Central Committee chair. "And you're going to have to have money for this race."
But Matthews isn't the only candidate who could have wide reach beyond the district.
Raskin, a leader of the state Senate's liberal wing, is popular among progressives, especially for leading floor flights for legislation such as the marriage-equality law and the repeal of the death penalty. The son of prominent liberal activist Marcus Raskin, he's expected to pull in money from grassroots supporters, possibly in the form of many small-dollar donations. As a law professor at American University, he also could draw support from the legal community.
Like Raskin, Barve also has a long track record in Annapolis. In his bid, he's been heavily courting fellow Indian-Americans, who accounted for roughly three-fourths of his roughly $66,000 haul the first fundraising quarter. (At the time of the report filing, Barve was the only declared candidate to raise money in the district.)
"He is the first Indian-American elected to a state legislature," Barve campaign manager Seth Maiman said. "Obviously, that is a group of people who have supported him for a long time."
Democratic Rep. Ami Bera of California, the only Indian-American in Congress, endorsed Barve's bid in April.
Meanwhile, Latino groups, including the Latino Victory Project, whose PAC supports Latino candidates, and BOLD PAC, the Congressional Hispanic Caucus' main fundraising arm, are eyeing Gutierrez, an El Salvador native. The first Latina to ever serve in the Maryland General Assembly, she's also connected to Hispanic networks like the National Association of Latino Elected and Appointed Officials, where she sits on the board. Poder PAC, which backs Latinas running for office, has already met with Gutierrez about a potential endorsement.
"She's a strong candidate," said Ingrid Duran, a founder of Poder PAC. "She's tenacious. She's a go-getter."
Another candidate, Jawando, is planning to draw on his time in the Obama administration, as the deputy director of strategic partnerships and special assistant to Education Secretary Arne Duncan. He also was a congressional staffer for almost eight years, for Minority Leader Nancy Pelosi, then-Sen. Barack Obama, and Sen. Sherrod Brown.
"I'm the only one who has federal government experience," said Jawando, who narrowly lost a bid for the Maryland House of Delegates in 2014. "I've built up those networks and relationships."
How much Jawando and the other candidates are able to tap into those networks won't be known until their fundraising reports are filed in mid-July. And while most have seen victory in state bids, it isn't yet clear how they'll fare in a larger-scale election.
"Just going from there to raising several million is like playing in the minor leagues and then all of the sudden facing a 95-mile-per-hour pitch in the World Series," said Maryland pollster Keith Haller, who is unaffiliated in the race. "Fundraising will be critical."