Dear Songwriters: Please, Please Stop Writing Songs About Presidential Candidates
"Viral" songs about 2016 have officially jumped the shark.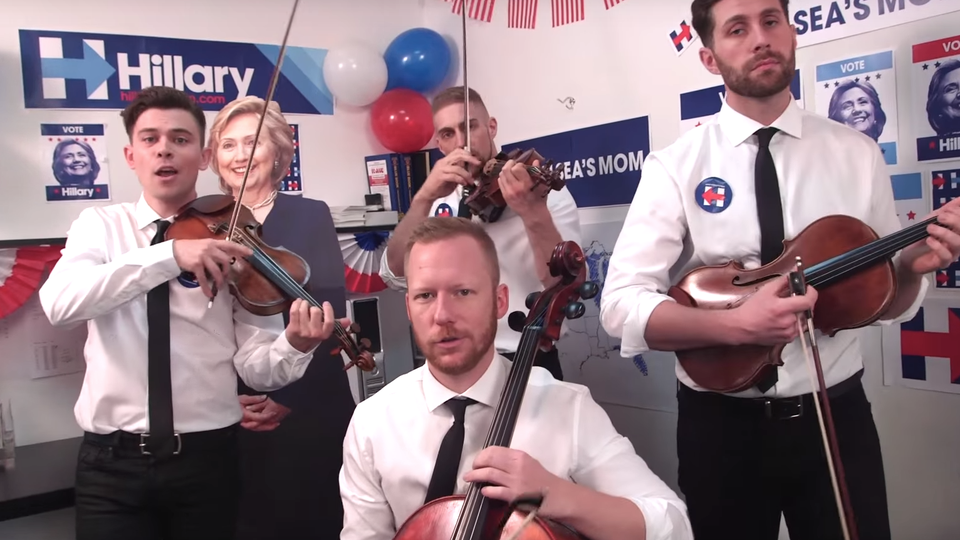 First there was the neo-country ballad written for Hillary Clinton, and we all had a good laugh. Then there was Rick Perry's country rap. Some Irish fans of Martin O'Malley soon followed with a ditty that was a direct copy of a song they'd written for President Obama in 2008.
And now, the string quartet Well-Strung has rewritten the lyrics of Fountains of Wayne's "Stacy's Mom"—a song that had blissfully faded from our collective consciousness since its 2003 release—to be about Clinton. The repurposed song is titled "Chelsea's Mom."
Some selected lyrics:
Chelsea's mom has got it goin' onShe's all we want and we've waited for so longFrom sea to shining sea / she'll fight for libertyShe's sexy and she's strong / I'm gonna vote for Chelsea's mom
Fan-written songs about 2016 presidential candidates have officially jumped the shark. Simply put, these songwriters are a menace to polite society.
By trying to spin hunger for fun political content into viral gold, these songwriters are only producing mealy-mouthed covers that no one who actually follows politics should like. The only way to enjoy them is with a healthy dose of irony—see "Raining McCain" or "Hillary In the House". Well-Strung nearly achieves this effect in one all-too-short scene, where one of its members illustrates the phrase "wonderful pair" with an image of a pear dropping into his hands. So close, but yet so far.
In the history of American politics, there has only been one campaign song that could be quantified as "good" by musical standards: "Ike For President". It was written in 1952.
So, songwriters of America (and Ireland), hear our sincere entreaty: Please stop. By releasing these videos, you only compel poor political bloggers to aggregate your song out of necessity. And besides, there's much better source material out there.