'Cures' Bill Sparks Upton-vs.-Price Spending Squabble
The GOP committee chairs are fighting over how to pay for the medical innovation measure.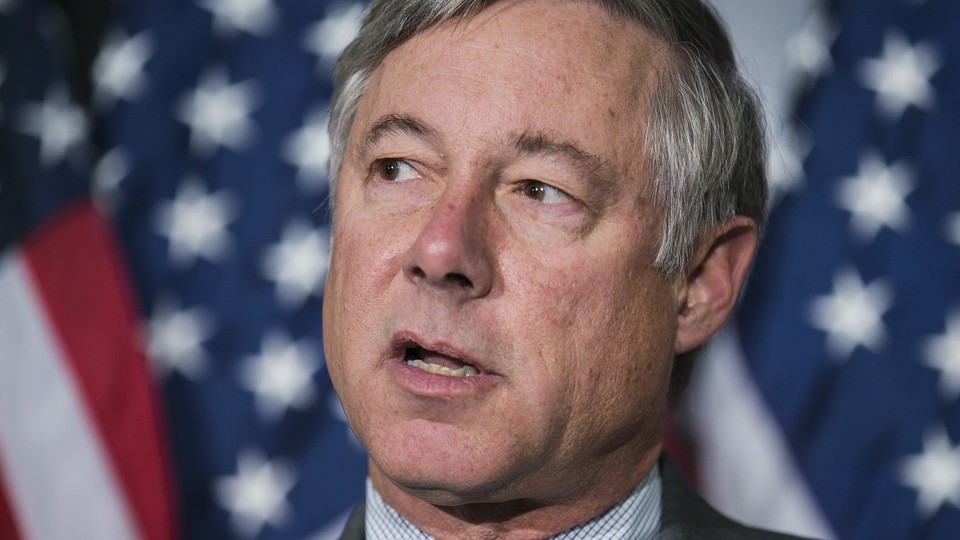 For Energy and Commerce Chairman Fred Upton, just passing a medical-innovation bill is not enough. The term-limited chairman wants to knock it out of the park, sending a strong message to the Senate and securing a legacy item that could potentially save lives.
There's just one thing standing in his way: Austerity.
Budget Chairman Tom Price is pushing back against the 21st Century Cures Act, according to several sources, wary of a bill that in his estimation creates a federal spending mandate by authorizing a five-year, $10 billion fund within the National Institutes of Health.
"That's what Tom Price is saying," Appropriations Committee Chairman Harold Rogers said Wednesday. "In essence, it is taking mandatory savings and then letting that money be disbursed through the normal process."
Price raised objections at a stakeholders meeting last week and again at a closed-door meeting of the House Republican Conference on Wednesday morning. But Rogers, who also had problems with the bill before the decision was made to allow his committee to appropriate the mandatory savings, said he supports it.
"Plus, I think the merits of the program can be revolutionary," Rogers said.
The dilemma is not a new one for the GOP. Voices in the party have for a few years been pushing to shed the draconian image of a party so preoccupied with budget cuts that they will not spend money on medical research or other worthy pursuits. But the party's push for austerity has been a strong countervailing voice.
That is no different in the case of this bill: The legislation aims to bring drugs to market faster, in part by upping funding to the NIH. But small-government conservatives object to authorizing a new government program.
So Upton has been working overtime to get this bill through. He has more than 200 bipartisan cosponsors and on Wednesday was working the House floor to beat back any dissent. He said he hopes that by the July 8 target date for a floor vote, he can wrangle 300 to 350 supporters.
The innovation fund, which would draw $2 billion a year for five years and be offset with spending cuts elsewhere, would be overseen by the Appropriations Committees. But sources said those conditions have done little to allay Price's concerns.
"He doesn't like the mandatory spending, but you know, we have mandatory spending like juvenile diabetes and community health centers, and this is paid for, and appropriators still have a role," bill cosponsor Rep. Joe Pitts said.
The measure's fate was complicated further this week with the Congressional Budget Office handing down a $106 billion price tag between 2016 and 2020. Upton's committee had worked to offset part of the bill's cost with cuts elsewhere, and in part with savings from Medicare Part D. But several members objected, sending a letter to Speaker John Boehner and Minority Leader Nancy Pelosi last week asking that the Medicare program remain untouched. Upton said Wednesday that he is optimistic that the additional NIH funding will be offset.
While CBO scored the NIH Innovation Fund spending as discretionary, it was intended to be mandatory funding. The rest of the money will go toward the reauthorization of NIH programs and is discretionary.
Some of the bill's other cosponsors, however, still are concerned about the $106 billion price tag. Rep. Gene Green, a key Democratic supporter, said it would be difficult to offset the cost, especially because the bill includes the reauthorization of programs at NIH, which itself has been operating without a reauthorization since 2009.
"I looked and I couldn't find that money in my checking account," Green said. "What I understand is if we reauthorize NIH, CBO puts a $100 billion score on that, just the reauthorization. They've been getting the money since '09 without an authorization, and it's our budget rules — it doesn't make sanity."
The bill's detractors are concerned that the offsets will never materialize, and that the innovation program spends money over five years, whereas offsets are found over a 10-year timespan.
The House is not alone in its support for medical innovation and precision drugs. President Obama singled the issue out in his State of the Union address, after which the White House unveiled its Precision Medicine Initiative. And Sens. Lamar Alexander and Richard Burr released a white paper in January espousing many of the same programs.
But while Upton has said he wants a bill on Obama's desk by the end of the year, the Senate is in no hurry.
"We won't finish our work until about Thanksgiving, but I don't see that as any problem because we're on a parallel track with the House, we're working with the administration, and we'll put our bills together in a conference," Alexander, chairman of the Senate Health, Education, Labor and Pensions Committee, said in an interview.
That, Upton said, is why he is trying so hard to not just pass the bill, but pass it resoundingly.
"We think if we have a good vote "¦ that sends a strong signal to the Senate that they should take a good look at this bipartisan bill," Upton said.