Court Rejects Plea to Block FCC's Net-Neutrality Rules
Net-neutrality rules will take effect Friday, but the broader legal war will drag on.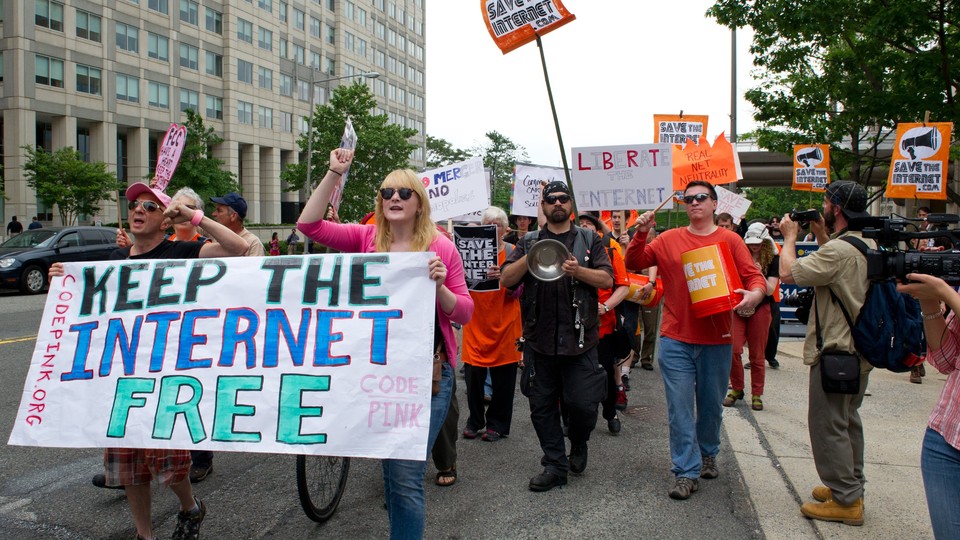 A federal court rejected a bid by cable and telecom companies to block net-neutrality rules Thursday, paving the way for the expansive new Internet regulations to take effect Friday.
The ruling by the U.S. Court of Appeals for the District of Columbia Circuit is a relief to the Federal Communications Commission, which enacted the rules in February. But the legal battle over net neutrality is far from over.
Associations for the cable providers, telecom companies, and cellular carriers plan to continue their fight to repeal the rules after they take effect. The groups warn the regulations will stifle investment in broadband networks, ultimately leading to worse Internet service for everyone.
In a brief statement, the three judge panel of the D.C. Circuit said that the Internet providers had "not satisfied the stringent requirements" needed to suspend the rules while their lawsuit is pending.
The court did grant the request from both the companies and the FCC to fast-track the case to get a final ruling as soon as possible.
"This is a huge victory for Internet consumers and innovators!" FCC Chairman Tom Wheeler said in a statement. "Starting Friday, there will be a referee on the field to keep the Internet fast, fair and open."
The FCC's net-neutrality rules bar Internet providers from blocking websites, selectively slowing down traffic, or creating "fast lanes" for sites that pay. Supporters of the rules argue that they are necessary to keep Internet providers from acting as gatekeepers and controlling what people can access online. President Obama, who promised to support net neutrality in his 2008 campaign, urged the FCC last November to enact the "strongest possible" rules.
The FCC first enacted net-neutrality rules in 2010, but the D.C. Circuit struck them down in early 2014. In attempt to bolster the chances of the new rules in court, the FCC dramatically expanded its own regulatory authority. The new rules classify Internet service under the same regulatory regime as telephones.
The industry groups argue that Congress never intended to subject Internet service to such a burdensome regulatory classification. The commission's decision also violates rules for agency procedures, they claim.
The Internet providers say they only oppose classifying Internet service as a utility, and not the principle of net neutrality itself. But the FCC argues that overturning the regulatory classification would leave the rules unenforceable.
The industry groups said the D.C. Circuit's ruling was disappointing, but not unexpected. Convincing a court to block rules before they even take effect is usually a legal long shot. But the groups praised the court for agreeing to expedite their lawsuit.
"We are now ready to get to the merits of the case and are confident as ever that we will prevail," the National Cable and Telecommunications Association said in a statement.