Cornyn's New Role: The 'Bridge' on Tricky Bipartisan Bills
The GOP's Senate whip has played a key role in working with Democrats and his own chairmen on criminal justice and patent-reform measures. And of course, he works out with Chuck Schumer.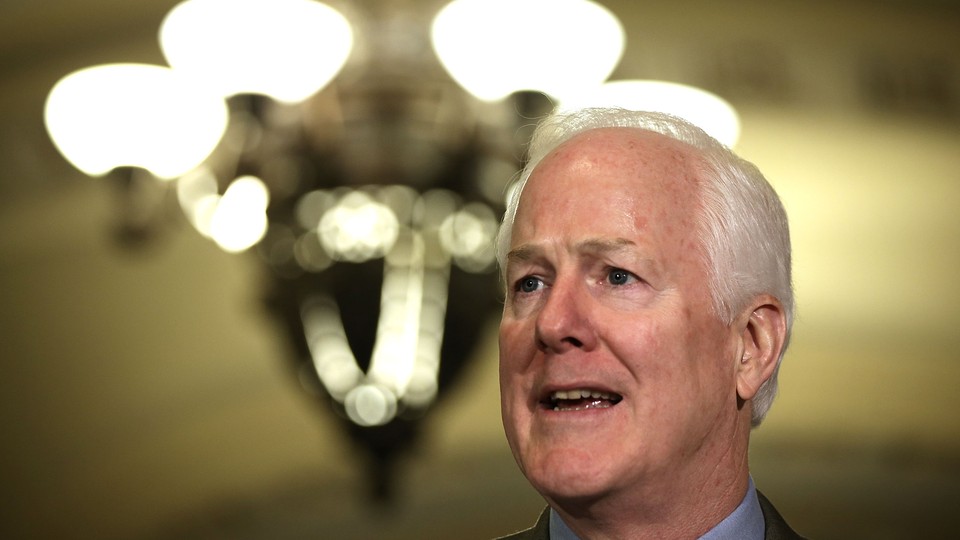 On April 10, John Cornyn toured a huge prison in rural east Texas, about a three-hour drive north of his Houston birthplace. Nearly 700 security employees stroll the H.H. Coffield facility, which has a maximum capacity of around 3,800 prisoners, and Cornyn, a three-term senator who rose to the Texas Supreme Court and attorney general positions during the lock-'em-up-and-throw-away-the key 1990s, was there to draw attention to a project helping prisoners learn the skills they need to rehabilitate — and get out.
"Some of the inmates were so poorly educated they couldn't even read a tape measure," said Cornyn in an interview in his Washington office this week. "Which if you think about it, it doesn't say much for our public education system, but it also just shows how big a problem we have when people have zero coping skills — no education — and they basically have lived a continuous life of crime, and they know nothing else in terms of the challenges. We have to break that cycle."
Almost seven months into his role as Senate majority whip, Cornyn talks quite a bit about breaking cycles, whether in prisons or the nature of crises in the Senate. His official role is to keep the Republicans in line and on-message, but he also has been an influential figure — the "bridge," as one Democrat puts it — on bipartisan pieces of legislation, particularly on two in the Judiciary Committee that bedeviled the last Congress: a criminal-justice reform package — the cause du jour infiltrating liberal and conservative think tanks, as well as the 2016 presidential debate — and patent-reform legislation with Sen. Chuck Schumer. Neither is on the Senate GOP leadership's short list, but both bills could see floor action with Cornyn's help, especially if the appropriations process breaks down, leaving room in the schedule.
On criminal justice, Democrats see Cornyn as an instrumental figure in creating the package that requires low-risk offenders to participate in recidivism-reduction programs for an earlier release — saving taxpayer money and making communities safer — and that includes a bipartisan bill reducing mandatory-minimum prison sentences. That bill is supported by members across the ideological spectrum but was opposed by Cornyn — who says now that it wasn't ready for "prime time" — along with Sen. Chuck Grassley, now the Judiciary Committee chairman, and others last year.
"I think we need a marriage of both of those proposals," said Cornyn, who would like to build on his bill to include some sentencing reforms. "I think looking at nonviolent offenders, low-risk offenders, I think there's some things we can do."
"My hope is that in the near future we will have a product that we can then have a hearing on and then mark up, and my hope is that we'll get something to the president this year," he added.
Sen. Dick Durbin, who is leading the sentencing-reform effort with Sen. Mike Lee, said Tuesday that Congress could have a "dramatic impact" on the federal prison population by addressing even just a "very narrow" category of drug offenses not involving firearms, gangs, violence, or terrorism.
Grassley has been an obstacle on the issue, according to Sen. Jeff Flake, a Judiciary panel member. Grassley was not invited to a White House meeting to discuss the topic this year and was advised in his hometown paper to take up sentencing reform a few months ago. But he seems more willing to move the package now — he said recently that the committee has the "capability" of reaching a bipartisan agreement this year — and has been convening meetings to see if a compromise can be struck.
Sen. Sheldon Whitehouse, a Judiciary Committee Democrat, sees Cornyn as the "bridge" trying to get their bills through the panel.
"As you know, I think Chairman Grassley has gone to the floor three separate times to express his displeasure and dissatisfaction with the mandatory-minimum bill," said Whitehouse. "So by way of the chairman putting a marker down that he's not pleased with a piece of legislation in his committee, it would be hard to imagine much of a bigger, louder marker than that."
"And I think Senator Cornyn is a very helpful voice in trying to be a bridge among the different parties involved here," he added. "Whether it's Chairman Grassley, or Senator Lee or Senator Durbin, I think both Senator Cornyn and I are trying to be that bridge, but given that the chairman is a Republican and given that Senator Cornyn is a former attorney general, former judge, and leader within the Republican caucus, I think Senator Cornyn is a particularly important figure in the bridge between Senator Lee and Chairman Grassley."
(Grassley says that Cornyn has been a "very important aspect" on the issue for two reasons: He's "enthusiastic" and he's the whip. "He carries a lot of weight with other people," Grassley said.)
On patent reform, even his Democratic opponents respect him. Sen. Christopher Coons has a competing bill, but said he's had "real conversations" with Cornyn about inter partes review and post-grant review proceedings. "That's the mark of a real legislator, is recognizing that even though someone might never vote for your bill, the amendments they've offered or the competing bill they offered might have some ideas worth engaging with," Coons said.
And Cornyn has been helpful bringing other members on board. Sen. Richard Blumenthal said he voted for the Cornyn-Schumer patent-reform bill in part because Cornyn was "flexible" and "receptive" to his concerns making clear that the burden of proof is on the party seeking fees. "We have a bond in a sense because we're former attorneys general," Blumenthal said. "He is sensitive to the very important question of how laws will be enforced. Congress can make the best laws in the world, but if they are unenforceable or unenforced they are dead letter. He has a feeling for that."
To be sure, one of Cornyn's more significant bipartisan efforts this year — a bill combatting human trafficking — stumbled across the finish line. A few weeks after his prison trip, he saw that bill unanimously pass the Senate, but only after an unexpected debate over abortion delayed the bill for weeks. Noting that that particular language didn't change much, Cornyn now calls the he-said-she-said controversy "more of a confidence building exercise" than anything else.
Cornyn, two years out from helming the GOP campaign committee trying to exterminate Senate Democrats, sees a change from Senate Minority Leader Harry Reid to his expected successor Schumer, whom he bikes with when the New Yorker does his "executive workout," towel around neck and phone in hand.
"I think Senator Reid has taken the Democrats down a different path, and I think it did not work very well," Cornyn said. "I think Senator Schumer — he can be a tough opponent and partisan but he actually, I think, enjoys legislating and actually solving problems. So I would expect that — he's not going to be a pushover, I'm not suggesting that — but I think he's a man we can do business with."
Cornyn's familiarity with Schumer was clear in the Democrats' comments about him. Schumer said he enjoyed "biking with [Cornyn] in the gym and I even enjoy more legislating with him." Reid, meanwhile, said "he wasn't any different than the rest of them" last year, referring to GOP obstructionism. "Good guy and all that stuff, but he was part of the program last year — the Republican program," Reid added.
Cornyn takes it all with a grain of salt.
"Believe it or not, one of the things I try to do around here is try to look for opportunities to work with people across the aisle," he said. "I know that's not the common narrative. But the truth is if you want to get anything done, that's an absolute requirement."