Conservative Republican Battles Ghost of 2012 in Indiana Senate Race
Indiana GOP primaries have favored conservatives in recent years, and Rep. Marlin Stutzman is very conservative. But he has to assuage Republican fears about what happened in the last Senate race.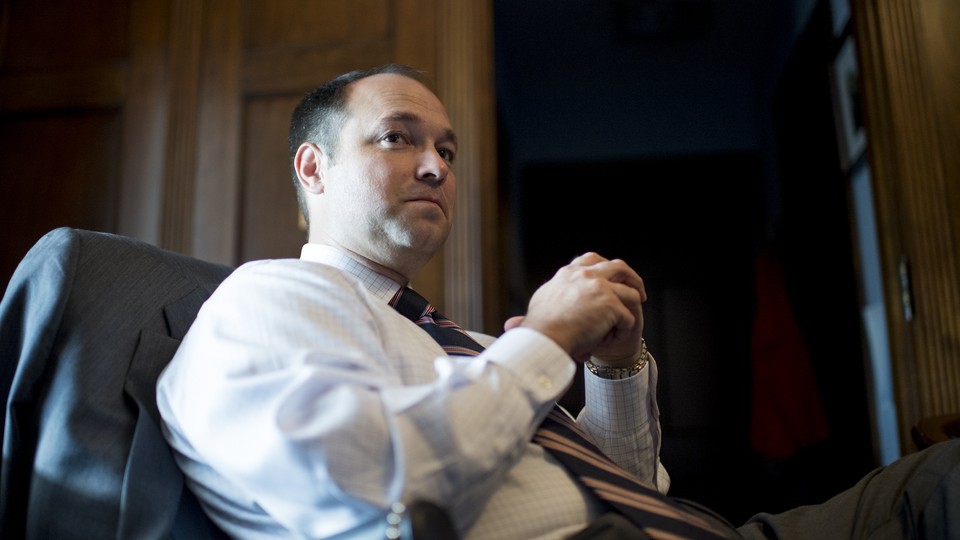 Indiana Republicans have more reasons than most to fear messy intraparty primaries. They had a front-row seat to one with infamous consequences just three years ago.
In 2012, tea-party groups lined up behind state Treasurer Richard Mourdock in a primary against the state's longtime, more moderate incumbent, Sen. Richard Lugar. The rest of the story is painfully familiar to Republicans around the country: Mourdock defeated Lugar in a Republican primary landslide, only to fumble away the general election after controversial comments about rape. The seat that Lugar held for more than three decades (and had been expected to hold easily again that year) instead went to Joe Donnelly, then a Democratic congressman.
So to some party leaders, watching some of the same groups that backed Mourdock in 2012 line up behind Rep. Marlin Stutzman, a conservative House member who's been known to ruffle a few feathers in Washington, feels like a dangerous turn of events. But, with recent Indiana history in mind, some of Stutzman's early moves in the race to replace retiring Sen. Dan Coats soften the "tea-party establishment" dividing line that has caused so many state Republicans worry in recent years.
Stutzman already has secured support from Senate Conservatives Fund, one of the big spenders in Mourdock's 2012 general election. And the Club for Growth, another major financial driver for Mourdock, is full of praise. "Congressman Stutzman has an excellent record and would make a terrific senator," Club for Growth president David McIntosh said in a statement. The Club spent over $1 million bashing Lugar in 2012. "The GOP primary in Indiana is about a year away, so we don't feel any rush. If the Club for Growth PAC makes an endorsement in the race, we will have ample opportunity to engage in a very impactful way, as we typically do."
"With over four years in Washington, Marlin has proven his conservative bona fides by casting many tough votes like voting against John Boehner for Speaker, and by opposing executive amnesty and fighting to repeal Obamacare," the conservative Madison Project said in its endorsement of Stutzman, just days after he entered the race.
Even though Republicans have every reason to believe that Stutzman, a three-term congressman, can avoid the rhetorical mistakes and sharp edges that sank Mourdock in a red state, the reappearance of those outside groups already has stirred some post-traumatic stress.
"[2012] was a big moment for Indiana Republicans, and there's an overriding sense that we don't want to repeat those ills," said one Indiana Republican who is not affiliated in the race, but requested anonymity to speak candidly. "It's a mistake for those who would liken [Stutzman] or his campaign to that of Richard Mourdock "¦ but a lot of it, if you follow who he surrounds himself with, that's really important."
Stutzman's campaign points to his core team as evidence of a broader coalition around this candidate. While much of his young campaign has been about touting and boosting conservative credentials, Stutzman also has built a stable of political advisers spanning the GOP spectrum.
Stutzman's recent campaign hires include Rob Jesmer, who was the executive director of the National Republican Senatorial Committee during the Mourdock race, and his business partner Terry Nelson, another veteran of the party committees. Stutzman's campaign manager, Brendon DelToro, served as chief of staff to Indiana Rep. Jackie Walorski. And his general consultant, Brooks Kochvar, has worked for both swing-state Sen. Kelly Ayotte and friend-of-Cruz Sen. Mike Lee, too.
"[Stutzman's] goal is to unite the party with as many voters as possible, and the team around him reflects that," Kochvar told National Journal. "He's a member of Congress who has a solid conservative voting record that appeals to both primary and general election voters. "
Scott Reed, the U.S. Chamber of Commerce's senior political strategist, called the 2012 race "a cloud over Indiana and the entire country." It's something that his group spent millions trying to avoid in 2014 and wants to dodge again this election. But, Reed maintained, the Chamber is still "looking at, meeting with, and evaluating" all of the candidates involved in Indiana this election cycle. That includes Stutzman.
Stutzman's only Republican opponent right now is former state party chairman Eric Holcomb, who most recently served as chief of staff to Coats. But tough competition could come from within his House delegation, if Rep. Todd Young decides to run. Young swept into Congress in 2010 with support from the Club for Growth, but he has since compiled a less stridently conservative record. (Young's career voting score from the group stands at 68 percent, while Stutzman's is 93 percent.)
Young reported raising more than a half-million dollars in the three weeks after Coats's announcement, and says he plans to make a decision soon. And already, two former Indiana Republican chairmen, Al Hubbard and Jim Kittle Jr., have penned a letter calling for Young to join the race, noting that he'd be the "strongest candidate and office holder Republicans could field in 2016."
"Coats's decision to retire from the U. S. Senate has put in play a Senate seat that is crucial to both our state and the direction of the nation," the letter said. "The stakes could not be higher." Young allies point to his Marine Corps service and battleground-district victory in 2010 as more evidence of his strength. The congressman he beat that year: Democrat Baron Hill, who announced a Senate campaign last week and could face Young once again.
To make it there, though, Young would have to get through Stutzman and a primary electorate that has rewarded very conservative candidates recently. And at the same time, Stutzman is working to project a broader appeal than the last GOP nominee.