Congress Is So Over Waiting for SCOTUS to Rule on Obamacare
A decision is likely coming within the week, but for many, that's not soon enough.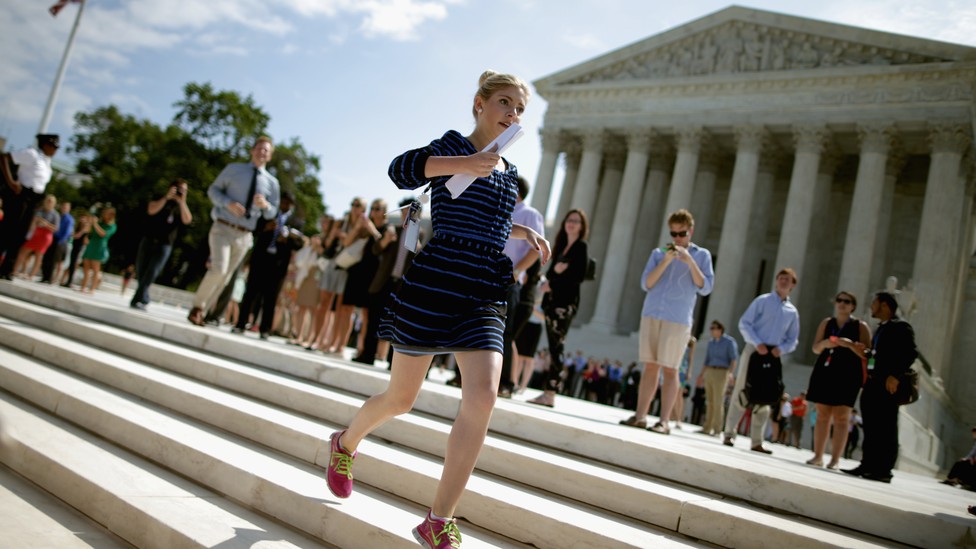 Like every reporter and health care wonk in Washington, Congress is getting a little tired of waking up every morning and wondering if today will be the day that the Supreme Court decides whether to invalidate Obamacare's subsidies for more than 6 million people.
Whichever way the ruling goes, let's hear it already.
"I'll sure be glad to get it over with, you bet," Senate Minority Leader Harry Reid told National Journal.
Democratic Sen. Brian Schatz of Hawaii said he had been "incessantly" checking the Twitter feed of SCOTUSblog — a legal website that runs Washington's most-followed liveblog on the Court's decision days — while at the airport Monday. But finality never came.
"We're very anxious for the Supreme Court to rule," Schatz said. "Opponents and proponents alike."
Sen. Ron Johnson, the sponsor of a prominent contingency plan extending the subsidies at risk by the Court's decision, said that while he's not watching SCOTUSblog — he doesn't have time for that — he is ready for the ruling.
When a reporter brought up the waiting game that everyone seems to be playing pre-decision, the Wisconsin Republican said, "Yeah, I wish we weren't."
"Just anxious to hear the ruling, get the ruling," Johnson said.
And Senate Finance Committee Chairman Orrin Hatch, when asked if he was ready for the wait to be over, responded with a laugh and an emphatic, "Yeah!"
"Well, it's going to be over, I think, probably Friday," the Utah Republican added. "All I can say is it's going to be interesting."
The specter of King v. Burwell, which challenges whether the Affordable Care Act's tax credits are authorized in the 30-plus states with federal insurance marketplaces, has hung over Capitol Hill since November, when the justices agreed to hear the case. Since oral arguments in March, a constant buzz in the background of Congress's other business has been: What will lawmakers do if the Court actually does halt the subsidies?
Republicans have struggled to form a consensus, juggling the need to address the fallout of a lawsuit they support while catering to the conservative desire for concessions if the Court deals a blow to a most-hated law. Democrats, on the other hand, have almost uniformly refused to even discuss the possibility that they could lose the case.
The wait will end soon: The Court has said it will release decisions Thursday, Friday, and Monday. The King ruling, at long last, is coming, although the exact date and time still leaves room for some last dramatic moments.
"It's very much on our mind," said Sen. Jeff Merkley, an Oregon Democrat, adding that it was still surreal to him that the justices took the case in the first place. President Obama and other leading Democrats have said ahead of the Court decision that the case never should have been heard at all.
"I'm very surprised that it's gotten to this point," Merkley said.
Others were more matter-of-fact about the wait: This is just part of life with the notoriously languid Court.
"We always have that. The Court's got several important decisions to make Thursday, Friday, and Monday," said Republican Sen. Lamar Alexander, the health committee chairman who has worked on the upper chamber's contingency plan if the justices rule to stop the subsidies. "We'll wait to see what the Court says, and then we'll be prepared to act depending on what they do say."
Of course, it isn't just senators anxious for the Court to rule: There are also the 6.4 million Americans whose subsidies are at risk, as Sen. Susan Collins of Maine, a Republican, emphasized.
"I'm concerned about the anxiety that the 6.4 million Americans, including 60,000 Mainers, are feeling right now because they don't know what's going to happen and whether their health insurance is going to remain affordable or not," she said. "Some of those Americans may be in the midst of getting treatment for diseases or have surgery planned, and I think they're very worried that their insurance could become unaffordable overnight."
The long wait seems to have left still other members in something of a philosophical mood.
"It's gonna be what it's gonna be," said Sen. Sheldon Whitehouse, a Rhode Island Democrat. "It's gonna be when it's gonna be."