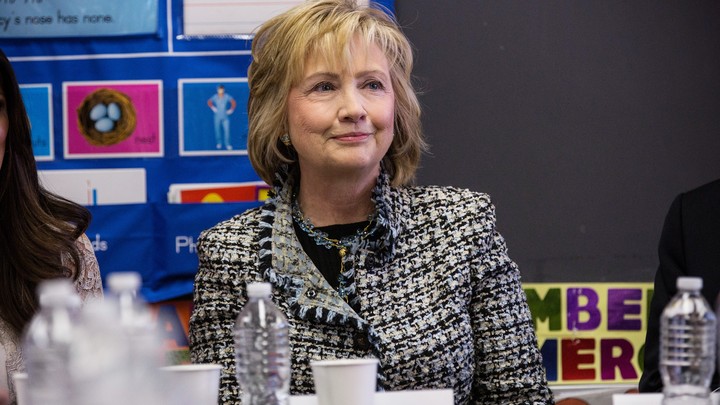 Hillary Clinton on Monday announced a proposal that would give every 4-year-old child access to a high-quality preschool program within 10 years. Clinton's proposal builds on President Obama's Preschool for All program, which wasn't included in Congress's annual budget.
Currently, 44 states provide publicly funded pre-K programs, up from 40 a year ago. Clinton's plan would provide states with additional federal funding to expand those programs, in the hopes that it gives "children a hand up towards higher achievement in their education and better prospects for lifelong economic opportunity," according to a campaign press release.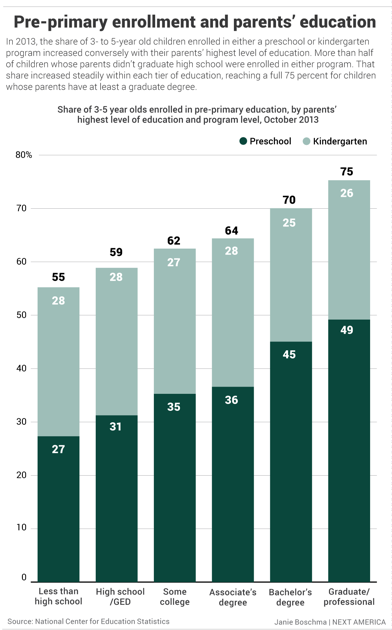 Today, 68 percent of 4-year-olds are enrolled in some sort of pre-primary program, according to data from the National Center for Education Statistics. But NCES data shows a class divide among children's access to pre-primary education. Enrollment in either a preschool or kindergarten program for 3- to 5-year-olds increases conversely with parents' education level.
Just over half of children whose parents didn't graduate high school are enrolled in a pre-primary program. The share of children enrolling increases steadily with each tier of parents' highest level of education. That increases to 64 percent for children born to parents with an associate's degree, 70 percent for those with college-educated parents, and 75 percent for kids whose parents have a graduate or professional degree.
Clinton's proposal stands to provide the biggest boost to Latino children ages 3 to 5, 57 percent of whom enroll in a pre-primary program, according to 2013 NCES data. By comparison, at least 64 percent of their White, Black, and Asian peers enrolled.
This story is part of our Next America: Early Childhood project, which is supported by grants from the Annie E. Casey Foundation and the Heising-Simons Foundation.
We want to hear what you think about this article. Submit a letter to the editor or write to letters@theatlantic.com.
Janie Boschma
is a former senior associate editor at
The Atlantic.