Clinton on Flying Confederate Flag: Not in South Carolina, Not Anywhere
The Democratic presidential candidate said addressing the nation's racial divide would require action well beyond taking down the flag.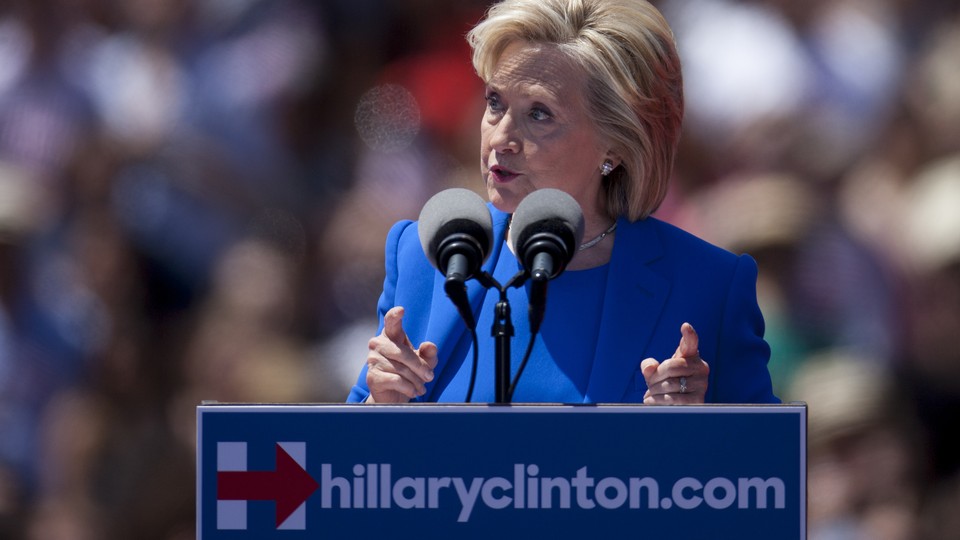 Hillary Clinton Tuesday praised the South Carolina legislature for its decision to take down the Confederate flag—but she that it is only an initial step in "America's long struggle with race."
"It shouldn't fly there, it shouldn't fly anywhere," Clinton told a community meeting at Christ the King church in Florissant, Missouri, Tuesday afternoon.
Clinton also said she wanted to "commend" Walmart (she once sat on the company's board) for ceasing to sell items that picture the Confederate flag, noting that other companies—Amazon, eBay, and Sears among them—have followed. "I urge all sellers to do the very same," she said.
South Carolina Gov. Nikki Haley announced Monday that the flag would be taken down from the South Carolina State Capitol in Columbia, the week after a white-supremacist gunman killed nine African-Americans in a Charleston church. The killings brought new attention to the flag's history, prompting most of the 2016 field to weigh in on whether or not it should be flown.
Clinton's speech was in Florissant, a Missouri town near Ferguson, where questions about race and violence flared last summer after unarmed black teenager Michael Brown was shot and killed by a police officer.
Clinton told her audience that getting the country to a better place on questions of race and violence will involve dealing with broader issues of inequality, access to education, and economic opportunity. "You know and I know that's just the beginning of what we have to do," she said. "The truth is equality, opportunity, civil rights in America are still far from where they need to be."
To that end, Clinton repeated her calls for "common-sense gun reforms" and voting reforms like automatic universal voter registration and early voting for every state. "Whether you live in Ferguson or West Baltimore, coal country or Indian country, you should have the same chance "¦ to get ahead and stay ahead," she said.
On Monday, The Huffington Post reported on Confederate symbolism on the Arkansas flag, noting that Clinton's husband—former President Bill Clinton—had not moved to remove the symbols during his time as Arkansas governor.