When a Government Declares Memories Classified
For years, Guantanamo detainees couldn't publicly tell their own stories. That's starting to change.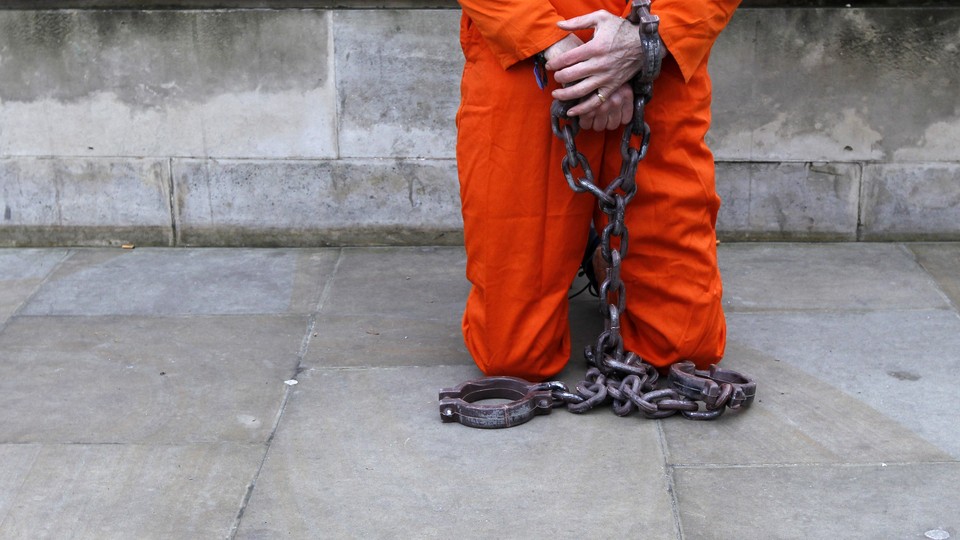 "The government," the Huffington Post's Nick Baumann wrote on Twitter on Thursday, "is giving former CIA detainees their memories back."
Baumann was referring to a Huffington Post report that U.S. authorities are relaxing sweeping rules that prohibited prisoners at the Guantanamo Bay facility from publicly telling their stories of CIA detention and interrogation, since disclosing those experiences could reveal the agency's secret sources and methods for combatting terrorism. The report included these jarring opening lines:
For years, Guantanamo Bay prisoners' memories of their time in CIA custody have been considered classified state secrets. Abu Zubaydah's lawyers can't talk publicly about how he lost his left eye. Lawyers for Mustafa al Hawsawi, who can now only sit on a pillow, can't tell the press or the public about anal feedings that left him with a rectal prolapse. And until recently, Majid Khan's lawyers couldn't bring up the time he was hung from a pole for two days, naked and hooded, while interrogators threw ice water on him.
But all that is changing, albeit gradually, following the release in December of a Senate Intelligence Committee report detailing extensive abuses in the CIA's detention and interrogation program during the Bush administration. The revelations thrust many of the intelligence agency's techniques into the open, prompting the government to rethink its classification rules for detainees remaining at Guantanamo.
"Under the new rules, the torture methods used in CIA prisons are no longer subject to classification, although any information that could reveal the locations where torture took place or the people who helped facilitate it remains secret," the Huffington Post's Ryan Reilly and Jessica Schulberg reported on Thursday. Lawyers for detainees must still petition the government to declassify their clients' memories on a case-by-case basis.
In a first test of the new system last week, Atlantic contributor and Reuters reporter David Rohde aired allegations by Majid Khan—a Guantanamo detainee turned government witness who has confessed to plotting attacks with 9/11 architect Khalid Sheikh Mohammed—that Khan was tortured and sexually abused at a CIA "black site." Khan's lawyers had captured his account of the ordeal in 27 pages of notes taken over seven years, which were only cleared for release by the government in May.
It's the latest heave in a tug of war between the government and civil-liberties advocates over a fundamental question about the limits of secrecy: Can a government classify people's memories? More specifically: Can the U.S. government deem anything a detainee says secret?
In 2012, U.S. Army Colonel James Pohl, the military judge in the trial of Khalid Sheikh Mohammed, barred testimony or discussion about "the enhanced interrogation techniques that were applied to an accused … including descriptions of the techniques as applied, [and] the duration, frequency, sequencing, and limitations of those techniques," ruling that "without limitation, observations and experiences of an accused" were classified.
But James Connell, an attorney representing Guantanamo detainee Ammar al-Baluchi, rejected such reasoning in a 2012 motion to declassify prisoners' accounts. "A person's own experiences—whether the smell of a rose or the click of a gun near one's head—are what make them a person, and the government can never own or control them," he wrote, according to the Huffington Post. Connell added that detainees "were exposed to classified interrogation techniques only in the sense that Hiroshima was exposed to the classified Manhattan Project." Their classified memories had been imposed on them against their will through a program that President Obama had since banned.
In a separate motion filed around the same time, Connell pursued another line of reasoning: that by preemptively classifying detainees' statements, the government was violating its own classification procedures. Information relayed by detainees in court or to their lawyers was "born classified" rather than born free and then classified—a standard of "presumptive classification," Connell argued, that the U.S. government had previously only applied to public discussion of America's nuclear program:
The most egregious example of the government's use of overclassification to suppress unclassified but embarrassing information at Guantanamo Bay is the device of "presumptive classification." Presumptive classification—more mythology than law—attempts to extend traditional classification rules beyond information damaging to national security to all statements made by or information learned from Guantanamo Bay prisoners. Under the regime of presumptive classification, if a prisoner says that he misses his family, this information is "born classified" even though no original classification authority would or could ever classify it. This practice, unchallenged for years, violates every relevant constitutional, presidential, statutory, and regulatory principle of classification.

Under the terms of Executive Order 13526, classification of information is an act: a person, specifically delegated authority, decides that the risks of disclosing a specific piece of information to the public outweigh the democratic imperative for transparency in the operation of government. Only one type of information—Restricted Data about nuclear weapons-—is "born classified." Every other type of information must go through the classification process, which applies strict criteria, a presumption of non-classification, and mandatory declassification rules, before it becomes classified.
In a 2013 brief challenging the government's arguments for classifying detainee statements, the American Civil Liberties Union also rejected equating "the government's ownership of and control over documents to its ownership of or control over human beings or their personal thoughts and experiences of government-imposed torture. In other words, while 'illegal activities' might be able to 'produce classified documents' … they cannot produce classified memories and experiences of those illegal activities."
Now, more than six years after Obama signed executive orders to shutter Guantanamo and ban the CIA's coercive interrogation techniques, those memories are just beginning to come to light.