Chris Christie PAC Paid for the Governor's Ticket and Travel to an NBA Finals Game
A PAC spokeswoman says the potential presidential candidate held private meetings in Ohio on Tuesday.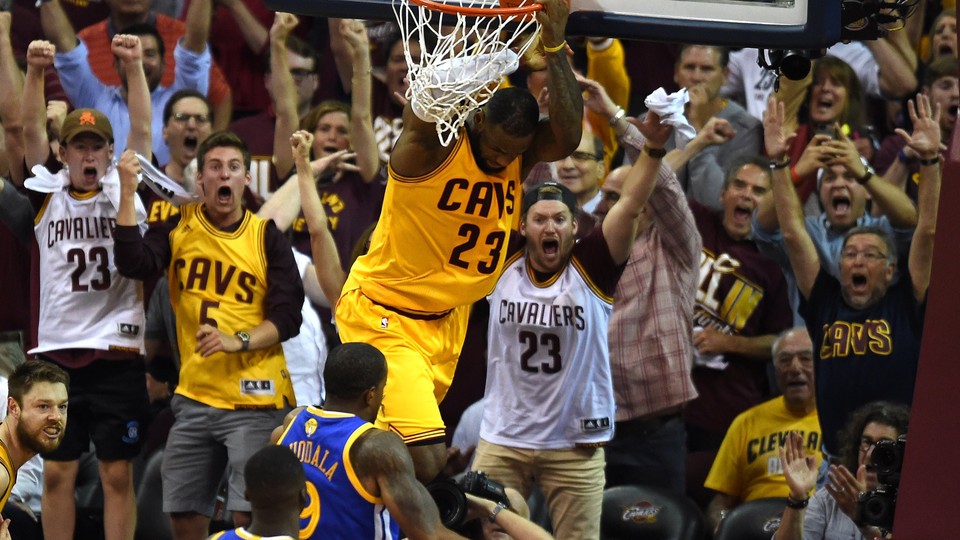 Earlier this week, New Jersey Gov. Chris Christie attended Game 3 of the NBA Finals in a section of close-to-courtside seats that were selling for tens of thousands of dollars just before tip-off. But his office wouldn't explain why Christie attended the Cleveland game or who paid for his ticket and travel.
Now, those questions have some answers: Christie's state spokesman told National Journal Thursday afternoon that his attendance at the game was "through the PAC," referring to Christie's Leadership Matters for America, launched in January. The PAC's spokeswoman confirmed that it paid for Christie's ticket to the game and his travel. And late Thursday, she said he was attending private and fundraising meetings in Ohio the day of the game, but declined to discuss their specific nature or how specifically they connected to the Cavs-Warriors game.
The PAC's spending on Christie's NBA game attendance appears to be unusual. PACs like Leadership Matters for America, known as nonconnected committees, are typically used to support individual candidates and political party committees, and can also be used to support other PACs. They are not directly linked to any company, political party, or labor organization.
According to the PAC's website, its mission is to "support candidates who share our vision, people who know that only through strong, bold leadership will we be able to take on these challenges and act on the promise of a better tomorrow for working and middle-class Americans."
So far, Leadership Matters for America has not filed any receipts or disbursements with the Federal Election Commission, and it likely won't submit any until the FEC's semiannual filing deadline for PACs on July 31. Because the PAC hasn't filed the paperwork yet, it's unclear whose money the PAC used to send Christie to Cleveland, or how much it has in its coffers.
The trip also comes after Christie has faced criticism in recent months for spending thousands at NFL concessions stands during official events and for his relationship with Jerry Jones, owner of Christie's favorite football team, the Dallas Cowboys.
This story has been updated with a more detailed response from Leadership Matters for America's spokeswoman.