Carly Fiorina, Feminist?
The long-shot GOP presidential candidate says "it is time for a new definition" of feminism.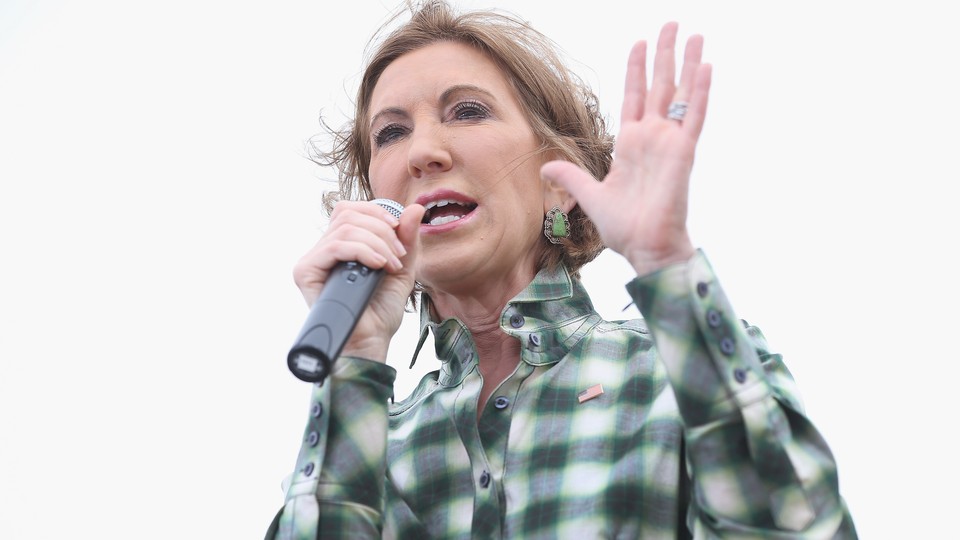 Carly Fiorina is rivaling Sen. Rand Paul in trying to be the most heterodox candidate in the Republican presidential field. And now, she may well be the first Republican feminist to run for president.
Fiorina, who is set to deliver a speech to the Competitive Enterprise Institute Thursday night, has staked out her place in the Republican primaries as someone who is not afraid to hit Hillary Clinton, the only other woman in the race, and hit her hard.
Now, Fiorina is burnishing her iconoclastic brand by implying that she considers herself a feminist—something prominent female Republicans have rarely ventured to do:
"Today, only 23 percent of women identify with the term feminist. Liberal ideas aren't the answer. Their version of feminism isn't working. It is time for a new definition," Fiorina's prepared remarks for Thursday night read. "A feminist is a woman who lives the life she chooses. We will have arrived when every woman can decide for herself how to best find and use her God-given gifts. A woman may choose to have five children and homeschool them. She may choose to become a CEO, or run for president."
(RELATED: Carly Fiorina's Audacious Sales Pitch)
Fiorina also will use the speech to deride so-called "ideological feminists" while promoting her own definition:
Feminism began as a rallying cry to empower women—to vote, to get an education, to enter the workplace. But over the years, feminism has devolved into a left-leaning political ideology where women are pitted against men and used as a political weapon to win elections.

Being empowered means having a voice. But ideological feminism shuts down conversation—on college campuses and in the media. If you are a man—or a woman—who doesn't believe the litanies of the left, then you are "waging a war on women" or you are a "threat to women's health" or you are variously described as "window dressing" —Joni Ernst—or offensive as a candidate—Carly Fiorina.

The progressive view of feminism is not about women. It is about ideology.
Rep. Michele Bachmann notably refused to refer to herself as a feminist, opting instead for "pro-woman and pro-man." In 2010, Sarah Palin told a crowd of anti-abortion activists that they represented an "emerging, conservative, feminist identity"—implying that Palin considers herself a member of their ranks.
(RELATED: Fiorina Urges Clinton Press to Ask Questions of a Candidate Who Will Actually Answer)
Fiorina, a former Hewlett-Packard CEO and Senate candidate in California, joins a small band of Republican politicians who have aligned themselves with feminism as a school of thought. Along with herself and Palin, there is Rep. Martha McSally, who represents Arizona's 2nd Congressional District.
"I consider myself a feminist Republican, and that's not an oxymoron," McSally told CQ Roll Call during her campaign last year.
While that label may not be terribly illuminating, it does show that the F-bomb may be becoming a less-loaded word for conservative women to use. In the 1960s, "feminist" may have conjured images of angry, bra-burning women, but it's taken on a friendlier tone in recent years—especially as mainstream pop stars such as Beyoncé and Taylor Swift have started to proudly identify as feminists.
On a conference call with reporters Thursday, Fiorina interpreted her brand of feminism through her business experience. She noted that in places like Silicon Valley, the lion's share of venture capital flows to businesses led by men.
(RELATED: Carly Fiorina: The GOP's 'Anti-Hillary')
"The differences are stark," she said. "I think it's undeniable that there's a problem there."
She added that in 2014, she founded the group Unlocking Potential to encourage more Republican and politically independent women to vote.
"Women are, after all, 54 percent of the vote today," Fiorina said. "If we as a party hope to win, we have to win with women."
Marjorie Dannenfelser, president of the anti-abortion Susan B. Anthony List, has leveraged her own political power to help Fiorina, without going so far as to formally endorse her. Fiorina opposes abortion, except in cases of rape, incest, or where the mother's life is at risk.
Fiorina said Thursday she does not support subsidized birth control, but thinks it should be available over the counter.
(RELATED: What Exactly Is Carly Fiorina Up To?)
"We have loads of data that support when you put something over the counter, the costs plummet dramatically," she said on the call. "I don't understand why [Democrats] are opposing over the counter because I think it's completely illogical."
On other social issues, Fiorina has taken center-right stances. She recently said she supports states' right to legalize marijuana, even though she personally opposes marijuana legalization. She's also gone on record in support of the DREAM Act, though she opposes providing a pathway to citizenship to adult undocumented immigrants.
During the call, Fiorina was asked for her thoughts on transgender rights—a topic that fellow presidential candidate Sen. Lindsey Graham weighed in on last weekend, in light of Caitlyn Jenner coming forward.
"It's a difficult question," Fiorina said, recalling "several senior employees" who were going through the process of transitioning when she was at Hewlett-Packard.
"I think people fulfill their potential when they are able to be who they are and to be open about who they are," she said. "Being a woman is about a lot more than our bodies, and what we look like. And that, in fact, is the real point of today's speech, that regardless of how a woman looks, that a woman has a lot of potential, and when that potential is used—as the facts undeniably demonstrate—the world is a better place."
Fiorina likely will face some difficulties from both sides as she tries to forge a path for her imagined new school of feminism. Some Republican women still quate feminism with misandry, and some Democratic women will inevitably argue Fiorina cannot be a true feminist if she opposes abortion.
Ahead of Fiorina's speech Thursday night, the Democratic National Committee blasted out an email to reporters pointing out that Fiorina opposes equal pay legislation and paid maternity leave.
Making matters more difficult, Fiorina has taken up the mantle of criticizing Hillary Clinton—someone who many women consider to be a feminist icon—on a more personal basis.
If Fiorina can get more Republican women to redefine themselves as feminists, that will be a remarkable feat. If she can get Democrats to see her as a feminist, it will be nothing short of a miracle. And if Fiorina can succeed at either task, at least in some small part, she'll have Beyoncé to thank.