Can Florida State Politics Cost the GOP the White House?
Florida is a must-win for the GOP in 2016. But can the state party get its act together in time to help?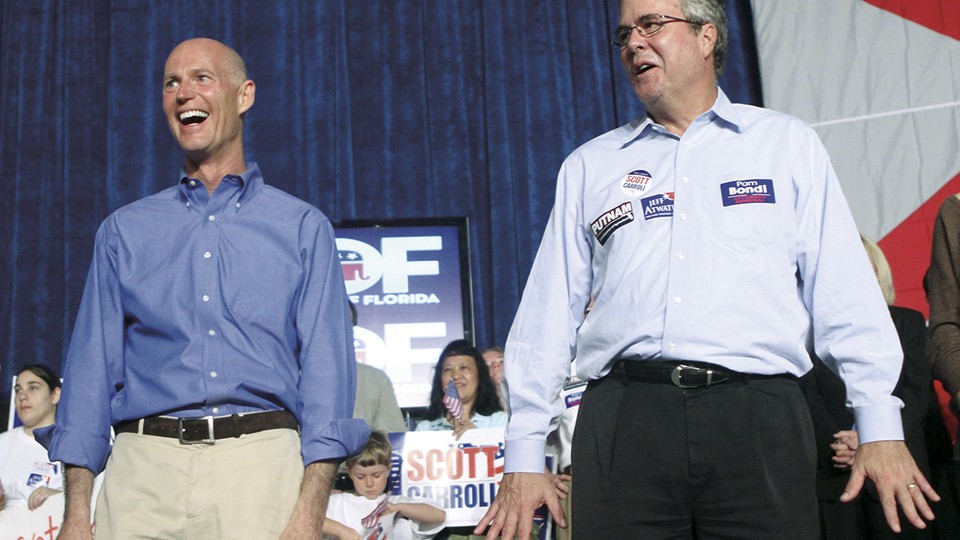 One of Blaise Ingoglia's first moves as chairman of the Republican Party of Florida was to shut it down.
He blocked access to the party's headquarters building and suspended all financial activity in a scramble to take charge. But by that point, $1.4 million had already been shifted by Gov. Rick Scott and Republicans in the state Senate to separate political committees under their control. They said the raid, which came just hours before Ingoglia's election, was due to uncertainty about the party's future. "At the end of the day," says state Senate President Andy Gardiner, "we moved the money for Senate campaigns until we knew the future of the party."
Yet now, leadership clearly in place and "uncertainty" gone, the money remains outside the grasp of the state's Republican Party. And while Ingoglia insists party business is back to normal and touts his relationships with Scott and Gardiner, signs of strain among state Republicans are unmistakable and persistent.
That starts with Scott. While most governors are intimately involved in their party organizations, Scott has largely focused on his own personal political committee, Let's Get to Work, giving rise to financial concerns about the state party. When Scott recently lured seven Republican White House hopefuls to Orlando for a cattle call, the state party was excluded from the potentially lucrative fundraising opportunity. Indeed, the candidates spoke on stage at Walt Disney World from a podium emblazoned with Scott's name, before a backdrop touting Scott's committee.
(RELATED: Will Republicans Break Their Pattern?)
"Who ever heard of such a thing?" asked one prominent state Republican. "Who's ever heard of presidential candidates coming to a state for the governor and having nothing to do with the party?"
"This governor is acting very differently toward the party than former governors have," said Paula Dockery, a former Republican legislator who is now a syndicated columnist. "Even when [Scott] controlled it more, he still wanted his own political committee and seems like he wanted it to be in even better standing than the party."
Frosty relationships and Byzantine turf wars are nothing new to politics in any state, especially when one party dominates, the way Republicans have in Florida. But with a presidential election 17 months away, many Republicans are worried that the party's trouble with state leaders could do more than fray nerves—it could ultimately deny the GOP's eventual nominee Florida's 29 electoral votes.
In 2016, Florida is a must-win for the Republican nominee if the GOP intends to retake the White House. And after watching the Obama campaign out-organize and out-maneuver them for several years leading up to the 2012 election, state Republicans from Ingoglia on down want to get an early start laying groundwork for their nominee's campaign to take over and exploit.
But time is running out. "We're probably six months behind schedule," said one state Republican in May. "Especially compared to what Obama was doing in 2011," when his team was already building a massive volunteer base more than a year before the election.
When it comes to local politics, Florida looks less like a famous battleground state than it does a peninsular extension of the Deep South. In fact, only two Democrats have managed to win statewide office in the 21st century.
(RELATED: In Florida, Republicans Are Americans for Prosperity's Top Target)
Florida Republicans have controlled the legislature uninterrupted since 1997. And since 1994, when Jeb Bush narrowly lost his first run for governor, the GOP has won every single gubernatorial election—a level of Republican dominance surpassed only in deeply conservative states such as Idaho, the Dakotas, Texas, and Utah.
But when presidential candidates come to the state, Florida's competitive nature breaks through. In the last six presidential elections, Democrats and Republicans have split their wins—three to three. In the last of those elections, Republicans first mocked and then watched sullenly as Obama's campaign built, over the course of several years, an enormous volunteer-driven field program that boosted him to a one-point victory.
Rick Perry and Mitt Romney in 2011 at the Fox News/Google GOP Debate in Orlando, Florida. (Mark Wilson/Getty Images)
The Romney campaign, which spent the better part of 2011 and 2012 concerned with primary politics, was quite simply less prepared, and state Republicans are determined to not let it happen again. "I personally have spent a lot of time reviewing a lot of documents and papers on what the Obama campaign did and how they executed," Ingoglia says. "I'm not one to sit back and wait for someone else to come up with solutions, but instead take the bull by horns. I ran for chairman on a platform of doing some of those things."
That's the impetus for "Project 29," Ingoglia's initiative, announced in mid-May, to prep Florida to go red long before Republicans choose their presidential nominee. The project, according to Ingoglia, has three parts: engaging volunteers and different demographic communities early, aggressive digital outreach, and acquiring data and new technology to make the presidential campaign more efficient and effective in the state. (Ingoglia refused to elaborate on the party's data work, calling it "proprietary.")
But the turmoil this year has created enough trepidation that some Republicans are looking outside the party for a way to set the stage for their 2016 nominee. Multiple sources confirmed preliminary discussions by some well-funded GOP business groups and interest groups to set up a new effort to gather data, organize volunteers, and conduct detailed research on Florida voters starting this year to maximize the party's odds of winning the presidency.
"There's so much important data to be gathered "¦ that any group that's serious about turnout in November 2016 needs to be active and ready to go in fall 2015, leading up to the presidential primary," one source says. "You can't wait until after the primary or near the convention to begin a serious operation in a state that's going to have 9 million votes cast."
Ingoglia dismisses both talk of intraparty friction and this extra-party effort, insisting his operation will be able to set the table for the nominee. "Nothing's going to get us sidetracked. We understand the task at hand, and we'll deliver the state," Ingoglia says. "At the end of the day, nothing's going to be as powerful as RPOF [Republican Party of Florida] because we have the infrastructure already in place—data, digital, grassroots—and history has proven that a strong RPOF can deliver for the nominee."
Not since 2004, though. And since then, the state's demographics have changed rapidly.
(RELATED: Jeb Bush is Courting the Latino Vote. How Much Will it Help?)
Florida's presidential electorate is about two-thirds bigger than the midterm electorate Republicans dominate so thoroughly. And many of the voters swelling the rolls during presidential elections are Hispanic and African-American—the voting groups that local Republicans don't need to lure to win and that national GOP candidates have failed to pursue in recent elections. The GOP's relationship with Florida's Cuban voters frays a little bit more with each generation, while the large numbers of Puerto Ricans migrating to Central Florida have become a solidly Democratic bloc.
"We do extremely well during midterms because our elected officials do a fantastic job on the ground, being in the communities," state party spokesman Wadi Gaitan says. "What we want to correct is during the presidential year, when someone who hasn't been in the community for the past two to four years is just introducing themselves and the party."
An early start could help Republicans ride Florida's demographic tide instead of fighting it. In partnership with the Republican National Committee, the RPOF has stationed a number of permanent Hispanic outreach coordinators around the state, people who didn't fly out after the 2014 midterms but instead are aiming to create a permanent presence in Hispanic communities. These coordinators could, the theory goes, give the GOP presidential candidate a head start in 2016, rather than forcing the nominee to start from scratch in courting the Latinos who will be crucial to a win in Florida.
"Unfortunately, Romney did a terrible job with the Hispanic community, and that's why our community overall was a little frustrated," says Jeannette Quinones, the state party's Hispanic field director for Central Florida. "That's why this excites me. I'm happy to be doing things differently. "¦ We're staying in the communities, just talking about what the Republican Party playbook is and how the policies work for the Hispanic community here."
Florida Republicans also have a potential ace in the hole: Of their three most likely presidential nominees, two are home-state candidates. Jeb Bush and Marco Rubio have organized Florida before, and they could do it again rapidly, their cultural experiences and language skills helping break through to populations that get plenty of attention in Spanish in local elections but less from Republicans on the national stage. Bush recently made a show of answering questions in Spanish on multiple national TV networks, and he told enthusiastic supporters in the important Tampa area that he would open his state campaign headquarters there, in addition to his Miami-based national HQ.
Hillary Clinton's own popularity with Hispanic voters (she outperformed Obama among the group during the 2008 primaries) underscores Republicans' imperative to woo that demographic, especially if her historic candidacy wins more white women to her side than Obama's. Already this year, she has staked out ground to Republicans' left on immigration, not only backing a path to citizenship but also Obama's immigration executive orders, which are popular among Latinos. Bush and Rubio have carried Florida Latinos before, but like nearly every other Republican running for president, they have never before grappled with a presidential-year electorate.
It all adds up to cloudy skies for Republicans heading into 2016. Yet the skies often clear in Florida after intense but brief storms, especially around this time of year. Indeed, there's precedent for a party committee playing a smaller role in a Florida presidential victory, one offered by President Obama in 2008.
"The fact that there was no functional state party in '08 actually made my job easier, because I didn't have to deal with bureaucracy or internal politics," says Steve Schale, Obama's state director that year.
Jeb Bush and Marco Rubio in 2010 in Coral Gables, Florida. (Joe Raedle/Getty Images)Whatever discomfiting incidents have occurred in 2015, the Republican Party of Florida is in exponentially better shape than its Democratic counterpart, which has been weakened financially and structurally by decades out of power. That led to the Obama campaign's own early organization in Florida during the president's first term. "In 2012, we didn't really have an option but to organize early, and I believe it made a significant difference," says Ashley Walker, Obama's Florida state director in 2012.
Their efforts generated about 300,000 new-voter registrations, after which Obama carried the state by fewer than 100,000 votes. "Organizing is all about building a foundation and then growing upon that foundation," Walker says.
If Bush or Rubio emerges with the nomination, Florida Republicans would have a strong foundation to build on, no matter what happens in 2015. That might be exactly how Republicans grapple with a changing state, even if the imperative to get a quick start doesn't amount to much.
But barring that, internal drama could hurt the state party's ability to gather data, connect with minority voters, and build lists that can turn into votes on Election Day. For Republicans, that would prove a disaster with nationwide consequences.
"We're not ready. We're not ready," one senior Republican strategist in Florida stressed. "Just 67 percent of the electorate will be white. We're not ready for that."