Can 2012 Rick Perry Be Fixed in Time for 2016?
The candidate has announced he's running, and he has vowed that this time will be different.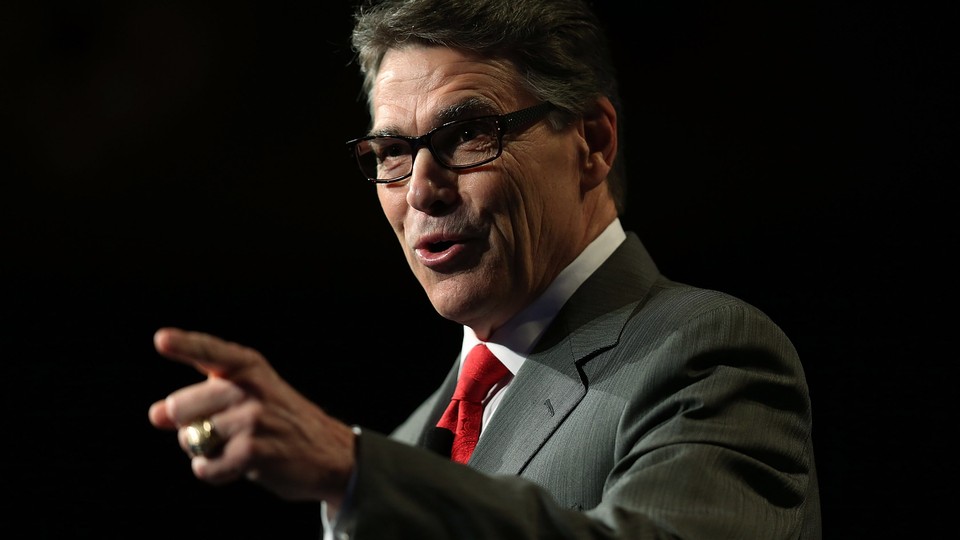 Rick Perry had repeatedly vowed to be better prepared than he was in 2012 if he decided to run for president again. Now, that pledge will be put to the test.
Perry, who has spent the better part of the past two years readying for another bid, officially entered the 2016 race for the White House on Thursday morning with the launch of his campaign website.
"If we're going to revive this American dream again, we need a president who provides leadership that transcends the petty partisanship that we've seen in the last few years, someone that's been tested," Perry says in a video on the site. "A lot of candidates will say the right things, whether it's about the border, whether it's about taxes, whether it's about spending. But we need a president who has done the right thing. We need a president who bridges the partisan divide rather than widen [it], who brings people together. We must do right and risk the consequences."
Perry, who is due to make his announcement formal at an event in Addison, Texas, Thursday afternoon, has worked tirelessly to shed his image as a failed presidential candidate, all the way down to ditching his cowboy boots and sporting a new pair of glasses. Surrounded by a new team of core advisers, Perry has crammed in as many sessions with policy experts and trips to early primary states as possible, hoping to avoid the pitfalls that led to his early exit from the 2012 campaign. And unlike the other Republicans who have jumped into the field so far, Perry is a military veteran—a fact that he touts prominently on his campaign website.
After serving more than 14 years as governor, Perry can lay claim to as extensive of a conservative record on economic and social issues as any candidate in the race. Still, he will have to fight for money and support in his home state with the multitude of candidates that have Texas ties, including Ted Cruz, Jeb Bush, and Rand Paul.
While Perry doesn't immediately vault into the top tier of GOP presidential contenders, Republicans warn that it would be foolish to underestimate him. He is a strong campaigner who has the ability to appeal to the evangelical and business wings of the Republican Party. And few candidates post better favorability ratings in key states like Iowa and New Hampshire.
In 2012, however, he entered the race with all of those same credentials, but none of them saved him from a series of cringeworthy campaign moments and an ignominious exit. The question now is whether that poor performance was intrinsic to Perry or just a result of inadequate preparation.
If it's the latter, Perry—with all his preparation—has hope for a better showing. But if the 2012 race revealed flaws that Perry can't paper over, 2016 is likely to be "oops" all over again.
---
Emma Roller contributed to this article