Boehner-vs.-Freedom-Caucus Battle Escalates
Leaders and conservatives argue behind closed doors as more retribution appears likely for GOP Conference rebels.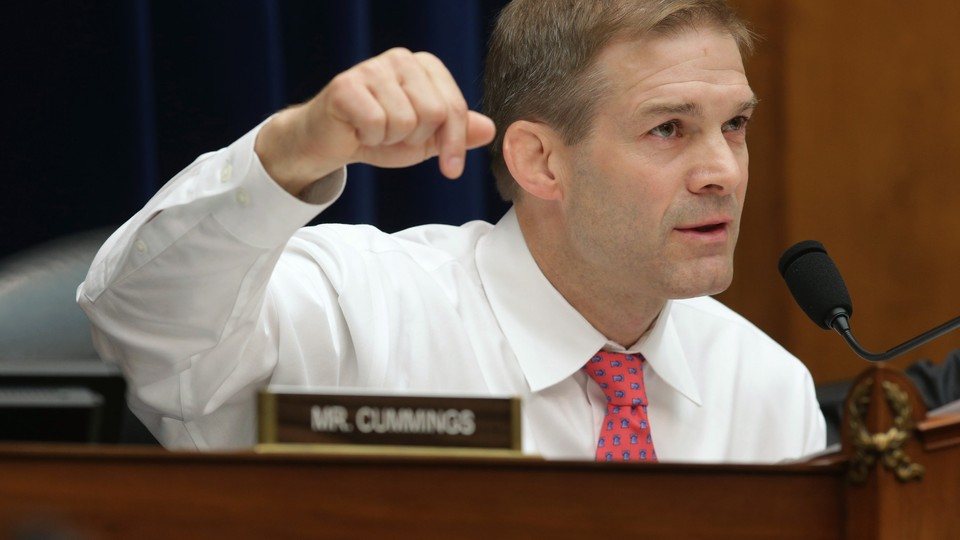 House Speaker John Boehner on Wednesday endorsed one of his chairmen stripping another member of his subcommittee chairmanship for voting against a procedural motion, the latest and most high-profile jab in the battle between GOP leaders and far-right conservatives.
Boehner told a private meeting of House Republicans that Oversight and Government Reform Chairman Jason Chaffetz made the right decision when he demoted Rep. Mark Meadows last week after Meadows joined 33 other Republicans in voting against a rule governing debate on trade legislation the week before.
"We have the majority, and when it comes to procedural votes in the House, the majority has to stick together and vote for or against, whatever the case may be, those procedural motions," Boehner told reporters after the meeting, paraphrasing his remarks behind closed doors. "The chairman made the right decision, and I told my members I supported that decision."
Other members in the meeting spoke up to defend Boehner and Chaffetz's position, including Education Committee Chairman John Kline and Rep. Adam Kinzinger, who both said that members who vote against rules are not being team players. But the speaker did not go unchallenged, according to sources in the room.
Rep. Jim Jordan, leader of the House Freedom Caucus, which was responsible for organizing the rebellion against the trade rule, spoke up to defend the 34 Republicans who voted against the rule. He said the rule was a vote of conscience because it inserted rules for debate for the trade measure into a rule governing debate on a separate issue, and therefore should not have been treated like every other rule. Rep. Morgan Griffith, another member who voted against the rule, made similar remarks.
Boehner shot back at Jordan, however, noting that the substance of the bill had already been debated and that Jordan and other members had supported similar rules in this Congress and the previous one with no outcry.
It is unclear what further retribution, if any, will be doled out. Already, three members have been kicked off the House GOP whip team for the vote. Leadership-aligned members also tried unsuccessfully last week to persuade their colleagues to boycott a hearing of the Financial Services Subcommittee helmed by Rep. Scott Garrett, a member who voted against the rule and whom they view as an underachieving fundraiser, according to several sources.
In the latest move, Reps. Elise Stefanik and Mimi Walters on Tuesday evening called an "important freshman class members only meeting" for Thursday morning, according to an email announcement. A spokeswoman for freshman-class president Ken Buck said she believes the purpose is to strip Buck of his ceremonial title for his vote against the rule.
In a statement issued by her office, Walters said: "A majority of the freshman class has expressed concerns I share regarding the leadership of our class President. In addition to regular business, tomorrow, we will also be discussing the direction of future leadership."
In an interview, Buck said he was approached Tuesday night and was asked to resign from his post, but declined. He said he believes the retribution is coming from leadership, a point he said was evidenced by the fact that it was being spearheaded by Walters, who is the freshman delegate to the leadership table.
"I'm not fighting. I'm not campaigning at all," Buck said. "I think that given the circumstances of a number of members being kicked off the whip team and another member being removed from a subcommittee [chair] position, it's clear leadership has decided there's going to be retaliation, and this is consistent with that."
The Freedom Caucus met Tuesday evening, and members of the group believe it is not out of the question that more subcommittee gavels could be claimed. Yet there is no concerted effort to take down other rules, according to a source familiar with the group's strategy.
"That's a myth. We are not in the business of being destructive. If it's a good rule, we're going to vote for it. If it's a bad rule, we're going to vote against it. I don't see anything changing," the source said.
Instead, the group is planning to write an editorial article outlining its position, and several members associated with the group are rethinking paying their dues to the National Republican Congressional Committee. The dues have become a point of contention between leaders and Freedom Caucus members. Leadership is frustrated that some conservatives do not pay their annual dues to the NRCC, but conservatives are equally frustrated that the NRCC does not help them in return, and that a political action committee associated with Boehner ran ads against Jordan and other members during a recent contentious debate over funding the Department of Homeland Security.
The House has several important issues on its plate this summer, including reauthorizing the Export-Import Bank and highway funding, advancing a 12-nation Pacific Rim trade pact, and moving several spending bills. It remains to be seen how this back-and-forth will affect the chamber's ability to legislate. But to be sure, it is casting a shadow over every issue coming before House Republicans, with no sign of letting up.
As Boehner told reporters Wednesday: "I'm sure the family conversation will continue."
This article has been updated.