Bobby Jindal Leaks Recording of His Presidential Announcement—to His Children
In a video posted on Facebook on Wednesday, the Louisiana governor tells his three kids that "things are going to change a little bit."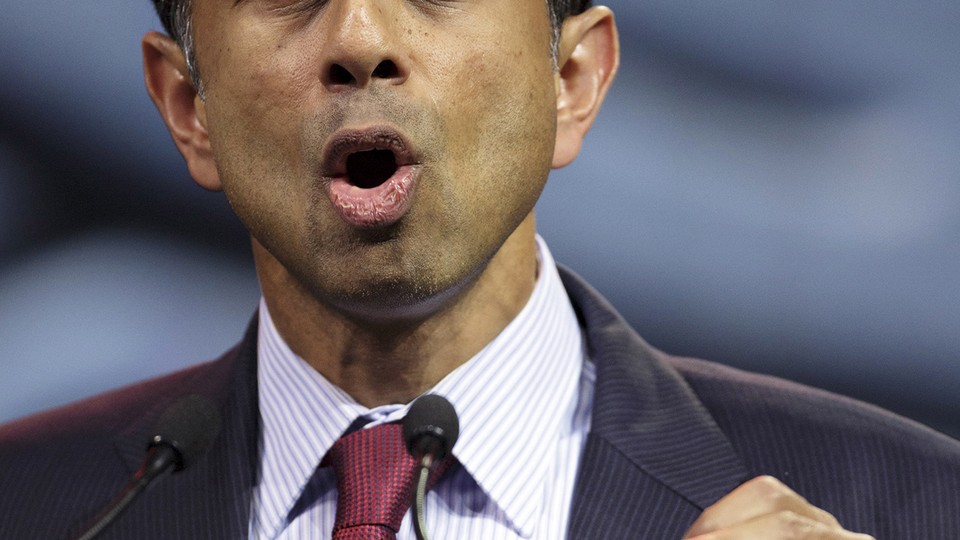 Pre-campaign announcements and intimations have become hallmarks of the 2016 campaign, like excited tweets teasing launches, wide-eyed "should I run?" fundraising emails, and discussions of family conversations held behind closed doors.
But with a video posted to Facebook on Wednesday afternoon, Louisiana Gov. Bobby Jindal took an even more unorthodox approach: He released a recording of his announcement to his own children that he'd be running for president.
In the video, the five-member Jindal family—father Bobby, mother Supriya, daughter Selia, and sons Slade and Shaan—sits on what appears to be a becolumned back patio to talk about "Daddy's" plans for the future, which he's slated to announce to the American people early Wednesday evening. The video is shot from within a vine-covered tree by the porch, and the audio isn't always entirely clear. It begins with that most-feared phrase parents use when somebody is in trouble: "Mommy and Daddy wanted to talk to you."
"Mommy and Daddy have been thinking and talking a lot about this," Bobby Jindal says, after explaining to the kids that they can't tell their friends what he's about to say. "And we have decided we are going to be running for president."
The kids at first don't respond—from what one can tell from the audio—until each is prompted to do so by Supriya Jindal. The announcement merits a two-thumbs-up from Shaan Jindal, and none of the children seem surprised. "We knew you were going to talk to us about this," Shaan Jindal says.
"Things are going to change a little bit," the Jindal patriarch says. "We're going to be busy obviously this year—you guys will be traveling and you'll get a chance, if you behave, to go back to Iowa; would you like that?"
The family then reflects on their past visits to Iowa. The kids' biggest takeaways? Popcorn and the Iowa State Fair. But mostly the popcorn.
As the less-than-two-minute-long video wraps up, Supriya Jindal asks the children if they have any questions. Shaan Jindal has one right away: "How does this work—?" he begins to ask, before the feed cuts out entirely.
Bobby Jindal's campaign posted an additional six videos—from a few different reality-TV-esque angles, and with similarly tricky audio—of the family's presidential chat on its website. A couple choice exchanges from this revealing recording of Jindal family dynamics:
Daughter Selia Jindal seems to float the idea of the family getting a puppy. Dad's response? "If we move into the White House you can have a puppy." Selia Jindal asks to pick out the puppy, because she knows what kind she wants. But Bobby Jindal has some caveats regarding their potential acquisition: "You have to take care of the puppy better than you took care of the fish," frogs, or lizards. "How many fish have you killed in this house?"
As the family is talking, Slade Jindal, the younger son, becomes distracted: "There's a turtle over there." The campaign site explains the video this way on its site: "Keeping the attention of an eight-year-old can be hard."