Blumenthal Bashes GOP After Benghazi Committee Deposition
The Hillary Clinton ally also revealed that he didn't write the intelligence memos about Libya that he passed on to Clinton while she ran the State Department.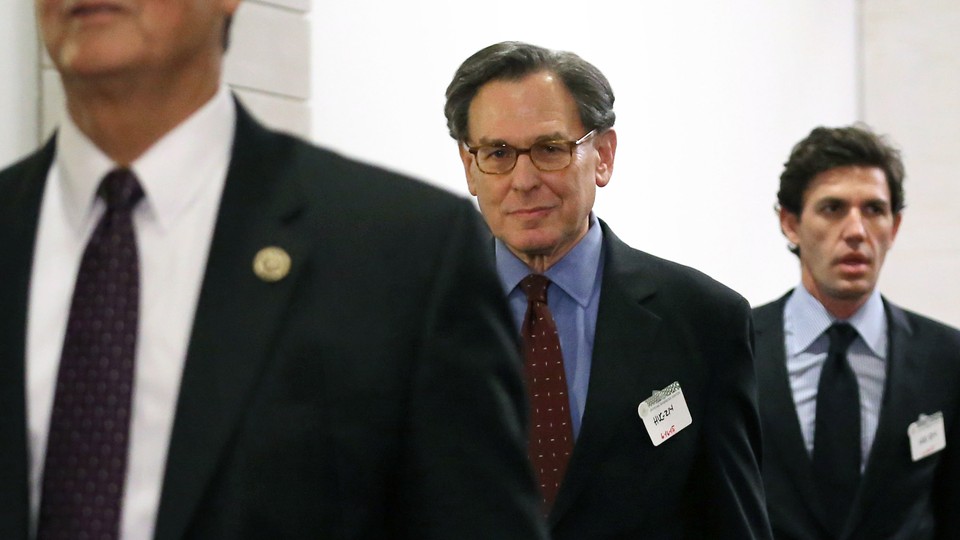 After a nearly nine-hour grilling in the Capitol described as civil, Sidney Blumenthal has a dim view of the GOP-led House Select Committee on Benghazi's probe.
"So why was I subpoenaed at all in front of the committee? I am a longtime friend of Hillary Clinton," Blumenthal told reporters after the daylong questioning. "It seems obvious that my appearance before this committee was for one reason and for one reason only—and that reason is politics."
Blumenthal told reporters that the deposition did nothing to advance understanding of the 2012 attacks that killed four Americans, including Amb. Chris Stevens. "My testimony has shed no light on the events of Benghazi. Nor could it, because I have no firsthand knowledge of what happened," he said.
However, the deposition shed new light on the detailed intelligence memos about Libya that he sent Clinton in 2011 and 2012, revealing that Blumenthal was not the author but instead was passing them along.
Blumenthal said the memos were written by a "respected, former, high-ranking CIA official" whom he did not name in his comments to the press.
But according to a source familiar with Blumenthal's testimony, he identified the person as a former CIA official named Tyler Drumheller. Drumheller served as the top CIA official in Europe before retiring in 2005, and his name has been linked to Blumenthal's memos in recent media reports.
Gowdy, in remarks to reporters, did not identify the former CIA official, but said the deposition showed that Blumenthal "had no role at all in the authoring, drafting, vetting, accumulation of intelligence."
Gowdy suggested that the author of the memos could have had financial interests in Libya. "One of the folks providing [Clinton] the largest volume of information was simply and merely a conduit of someone who—it's still unclear—may very well have had business interest in Libya," he said.
"[Blumenthal] just forwarded it on from someone else. And if that someone else has a pecuniary interest in Libya, I would think that would be instructive," Gowdy said.
The comments from Gowdy and Blumenthal capped a day that featured partisan tensions over the Benghazi committee.
Democratic frustrations with the GOP-led Select Committee on Benghazi's probe were evident as several members said the deposition provides the starkest evidence yet that Republicans are using the investigation to wound Hillary Clinton politically.
Rep. Adam Smith said the deposition—which follows a subpoena last month—about Blumenthal's correspondence with Clinton had little to do with probing the 2012 Benghazi attacks.
"I think it is pretty clear at this point that this is a political investigation focused on Hillary," he said. Democratic Rep. Adam Schiff said: "If this witness weren't close to the Clintons, there's no way he'd be here today. This is all about GOP efforts to try to attack a likely Democratic nominee for president."
Gowdy defended the deposition against the Democratic allegations of political motives.
"I fail to see how we are playing politics by talking to someone who sent a large number of memos to the top diplomat we have during the relevant time period. If that is playing politics, then we just ought to shutter Congress and not do any more investigations," he said Tuesday afternoon.
Beyond the partisan charges and counter-charges, there was also apparent tension between two House Republicans.
The Hill reported that GOP Rep. Darrell Issa, who is not a member of the Benghazi panel, "tried to crash" the deposition, going briefly inside before being escorted out by Gowdy.
"The pair briefly exchanged hushed words in a nearby hallway before Issa stormed off, throwing an empty soda can into a nearby trash bin," The Hill reported. Issa previously conducted one of the numerous congressional probes of the Benghazi attacks when he was chairman of the House Oversight and Government Reform Committee.
On the eve of the deposition, the Benghazi panel's Republicans announced that Blumenthal provided the committee Friday with roughly 120 pages of his emails with Clinton that were not given to the committee by the State Department in February, when Libya-related emails were turned over. (Those were made public last month.)
Emails the State Department turned over to the panel early this year and made public in May show detailed messages about Libyan intelligence, military, and political issues that Blumenthal sent to Clinton, who passed a number of them along to top aides.
Gowdy said the lack of earlier production of the documents that Blumenthal provided on Friday represented a "failure."
"I will leave it to you to figure out whether there was a failure to produce on the former secretary's part or a failure to produce on the Department of State's behalf," Gowdy said. "But clearly the committee should have gotten this information sooner."
But Democrats say the discrepancy between what State provided months ago and what Blumenthal gave the panel is, most likely, a sign that the committee's Republicans have expanded the scope of their document requests over time.
"The original requests were focused on Benghazi; the committee has sought to broaden its inquiry to be all of Libya, and who knows? By this time next year, it may be all of North Africa," Schiff told reporters.
A Democratic committee aide noted that the panel's document request to Blumenthal was very expansive. A late May request sought "any and all documents and communications sent by you or received by you from any official in the Executive Branch referring to or relating to a) Libya (including but not limited to Benghazi and Tripoli)."
On Monday night, Gowdy said Blumenthal produced emails "regarding Libya and Benghazi."
A State Department spokesman said the committee has not contacted them about the emails, so they don't know which ones Republicans are referring to and thus can't speak to them. But State defended its responsiveness to the GOP-led probe.
"We provided the committee with a subset of documents that matched its request and will continue to work with them going forward," spokesman Alec Gerlach said.
Gowdy said he plans to make the emails that Blumenthal delivered public and said he's seeking Democratic cooperation to release them shortly. Otherwise he said he will wait until "the required five days has passed."
Rep. Elijah Cummings, the Benghazi committee's top Democrat, told reporters outside the closed-door deposition that the emails should be released only alongside a transcript of the deposition in order to ensure the needed context is provided.
Gowdy told reporters that he would consider Cummings' request but called it atypical of how other witnesses who have appeared behind closed doors have been handled.
Blumenthal is the first person to be formally deposed by the panel, but there have been many interviews in the course of the probe since the committee launched a year ago.
"I will give Mr. Cummings an opportunity to convince me ... that we should treat this witness differently than the way we have treated every other witness," Gowdy said.
Cummings said he does not have authority to release the transcript without cooperation from the Republicans.
Cummings declined to provide details about the emails but said, "There is no smoking gun." He did say that he did not recall them containing any information about the Benghazi attack itself.
Gowdy, a former federal prosecutor, pushed back against Cummings' use of the term "smoking gun." "It's not a gun case. Why would there be a smoking gun? I don't understand that colloquialism," Gowdy said, adding that he is seeking to build a "complete record."
This article has been updated.