Black Workers Could Save Dying Unions
The South might be the perfect place for unions and black workers to save each other.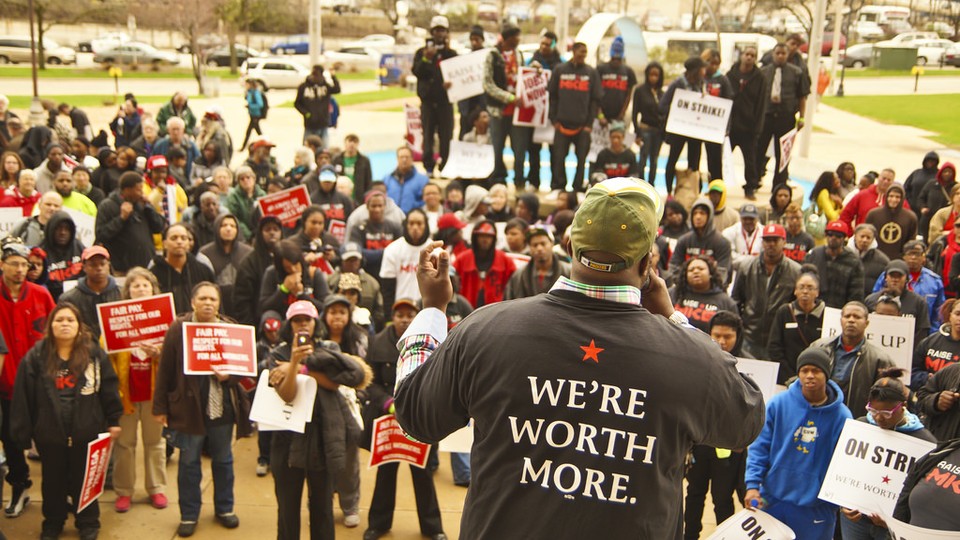 As the country added 280,000 jobs in May, unemployment remained unchanged this month, though it was down almost a full point since last year. Overall, black workers had seen consecutive months of falling unemployment, dropping to 9.6 percent last month, the lowest since the recovery. But May ruined that with a 10.2 showing for the group (compared to 4.1 for Asians, 4.7 for whites, and 6.7 for Latinos (6.7).
It's not all bad news though. Marc Bayard, director of the Black Worker Initiative at the Institute for Policy Studies, has lately found reason to feel optimistic: unions. "Black workers are at a very, very fragile and critical place right now," Bayard said. "And the labor movement is at a fragile and critical moment, too."
It may seem outlandish to believe that unions could save anyone these days. They've reached an all-time low in membership. Today, about one-in-ten people are card-carriers, down from the heyday of the 1950s, when membership stood at around 35 percent. The Midwest, the former union bastion, has turned on them--especially in Wisconsin where Governor Scott Walker has just about declared war on unions.
"How can the two champion each other?" Bayard says of black workers and unions, "that's really the crux of it.
Black workers are more likely to join unions than white workers. And when they do, black workers earn more than their nonunion counterparts, about 27 percent more per hour, according to a study by the Center for Economic and Policy Research.
By 2020, around 65 percent of jobs will require some post secondary education, according to a recent report by Georgetown University. This could mean trouble for young blacks, who have one of the lowest educational attainment rates in the country.
On the bright side, black workers with low educational attainment are among the most helped most by unions. Black workers without a college degree saw their hourly wage increased by 20 percent, according the the Center for Economic Policy Research study.
And where is the best place for this to happen?
The South, of course.
"Get on the wave, get involved and be a long term, authentic partner," Bayard says. The timing is near perfect for a real economic justice movement of unions working in the South with African Americans."
More than half of the country's black population lives in the South, where unions are practically non-existent. Poverty levels, wages, and educational attainment are some of the worst in the nation.
"The public consciousness has been raised by the Black Lives Matter movement and the demonstrations," said Sean Thomas-Breitfeld, co-director of the Building Movement Project, an organization that supports social change movements. "The public actions have created an opportunity to have different conversations about the economic problems that African Americans are facing in this country."