Big Oil Companies Want a Price on Carbon. Here's Why.
Natural-gas profits have Shell and BP, among others, calling for increased use of carbon-emissions fees ahead of a make-or-break climate summit in Paris.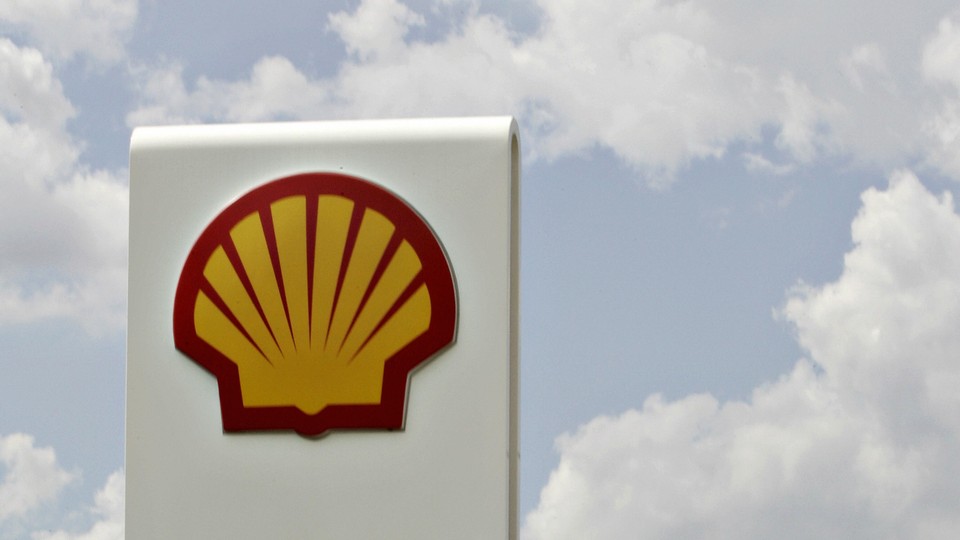 Six oil and gas giants based in Europe have delivered an unusual joint message to organizers of United Nations climate talks: We want a price on carbon-dioxide emissions.
BP, Shell, Eni, Total, Statoil, and BG Group (a big gas company that Shell is acquiring) announced in a letter to Christiana Figueres, the top U.N. climate official, that they are joining forces for an initiative calling for carbon pricing, which is accomplished through emissions-trading systems or taxes.
Their effort reflects a strategic calculation for the companies that by engaging on the topic, they can help shape climate policies to benefit natural gas, which produces about half the carbon emissions of coal when burned to create electricity. Wider use of carbon pricing worldwide, depending on how stringent the policies, could benefit companies that produce gas and ship it around the globe in liquefied form.
"[T]he need to cut emissions is so essential that we have to pursue all options to lower carbon while providing the energy the world needs to meet demand from a growing population seeking better living standards. Natural gas can help deliver this," reads a second open letter from the companies released to the press.
Kevin Book of the consulting firm ClearView Energy Partners says the companies are motivated by support for green policies in Europe, where the European Union has a long-established emissions-trading system, and the growing share of natural gas in the oil and gas industry's reserves.
"If you are both European and gassy, then it is easy to understand the support for a price on carbon," said Book, ClearView's managing director.
The letters come as industry officials are meeting in Paris this week for the World Gas Conference.
And they coincide with the latest round of U.N. climate talks in Bonn, Germany ahead of the Paris climate summit that starts in late November, which will be aimed a hashing out a final global climate accord.
The companies—which are headquartered in Europe but have operations worldwide—say they want to "open direct dialogue with the UN and willing governments."
The companies are calling on governments to introduce national and regional carbon-pricing policies where they don't already exist, and to create an international framework to eventually link national programs together.
Jason Bordoff, the founding director of the Center on Global Energy Policy at Columbia University, said that in addition to interest in gas, there's a recognition by major companies that they need to engage on climate policy.
"I think given how quickly nations are beginning to move to address climate change, given how public opinion on the issue is rapidly shifting, and how much pressure is coming from the public for greater action from the energy companies that produce fossil fuels that are responsible for the vast majority of carbon emissions, I think many—clearly not all—but many large energy companies are realizing that they need to proactively engage in the conversation about what the solution to climate change is going to be," said Bordoff, who was a senior energy and climate aide at the National Security Council under President Obama.
Big U.S.-based oil and gas companies like Exxon, Chevron, and ConocoPhillips are not part of the initiative.
The European companies say that carbon pricing benefits the industry in the long term by helping to provide certainty and policy stability.
"Pricing carbon obviously adds a cost to our production and our products—but carbon pricing policy frameworks will contribute to provide our businesses and their many stakeholders with a clear roadmap for future investment, a level playing field for all energy sources across geographies and a clear role in securing a more sustainable future," the letter to Figueres states.
The letter notes that carbon pricing can help drive use of gas as a replacement for coal. But while the companies are promoting the role of natural gas in climate policy, they say that carbon pricing will benefit several technologies, including energy efficiency in buildings, renewables, carbon-capture and storage, and low-pollution cars.
The World Bank tracks (and promotes) carbon pricing, and a late May Bank report notes growth in the practice.
"In the past year and a half, Portugal and Mexico implemented new carbon taxes, South Korea started one of the world's largest emissions trading systems, and California and Quebec linked their cap-and-trade systems, which Ontario plans to join," states the Bank's updated guide to nations with carbon pricing.
While promoting gas, the companies say they are not seeking "special treatment" for any fuel in their push for widespread carbon pricing worldwide.