Benghazi Panel Erupts In Partisan War Over Transparency
Democrats want a vote on releasing the transcript of Sidney Blumenthal's deposition, and Republicans say the State Department is dragging its feet on a committee request.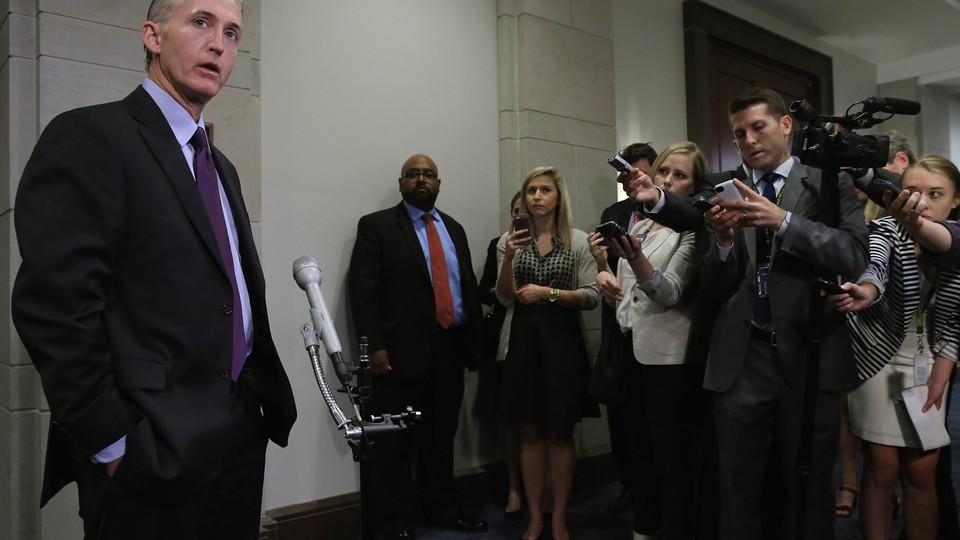 Republicans and Democrats on the House Select Committee on Benghazi have a message for each other: What are you hiding?
The two parties are fighting over which side is truly a friend of openness in the latest House GOP-led probe of the 2012 attack in Libya that killed four Americans, including Ambassador Christopher Stevens
In the latest move, Democrats on the House Select Committee on Benghazi are seeking to boost political pressure on Republicans to release Sidney Blumenthal's recent closed-door deposition before the panel.
In a letter Wednesday, all five of the panel's Democrats ask the committee's GOP chairman to schedule a public meeting and vote on a release of the daylong deposition of the Hillary Clinton ally.
In 2011 and 2012, Blumenthal sent a series of messages to Clinton about Libyan intelligence issues while she was secretary of State, and he recently turned over messages that hadn't previously been provided to the committee by the State Department.
Democrats are objecting to Republican Rep. Trey Gowdy's recent release of Blumenthal's emails without the deposition transcript, arguing that the transcript would provide needed background and context. Their new letter says they have a right to "insist" on a vote.
"We are writing to officially invoke our right to insist on a vote of the Select Committee on our proposal to release the transcript of the deposition with Sidney Blumenthal pursuant to the Deposition Procedures for the Select Committee on the Events Surrounding the 2012 Terrorist Attack in Benghazi, which were adopted by the House and printed in the Congressional Record on May 9, 2014," it states.
The letter argues that "the public record has been distorted by the selective release of Mr. Blumenthal's emails without the full context of his deposition transcript."
Gowdy has said he'll consider the release and plans to hold a private meeting to discuss it, rather than the public session and vote that Democrats are now demanding. Gowdy's spokesman struck back at Democrats Wednesday.
"Chairman Gowdy attempted to schedule a meeting so members could discuss this matter, but the Democrats chose to send out a press release instead. They remain uniquely focused on anything other than substantively advancing the Benghazi investigation," spokesman Jamal Ware said.
While pledging to weigh the release, Gowdy laid out the case against release in a June 22 letter to committee Democrats. "Releasing transcripts can impact the recollections of other witnesses, jeopardize the efficacy of the investigation, alert witnesses to lines of inquiry best not made public, and publicize personal information," Gowdy wrote.
And Gowdy, for his part, has repeatedly in recent days said that it's the State Department and Democrats that are lacking in the transparency department.
On Tuesday, he took aim at State for failing, thus far, to say why about 60 emails that Blumenthal provided days before his deposition weren't previously provided by State.
Gowdy wants to know whether State had them but did not produce them in response to earlier document requests or whether they weren't provided by Clinton when she turned over emails from her private server to State late last year.
"State should immediately produce to the committee emails that should have been produced months ago or explain why it is not in possession of these emails from Secretary Clinton. Either response has ramifications toward a full public record. This should be neither complicated nor time consuming," he said in a statement Tuesday.
State Department spokesman John Kirby has said in recent days that the department is reviewing the matter but has not provided a time frame.
More broadly, Gowdy has said State has largely failed, for months, to provide key documents requested by the panel, notably emails from 10 of Hillary Clinton's senior aides at State.
Gowdy has also questioned Democrats' commitment to openness. His July 22 letter to Elijah Cummings, the panel's top Democrat, says Cummings's commitment to transparency has not been "reinforced" with actions. He said Cummings should call on President Obama and Secretary of State John Kerry for "complete, timely" production of documents.
"The failure to do so may allow one to conclude your call for transparency is more of a talking point than a committed principle," Gowdy wrote.