'The World Noticed': Beau Biden's Death Unites a Nation in Mourning
The death of the vice president's son at 46 has produced a nationwide wave of grief rare for any politician in divided times.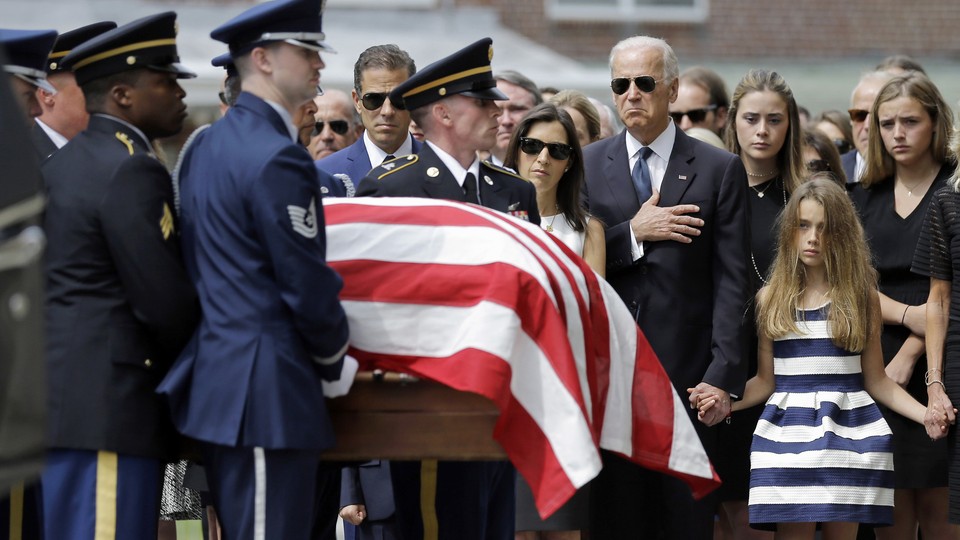 Beau Biden was laid to rest Saturday in Wilmington, Delaware. His untimely death, from brain cancer at just 46, is a tragedy for Vice President Joe Biden—more grief to add to the loss of his wife and daughter decades ago, in a car crash that young Beau survived.
The sadness of the Biden family has to a remarkable and moving extent become a national sadness, too. The death of the former Delaware attorney general has produced an outpouring of grief that is both bipartisan and perhaps surprisingly large for a man who never held national office and always seemed to shy away from the spotlight, even as he pursued a life of public service.
President Obama delivered one of several eulogies at Biden's funeral at St. Anthony of Padua Church, speaking for more than 20 minutes and getting choked up several times while bringing tears to the faces of those listening. He focused on how the young boy was marked by the accident that killed his mother and sister when he was four.
"From his dad he learned to get back up when he was down," the president said. "Rather than use his childhood trauma for justification for a life of self-pity or self-centeredness, that very young boy made a very grown-up decision: He would live a life of meaning, he would live a life for others." That decision resulted in an honorable, admirable, and accomplished man, Obama said: "He did in 46 years what most of us couldn't do in 146 years."
A long list of dignitaries attended— Chris Martin of Coldplay, one of Biden's favorite bands, performed—and TV cameras captured the ceremony. That followed a wake on Friday that was attended by thousands of mourners, who began lining up outside the church hours ahead of time. Some waited five hours to pay their respects. On Thursday, more than a thousand people attended a memorial in the Delaware State House. And since Biden's death last Saturday, heartbroken tributes have streamed in from politicians of both parties, journalists, and pundits of all political persuasion.
Speaking of Beau Biden's life of service (his full comments are here), Obama said: "The world noticed"—a statement proved by the ceremony. It's rare in this age to see such a uniform reaction to the loss of any political figure.
The last comparable outpouring might have been the death of former President Gerald Ford in 2006, nearly a decade ago. Unlike Ford, Beau Biden wasn't a president—though he had a strong connection to the White House through his father. But as my colleague Matt Ford noted when he died, Biden did live a life of service. As a major in the Delaware National Guard, he served for a year in Iraq from 2008 to 2009, winning a bronze star. As state attorney general, he prosecuted a terrible pedophilia case. He also demonstrated an eagerness to earn his position, despite being the son of a universally beloved and powerful politician in his small state. He declined an appointment to the attorney general's office in favor of seeking it by election, and opted to serve out his term rather than accept appointment to fill out his father's term when Joe Biden became vice president.
Perhaps one reason Beau Biden's death has moved the nation so much is that he recalls John F. Kennedy and Robert F. Kennedy. Like them, he was a handsome, charismatic official from a political family. Like them, he endured family tragedy. Like them, he volunteered to serve in the military. And like them, he projected a desire to be in politics out of a sense of duty—a duty to serve the country, born out of a love of fellow man. Like the Kennedy brothers, Beau Biden was struck down unexpectedly and far too young, leaving behind a young family and a sense of great potential blocked by fate.
"He made you want to be a better person," Obama said Saturday. "Isn't that finally the measure of a man? The way he lives, the way he treats others, no matter what life may throw at him."
Even for the majority of Americans who never knew Biden, that seemed to ring true. The chance to mourn someone who seemed to represent so much of the best of what the United States can offer, became a painful but cathartic national ritual that culminated in Wilmington Saturday.