Barack Obama's Best Day Ever
"This is as good as it gets for the president of the United States."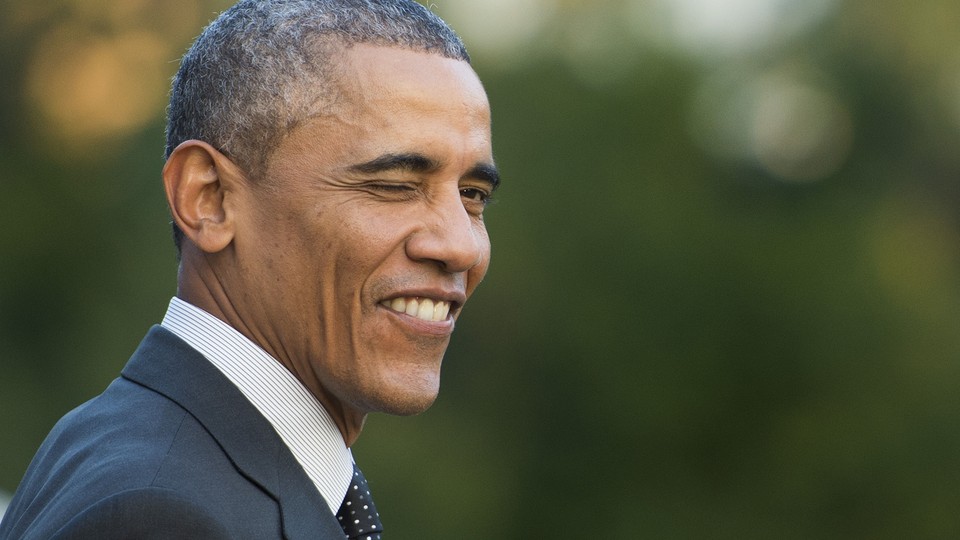 In a presidency filled with ceaseless wars, unfulfilled promises, and electoral disappointments, President Obama is having one of the best days he could ever hope for.
On Thursday, the Supreme Court ruled in favor of the Affordable Care Act, securing a much-needed win for Obama's embattled health care law. Across the street just a few hours later, Congress was set to pass a worker-assistance bill that the president will sign along with fast-track authority, advancing a crucial piece of his trade agenda.
"They must be popping the champagne corks at the White House this morning," mused former Clinton policy adviser and Brookings Institution senior fellow William Galston. "And why not?"
Obamacare, the chief domestic priority of the president's first term, again received the green light from the Supreme Court in a 6-3 decision upholding the law's insurance subsidies nationwide.
And as the chief policy priority of his second term, Obama has pushed for fast-track authority on trade deals such as the Trans-Pacific Partnership. After some initial stumbles and hurt feelings within his own party, the final pieces of the trade puzzle were poised to head to his desk Thursday afternoon. (In yet another win, albeit a less monumental one, the Supreme Court Thursday also upheld a central legal argument for the administration's efforts to fight housing discrimination.)
Two legacy-defining policy successes, plus another win for good measure—all in one day.
"It's why you run for office. It's why you aspire to put up with all the other negative aspects of work in politics and governing," said former Sen. Tom Daschle, a longtime Obama confidante who now chairs the public advisory firm The Daschle Group. "This is as good as it gets for the president of the United States. It will never be a better week than this for him."
A day like this—when two legacy-defining policy pushes come to fruition within hours of each other—doesn't happen often. Every once in a while, Galston said, there's a "harmonic convergence."
The only "cloud on the horizon," he said, is the still-evolving deal with Iran to curb the country's nuclear program. With a deadline set for June 30, there is growing concern that the deal "may fall short of meeting the administration's own standard of a 'good' agreement," according to an open letter from five former advisers to the president on Iran.
"They should drink just enough champagne to feel a bit tiddly in the morning, but clear their heads by the afternoon," Galston said. "They've got a lot of work left to do on the Iran deal."
There is also much more to be done elsewhere on the foreign policy front, particularly with increased violence and turbulence in Iraq and Afghanistan.
Speaking in the Rose Garden shortly after the Supreme Court decision came down, Obama himself acknowledged that reality.
"This was a good day for America," he said in remarks cheering the Obamacare ruling. "Let's get back to work."