All the GOP Presidential Candidates in the Senate Support a Late-Term Abortion Ban
And polling could help explain why.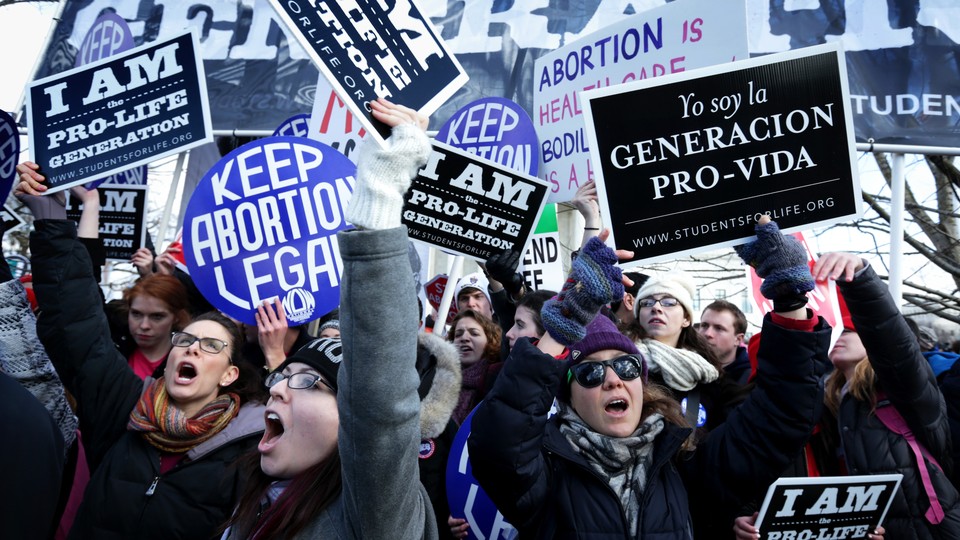 The four Republican senators running for president are trying to set themselves apart as each makes the case to primary voters that he should be the GOP nominee—especially as they're painted with the same broad brush by outside-the-Beltway rivals. But there's one subject on which the lawmakers won't be able to make any distinction: late-term abortion.
Sen. Lindsey Graham, who announced he's running for president earlier this month, introduced a bill Thursday that would ban abortions after 20 weeks' gestation. Three of his fellow candidates—Rand Paul, Marco Rubio, and Ted Cruz—signed on as cosponsors to the bill, called the Pain-Capable Unborn Child Protection Act. The bill makes exceptions for saving the life of a pregnant woman and for some cases of rape and incest.
"I don't believe abortion, five months into pregnancy, makes us a better nation," Graham wrote in a press release. "I look forward to leading this long-overdue effort and pushing for a roll call vote in the Senate."
Republican backing of such a bill isn't surprising, as the party is vocally antiabortion. But the candidates might also find public support from a significant chunk of the American public who are against late-term abortions.
According to a December 2012 USA Today/Gallup poll, 64 percent of Americans believe abortion should be illegal in the second trimester—roughly weeks 13 to 26 of a pregnancy—and 80 percent of Americans think it should be banned in the final trimester. Those figures are in contrast to the number of Americans who actually self-identified as "pro-life" to pollsters: In 2012, a Gallup poll showed 50 percent of survey participants considered themselves "pro-life," roughly the same percentage who said abortion should be legal only in certain circumstances. In the last three years, the number of antiabortion voters has dropped, to 44 percent last month, but the proportion who believe abortion should be legal only in select circumstances hasn't significantly changed: It's wavered between 50 percent and 52 percent since 2012.
Perhaps the candidates think many voters can support their backing of a late-term abortion bill, even if they don't buy into the entire antiabortion movement itself.