A Woman on the Sawbuck
Treasury Secretary Jack Lew announced that the $10 bill will feature a new face by 2020.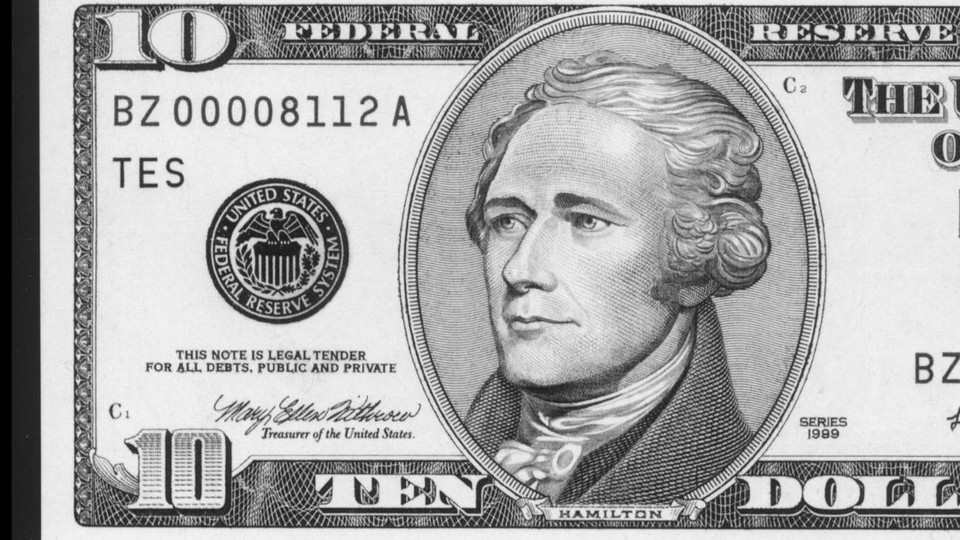 On Wednesday, Treasury Secretary Jacob Lew made the surprise announcement that the $10 bill was getting an overhaul and that by 2020, the bill that features the first secretary of the treasury, Alexander Hamilton, would also feature a still to-be-named woman:
America's currency is a way for our nation to make a statement about who we are and what we stand for. Our paper bills—and the images of great American leaders and symbols they depict—have long been a way for us to honor our past and express our values.
Lew also noted that the redesign coincides with the 100th anniversary of the passage of the 19th amendment, which granted women the right to vote.
The decision to remake the sawbuck may not necessarily knock Hamilton off the bill entirely.​ "There are many options for continuing to honor Hamilton," read a statement on the Treasury website. "While one option is producing two bills, we are exploring a variety of possibilities."
The last time the Treasury added a new face to a bill, it was Andrew Jackson's, whose visage replaced that of Grover Cleveland on the $20 bill. It was also the $20 bill that seemed the most likely candidate to be resigned. Earlier this year, we noted the efforts by the group Women on 20s to replace Jackson, who cuts a controversial historical figure and hated paper currency, with a woman. (In a poll, Harriet Tubman edged out Eleanor Roosevelt as the winner.)
In April, as the initiative gained steam, Senator Jeanne Shaheen of New Hampshire introduced a (non-monetary) bill called the Women on the Twenty Act. Following Lew's announcement, she declared half of a victory, "While it might not be the twenty-dollar bill, make no mistake, this is a historic announcement and a big step forward."
Nevertheless, it does seem like an underwhelming choice. "The $10 bill is the third least-circulated among the seven major denominations, accounting for 5.2 percent of 36.4 billion notes in use at the end of last year," Bloomberg noted. As Matt Phillips explained in The Atlantic in 2012, the $100 bill still dominates.
But Lew made clear that this just the first bill to be redesigned, as part of a comprehensive overhaul. "Democracy is the theme for the next redesigned series of U.S. notes," he said. "Images that capture this theme will be featured on the next $10 bill, and on future bills."