A Veterans Advocate For The 21st Century
Matt Miller takes a holistic approach to advocating for the country's wounded warriors.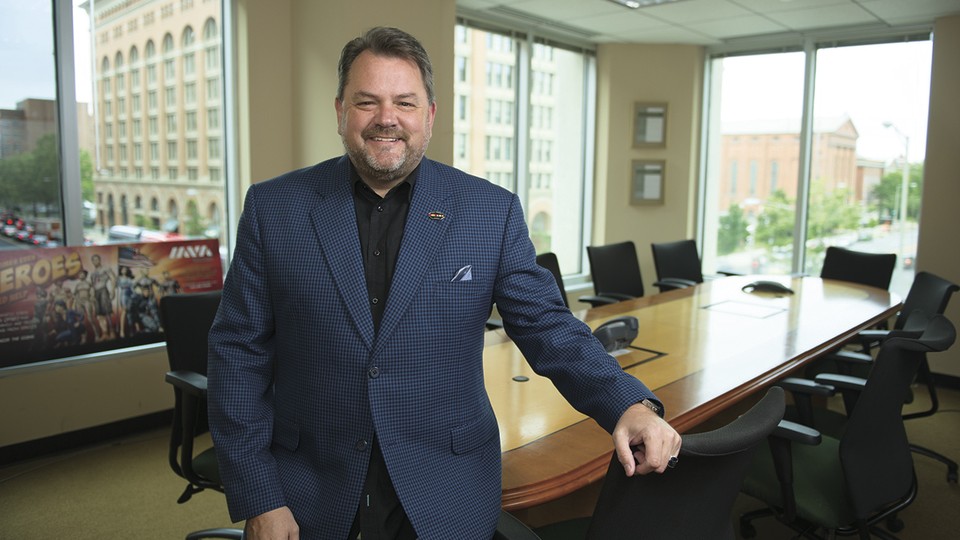 Everyone take a deep breath," Matthew Miller tells the 40 or so veterans' advocates and Capitol Hill aides gathered in a House office building on a recent Tuesday. They've just watched a screening of Crisis Hotline: Veterans Press 1, an Oscar-winning documentary about a call center for vets contemplating suicide, and the film, like the lives of the service members whose stories it tells, contains more than a few harrowing moments. The assembled group will start talking policy soon, but not just yet.
Miller is the new chief of policy for Iraq and Afghanistan Veterans of America, and being a Washington advocate for veterans isn't the job it used to be. For most of the nation's history, helping vets was mainly about ensuring that they received care for and support in managing their physical wounds. But with so many returning veterans now being diagnosed with post-traumatic stress disorder, groups such as IAVA are increasingly seeking to ensure that service members' invisible wounds are addressed as well.+ Matthew Miller is the chief policy officer for the Iraq and Afghanistan Veterans of America. (Chet Susslin)
That means that, in addition to overseeing the IAVA's eight-person D.C. staff, Miller spends much of his time advocating for improvement in mental-health services for veterans, including arranging awareness-raising events like this one. At the top of his priority list is helping to implement and build on the Clay Hunt Suicide Prevention for American Veterans Act, a law IAVA helped develop and Congress passed earlier this year. Another focus is influencing policy around women's health: Female service members are the fastest-growing segment of the veteran population, and many face obstacles in accessing care.
These priorities aren't Miller's pet causes: They're the issues polling has determined IAVA members care most about. A Republican operative with a deep love of country music and Ronald Reagan (when his firstborn turned out to be a girl, he named her Reagan anyway), Miller says what he really cares about is serving veterans in any way they want him to. "Service to me is why I was put on this Earth," he says. "As long as my health keeps up, I'll always try to be involved."
Miller was born in Highpoint, North Carolina, and graduated from Mars Hill University in 1986 with a bachelor's degree in history and political science. After working for a few years as a campaign operative in North Carolina, he moved to Washington, landing a job on the Hill as a staff assistant to Jim Sensenbrenner of Wisconsin. He spent a few years at conservative think tanks before going to work as chief of staff for Rep. Richard Pombo of California in 1993, the first of five members of Congress he would serve in that capacity.
While he liked working on the Hill, being a public servant wasn't all he had in mind, he tells me. "I wanted to grow that service through the military," he says. So, he also received a commission as a public-affairs officer in the Navy Reserve. He got called to active duty for the first time shortly after 9"Š/"Š11, serving as a public-affairs officer in Guantanamo Bay. He then bounced among the Hill, the administration, and the military, doing stints in both the Defense and State departments and with the Department of Defense Criminal Investigation Task Force at Fort Belvoir. In 2006, he did his first tour in Iraq with the Navy Reserve, going to Baghdad, where he handled congressional delegation visits and provided advice on congressional matters to Commanding General David Petraeus.
Upon returning from Iraq, Miller worked in public affairs at the Naval Surface Warfare Center Carderock Division in Bethesda, Maryland, and then, after brief tours of service in Iraq and Afghanistan, in 2012 he went back to the Hill as chief of staff to Rep. Scott DesJarlais of Tennessee. He then served as a political adviser to the Election Support Cell for the International Security Assistance Force in Kabul leading up to the country's 2014 presidential election.
In January, he started with IAVA. He tells me that veterans' care is a direction he'd been wanting to head in for a while: "It had been on my mind for some time now to work for an organization whose main goal is to help veterans and their families," he says. For now, that means making sure the stories of service members' struggles get heard, even if their wounds don't always show. "We and other groups out there have created a national dialogue regarding brain injuries, PTSD, and suicide," he says. "Mental health will always be one of the core issues that our members are concerned about. Whether it remains a top issue, we'll have to see."