A New Poll Underscores Why GOP Politics on Immigration Is So Darn Messy
A majority of Republicans support a path to legalization, but immigration still divides the party.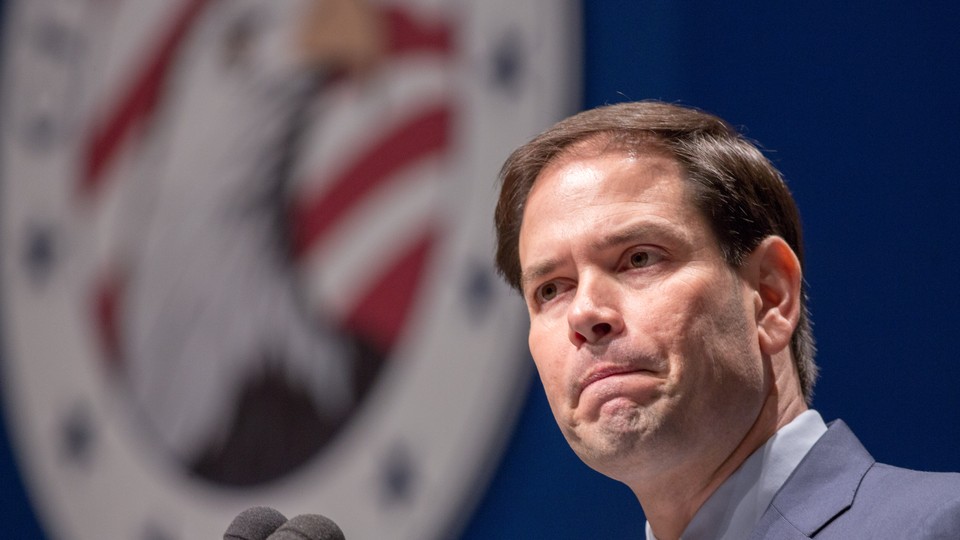 Ever since Mitt Romney walked away from the 2012 election a loser with 27 percent of the Latino vote, the Republican Party has been on a quest to find a way it can appeal to Hispanic voters without alienating its conservative base.
A Pew Research Center poll reveals that 2016 presidential contenders may have more room to reach out to Latino voters than they may have first thought, but the ground will still be shifting.
The poll shows 72 percent of American voters support a path to legalization for immigrants who are living in the country illegally. That is a position that former Florida Gov. Jeb Bush and Sens. Marco Rubio and Lindsey Graham have taken criticism from the conservative wing of the party for supporting. Even more promising for those candidates, 56 percent of Republicans support giving undocumented immigrants a chance to stay in the country. Among conservative voters, that number remains at 53 percent. The numbers show that even in primaries, Rubio, Graham and Bush's positions may not be losing ones.
Pew surveyed 2,002 adults nationally from May 12-18 for the poll, which has a 2.5 percent margin of error.
In recent months, 2016 candidates and others seriously considering the race have stumbled over how to answer straightforward questions about where they stand on a path to citizenship or legalization for the country's 11 million undocumented immigrants.
A Wall Street Journal story in March reported that Wisconsin Gov. Scott Walker told a small group in New Hampshire that under some circumstances, he could support a path to citizenship for immigrants. Walker's spokesperson later said that was not his position. Nowadays, when asked about immigration, Republican candidates would prefer to talk about securing the border before wading into the danger zone of legalization or citizenship specifics, if they wade into it at all.
And there is some reason for their pause. While the majority of Republicans in the Pew poll say they support a path to legalization, many Republican voters still view immigrants as a negative. The Pew poll finds that 63 percent of Republican voters still consider immigrants a "burden" on the U.S. economy rather than a boon, and 58 percent see giving immigrants legal status as akin to "rewarding" them for breaking the law.
Meanwhile, Democratic candidates have much more leeway to boldly support a path to legalization without fear of alienating voters. If anything, Democrats may need to take a bolder stance to mobilize Latino voters to the polls in the general election. Hillary Clinton staked out a very liberal policy last month, when she strongly defended executive actions if Congress continued its obstinacy on immigration. And former Maryland Gov. Martin O'Malley, who is also running, promised he'd tackle immigration in his first 100 days in office. The Pew poll shows that 80 percent of Democratic voters want immigrants to have a path to legal status. That number jumps to 86 percent among Hispanic voters and 72 percent among black voters—both key demographics for Democrats.
For Democrats, a path to legalization for immigrants continues to be a straightforward and no-lose proposition. O'Malley even insinuated on Wednesday that Clinton was behind him on the issue.
For Republicans, however, the line to stand on continues to shift, and it is not just Republican candidates who are swaying. Republican voters are clearly conflicted, too.