A Eulogy, a Provocative Call to Action, and Too Many Deaf Ears
President Obama spoke with brutal clarity Friday, but what might have been had he done so earlier in his presidency?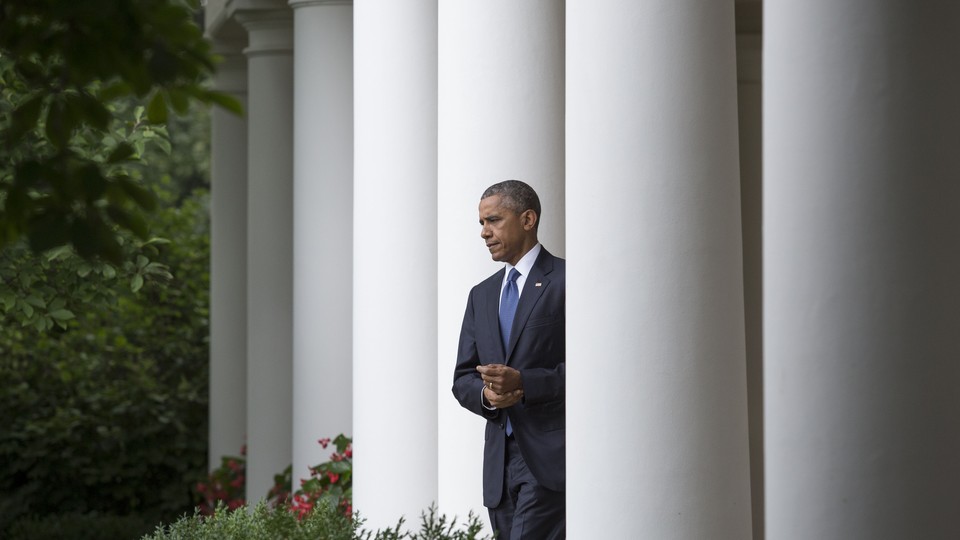 This week was for the history books. Not just a paragraph or even a chapter—entire books will be written about these days.
The smallest events were big: A conservative-leaning Supreme Court spared Obamacare and a Republican-led Congress saved President Obama's trade package, both cornerstones of his political legacy. The biggest events reshaped America: We buried the Confederate battle flag and hoisted the gay-rights rainbow flag.
And then the nation's first African-American president sang a slavery-era spiritual from a Southern pulpit, eulogizing nine martyrs, mocking their killer's failure to further his racist agenda, and beseeching a divided nation to be one—united and amazing in its grace.
"What a life Clementa Pinckney lived!" Obama said of the state senator and pastor slain along with eight other black churchgoers in a vicious hate crime. Less than a mile from the spots where thousands of slaves were sold and where South Carolina split from the union, Obama placed Pinckney in a long line of great African-American leaders.
"We do not know whether the killer of Reverend Pinckney knew all of this history," the president said. "But he surely sensed the meaning of his violent act. It was an act that drew on a long history of bombs, and arsons, and shots fired at these churches—not random, but as a means of control, a way to terrorize and oppress."
He was speaking of Dylann Roof, a young white supremacist and accused killer.
"It was an act that he imagined would incite fear, and incrimination, violence, and suspicion. An act he presumed would deepen divisions that trace back to our nation's original sin," Obama said with the cadence of a preacher.
"Oh, but God works in mysterious ways! God has different ideas!" From the Associated Press account:
Obama then spoke plainly about the ugliness of America's racial history—from slavery to the many ways minorities have been deprived of equal rights in more recent times. Removing the Confederate battle flag from places of honor is a righteous step toward justice, he said. "By taking down that flag, we express God's grace. But I don't think God wants us to stop there," Obama said, smiling as the crowd laughed with him.

The president wrapped up the four-hour funeral in song, belting out the first words of "Amazing Grace" all by himself. The choir, organist, and many in the audience stood up and joined him.

Slain along with Pinckney were Cynthia Hurd, 54; Tywanza Sanders, 26; Sharonda Singleton, 45; Myra Thompson, 59; Ethel Lance, 70; Susie Jackson, 87; the Rev. Daniel Simmons Sr., 74; and DePayne Doctor, 49.

Obama named them one by one, shouting that each "found that grace!"
He praised Republican Gov. Nikki Haley for leading the effort to remove the Confederate flag outside South Carolina's statehouse.
"It's true the flag did not cause these murders," Obama said. "But as people from all walks of life, Republicans and Democrats, now acknowledge—Governor Haley's recent eloquence on the subject is worthy of praise—as we all have to acknowledge, the flag has always represented more than just ancestral pride.
"Removing the flag from this state's capitol would not be an act of political correctness. It would not be an insult to the valor of Confederate soldiers. It would simply be an acknowledgment that the cause for which they fought—the cause of slavery—was wrong. The imposition of Jim Crow after the Civil War, the resistance to civil rights for all people, was wrong.
"It would be one step in an honest accounting of America's history, a modest but meaningful balm to so many unhealed wounds," he said. "It would be an expression of the amazing changes that have transformed this state and this country for the better."
As a nation, out of terrible tragedy, Obama said, "God has visited grace upon us. For He has allowed us to see where we've been blind."
In addition to race relations, Obama said the nation should address problems such as gun violence, poverty, and police-community relations, especially in African-American communities. Obama said people should guard against not just "racial slurs," but also "the subtle impulse to call Johnny back for a job interview—but not Jamal."
How various Americans react to that provocative line, like the speech itself, will depend on each person's background and point of view. Some will praise its brutal clarity. Others will see it as unnecessarily divisive. But nobody listening to the president with an open mind and heart can deny its uncomfortable truth.
One wonders how such a speech would have been received at the height of Obama's popularity, or toward the end of a tenure that had lived up to his promise to unite the country rather than to further polarize it. We'll never know.
But it was a poetic punctuation to a week that will be long remembered, both in terms of the president's legacy and America's enduring struggle toward equality and perfection of the union.
The fact that half of America or more long ago tuned out Obama and won't truly hear this speech is a shame.