723,000 People on Minimum Wage Just Got a Raise in Los Angeles
Young Latino men in low-paying jobs are most likely to see an impact by 2020.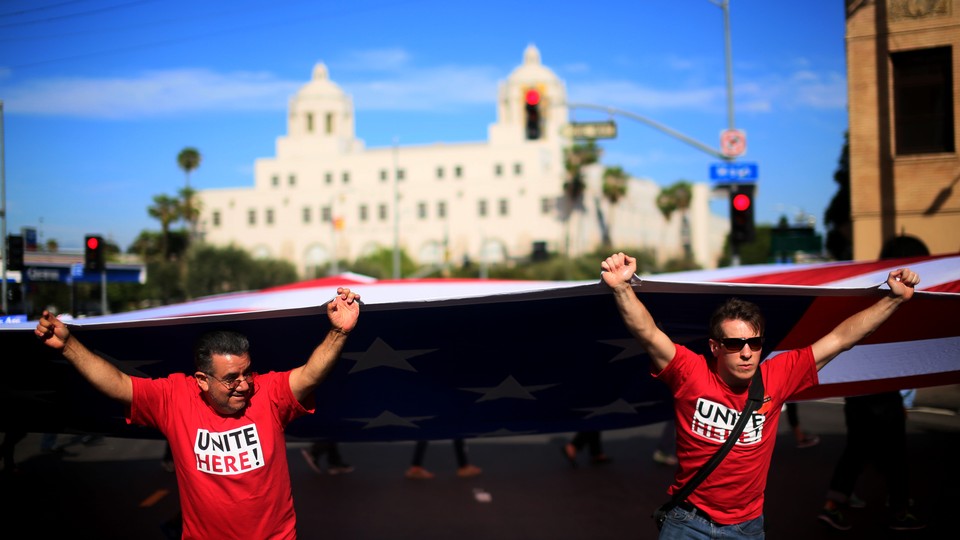 Over the weekend, Los Angeles Mayor Eric Garcetti signed a measure that would boost the city's minimum wage to $15 by 2020, a move that will affect hundreds of thousands of people across dozens of industries.
Los Angeles joins Seattle and San Francisco in successfully passing a $15 minimum wage. Neither city, however, is as large as Los Angeles, or has similar demographics. Garcetti said Saturday that the city "as a whole will benefit from this boost." But how exactly?
Los Angeles is implementing the hike in five stages—$10.50 by 2016, $12 by 2017, $13.25 by 2018, $14.25 by 2019, and $15 by 2020. In March, Economic Roundtable, a nonprofit policy organization, released a study that looked into what a theoretical increase to the minimum wage—similar to the one that just passed—would look like. While the study's scale is off by 25 cents, figuring for a $15.25-an-hour minimum wage, it's a close enough comparison to what will happen in Los Angeles.
According to the study, 723,000 people will receive wage increases in the five years after a minimum-wage hike goes into effect. With each year, an average of 60,000 more people will get wage increases.
+(Economic Roundtable)As the minimum wage increases each year, fewer workers see an increase because more people make between $9 and $12 than make between $12 and $15.
This significant change will have a widespread effect on the local workforce, the study shows. By the time the increase is fully implemented, 39 percent of people who work in the city will make the $15 minimum wage. The number will be even greater for people who both live and work in Los Angeles, at 45 percent. By contrast, today only 24 percent of residents make the state's $9 minimum wage.
+(Economic Roundtable)"Paying fair wages will be an adjustment for some businesses, but the result will be a bigger, more sustainable and inclusive economy for Los Angeles," the authors of the study argue.
Young Latino men in low-paying jobs have the most to gain by the minimum-wage increase, according to the Economic Roundtable study. Latinos already are the largest demographic group in Los Angeles, making up nearly 49 percent of the population, according to 2010 Census figures.
Over 90 percent of Latinos in low-earning work—that is, full-time and part-time work that pays less than $15,000 per year—will be affected by wage increases. An additional 65 percent of Latinos in mid-earnings jobs—those full-time and part-time positions paying between $15,000 and $39,999 a year—will be affected by an increased minimum wage. That's an increase from 18 percent in the first year.
With each year, an average of 60,000 more people will get wage increases.
But why isn't every worker with low earnings being affected by a higher minimum wage? "Some part-time workers have a high hourly wage but work so few hours that their earnings are low," the study explains.
Overall, 61 percent of men working in low-earning jobs earn less than minimum wage. After the five-year implementation, 81 percent of low-earning men will see an increase.
Some industries will be affected more than others. Low-paying industries like education and the retail trade will have more minimum-wage expansion than manufacturing and hotel and restaurant work, according to the study.
And among mid-earning industries, workers in administrative services, waste management, retail trade, and repair and personal services will have broader coverage than health and education workers. But the highest growth will be in smaller mid-earning industries like nurseries and greenhouses.
Over 90 percent of Latinos in low-earning work will be affected by wage increases.
The study was underwritten by the Los Angeles County Federation of Labor, which is affiliated with the AFL-CIO, and used data from the Census Bureau's 2013 American Community Survey, among other sources.
The second-largest city in the United States has the highest poverty in the country among major metropolitan areas. At 17.6 percent, the Los Angeles-Long Beach-Anaheim area is worse off than New York-Newark-Jersey City, at 14.6 percent, and Chicago-Naperville-Elgin, at 14.4 percent. While the state of California has a $9 minimum wage, the legislature is currently considering a plan to raise it to $13 an hour by 2017. This increase, along with the measure that Los Angeles just approved, could be a major boost for the local economy and the wide array of workers that compose it.
As the study concludes, "For many, Los Angeles evokes images of year-round sunshine and celebrity, a dream city of wealth and possibility. Yet in reality, half of L.A. residents living in poverty are employed, showing that low wages drive poverty as much as unemployment does."