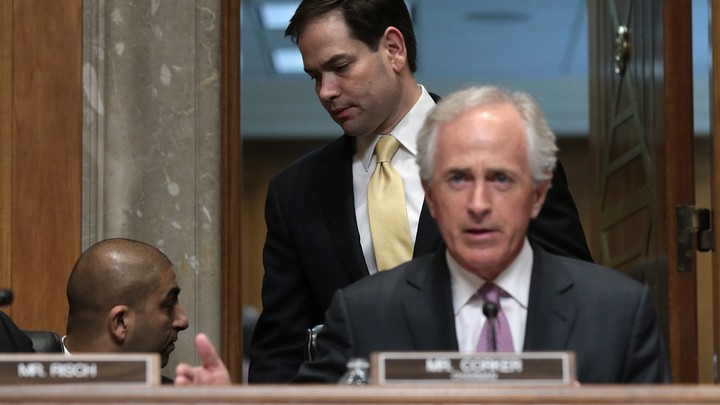 The Senate overwhelmingly approved a bill Thursday ithat hands Congress a formal review of the potential bilateral deal to limit Iran's nuclear program. While final passage was easy, the long and messy tussle over the bill bolstered some political fortunes and battered others. Here's a look at the winners and losers.
WINNERS
Bob Corker
The Senate Foreign Relations chairman, in talks with Democrats, altered the bill enough to back the White House down on its veto threat without triggering an en masse defection within his caucus. He also battled on his right flank to ward off "poison pill" amendments by senators opposed to the Iran talks.
In the end, Corker got most of what he wanted. Majority Leader Mitch McConnell (more on him later) put it this way on the Senate floor Wednesday: "Many wish the bill was stronger. I don't disagree with them. But this is a piece of legislation worthy of our support that offers the best chance we have to provide the American people and the Congress they elect with power to weigh in on a vital issue."
Ben Cardin
The Maryland Democrat was thrown into the deep end when the indictment of Sen. Robert Menendez, Corker's coauthor on the bill, on corruption charges last month suddenly made Cardin the top Democrat on the Foreign Relations panel. Cardin worked with fellow Democrats to win changes to the bill that helped provide the White House with enough cover and reassurance to reluctantly support the measure it had once threatened to veto.
Congress
The bill, while watered down during the fight, still marks a big assertion of foreign policy oversight by Congress. And it marks a major win for the committee process in an era when power has been heavily concentrated in the party leadership ranks. Politically, it's unlikely that opponents of the Iran deal could muster the votes to pass a disapproval resolution that the bill makes possible. But the measure paves the way for lawmakers to put the chamber on record, and ensures they get detailed information from the White House on the agreement and Iran's compliance.
LOSERS
The White House
The Obama administration didn't want this bill and threatened to veto it weeks ago. But the bill was moving toward a veto-proof majority. Rather than risking a bipartisan rebuke, the White House and Democrats negotiated key changes, including removal of a provision that would have required regular certification that Iran was not supporting terrorism against the U.S. or U.S. persons. If there's a final U.S.-Iran deal this summer, Congress is unlikely to upend it, but the bill nonetheless forces the White House to share more information.
Marco Rubio and Ted Cruz
The two GOP White House hopefuls and critics of Obama's talks with Iran both had amendments lined up. Rubio wanted to ensure that a deal is contingent on Iran recognizing Israel's right to exist; Cruz wanted to alter the bill to prevent the lifting of statutory sanctions unless Congress votes to approve it. Neither amendment came to the floor. And when Rubio and Sen. Tom Cotton used a procedural gambit to try and force action on their amendments last week, it had the effect of giving Democrats cover to back away from any kind of agreement on amendment votes.
GOP Sen. John Thune acknowledged as much Tuesday, even while defending Rubio and Cotton's right to use their procedural maneuver, noting that "Democrats reacted very viscerally to it and in a negative way" that made it tough to put amendment talks back together. Rubio, in particular, may get credit from some conservatives for going toe-to-toe with his party leadership. But he didn't win that fight.
Mitch McConnell
Yes, the bill will probably pass, but this was a tough one for GOP leaders as they wrestled with the presidential ambitions of Rubio and Cruz, and with the upstart Cotton and other Iran hawks. The majority leader has touted his willingness to allow freewheeling amendment fights, a break with the bottled-up way that Harry Reid often ran the chamber when Democrats were in charge. But the Iran debate proved, as National Journal discussed here, that it's easier said than done, and McConnell ultimately was forced to cut off debate in order to move the bipartisan deal along.
Dick Durbin, the Senate's No. 2 Democrat, pointed out that there's something familiar about McConnell's challenge. "He now finds himself in a Harry Reid dilemma. And that is, if you want to move a bill, you have got to say no to some senators. He has to decide whether he is prepared to say no or let the bill languish," Durbin told reporters Tuesday. The end result—a basically clean bill passing with a big majority—may well be what McConnell wanted, yet he had to contradict his own open-debate pledge to get there.
We want to hear what you think about this article. Submit a letter to the editor or write to letters@theatlantic.com.
Ben Geman
is an energy and environment correspondent at
National Journal