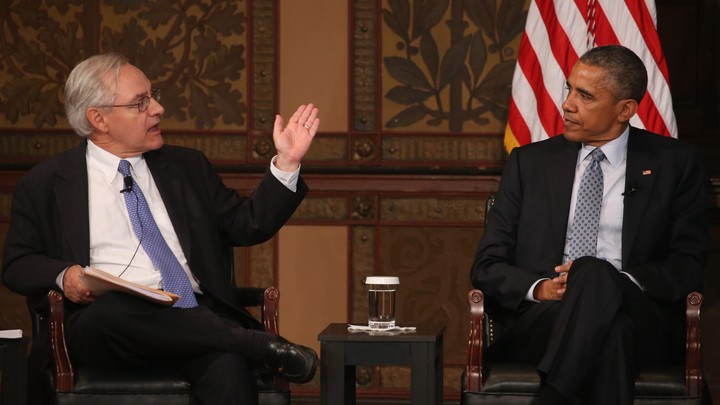 Extending his increasing focus on race and poverty, President Obama on Tuesday lamented widening income and racial segregation around the country.
"Concentrations of wealth can lead to some being left behind," Obama said in a panel on poverty at Georgetown University for a summit bringing together Catholic and evangelical faith leaders. "What's happened in our economy is that those who are doing better and better—more skilled, more educated, luckier, having greater advantages—are withdrawing from the commons."
Studies have shown that in many cities the number of mixed-income neighborhoods is declining, widening the gap between affluent and poor communities. That separation, Obama argued, has both isolated lower-income children from community institutions that could help them get ahead, and also reduced the political will to invest in public institutions and services.
"Part of what's happened is that elites in a very mobile, globalized world are able to live together, away from folks who are not as wealthy, and so they feel less of a commitment to making those investments," Obama said. "In that sense, what used to be racial segregation now mirrors itself in class segregation and this great sorting that's taking place."
With this "class segregation" and sorting, Obama said, young people from different rungs on the income ladder are less likely to interact—and those on the lowest rungs are less likely to have access to community institutions that could support their rise. Obama noted how Harvard political scientist Robert Putnam, who also appeared on the panel, illustrated in his recent book, Our Kids, that young people from divergent economic backgrounds grew up largely together in Port Clinton, Ohio, during his own youth.
"The janitor's daughter may be going out with the banker's son," Obama said. "There are a set of common institutions—they may attend the same church, they may be members of the same Rotary Club, they may be active at the same parks—and all the things that stitch them together. And that is all contributing to social mobility and to a sense of possibility and opportunity for all kids in that community."
With that world largely gone, Obama said, leveling the playing field will require investments from "society as a whole" in public schools and institutions, early childhood education, teachers, infrastructure to connect people to jobs, and better broadband access in rural communities.
"Those things aren't going to happen through market forces alone. If that's the case, our government and our budgets have to reflect our willingness to make those investments," Obama said. "Those [investments] will make a difference, but the broader trends in our society will make it harder and harder for us to deal with both inequality and poverty."
Obama's fellow panelists—Putnam and Arthur Brooks, president of the American Enterprise Institute—both expressed optimism for a political solution on economic and moral grounds.
"It also is, by the way, bad for our economy, because when we have this large number of kids growing up in poverty, it's not like that's going to make things better for my grandchildren," Putnam said. "It's going to make things worse for my grandchildren. So this is, in principle, a problem that we ought to find solutions to."
Brooks argued that, while political compromise may be possible, many public programs fail to produce benefits that justify their costs, and that austerity as a consequence of government overspending disproportionately hurts the poor.
"When are the benefits higher than the costs of the government proving these things?" Brooks asked the panel. "Because, in point of fact, when we don't make cost-benefit calculations at least at the macro level about public goods, the poor pay. This is a fact."
The general public's satisfaction with the federal response to poverty is also at an all-time low, according to a recent Gallup poll. Only 16 percent of Americans say they are satisfied with the government's efforts on fighting poverty, the lowest point since satisfaction was at 26 percent in 2001, when the polling firm first began surveying Americans on the question. Republicans are slightly less satisfied (14 percent) than Democrats (18 percent). Gallup saw little difference in satisfaction levels among race, education, gender, and age subgroups.
We want to hear what you think about this article. Submit a letter to the editor or write to letters@theatlantic.com.
Janie Boschma
is a former senior associate editor at
The Atlantic.