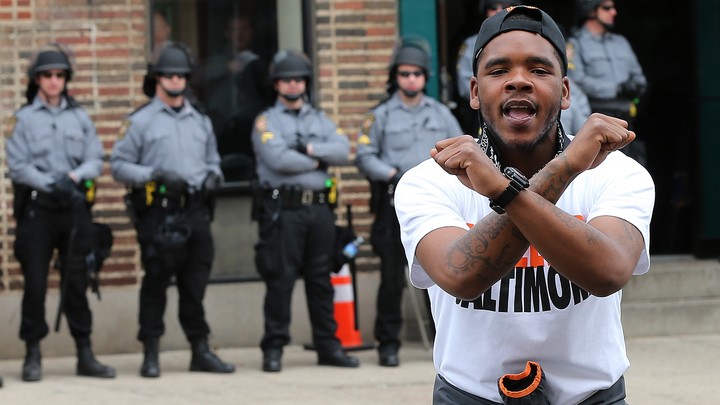 In a forceful press conference delivered on Friday morning, Baltimore State's Attorney Marilyn Mosby showed that she is the prosecutor that Baltimore deserves.
Mosby, 35, is the youngest chief prosecutor of any major city in the country. Just four months into her job, Mosby was tasked with the case of Freddie Gray, a 25-year-old who died after suffering a spinal injury while in custody of Baltimore police officers.
In the press conference Friday, Mosby walked the public through the details of the case, from the time of Gray's arrest on April 12 to his death a week later. She then listed the charges—including manslaughter, assault, and second-degree murder—against six police officers who were involved in Gray's arrest.
"To the youth of this city, I will seek justice on your behalf," Mosby said. "This is a moment. This is your moment."
The Baltimore Police Union, meanwhile, has maintained that the officers are innocent in the case.
For Mosby, the wrongful death of an unarmed black man like Gray is not an abstract issue. When she was growing up in Boston, Mosby's 17-year-old cousin was shot to death by another teenager after being mistaken for a drug dealer.
Mosby also happens to be a proud descendant of a long line of police officers.
"I come from five generations of law enforcement. My father was an officer. My mother was an officer. Several of my aunts and uncles, my recently departed and beloved grandfather was one of the founding members of the first black police organization in Massachusetts," she said.
There is something to be said, of course, for prosecutors not wanting to bias the outcome of the case. But Mosby's comments drew a stark contrast to her counterparts in New York City, Ferguson, Mo., and Cleveland—other cities that have been racked with unrest over the past year in the wake of police killings.
Demographics are important here. Mosby is young, black, and female; the other prosecutors are middle-aged, white, and male. And while Mosby's response to the case has been as aggressive and empathetic as you'd expect a state's attorney to be, other attorneys' responses were measured to the point of being lackadaisical.
What do these other cases have to do with the death of Freddie Gray, other than the fact of an unarmed black man dying at the hands of white police officers? They illustrate the undeniable tension in any conversation between state law enforcement and black citizens. The way that prosecutors responded to unrest and protests in the wake of these cases is instructive: In Mosby's case, it shows the best possible way to communicate with a pained community.
Staten Island, New York
On July 17, Eric Garner, 43, was placed in a chokehold by a Staten Island police officer and died. Less than a month later, the New York City Medical examiner's office ruled his death a homicide.
Staten Island District Attorney Daniel Donovan received national attention for failing to secure an indictment in the Garner case. Despite public outrage, he has stood by the handling of the case.
After the medical examiner's ruling in August, Donovan told a Staten Island news outlet that he was aware of outrage in the black community about Garner's death, but he said, "that will not sway me to a conclusion one way or the other. The facts and the truth will sway us.
"We don't judge our cases based on how much media attention they generate," he added. "I usually don't have protests outside my door."
Donovan faced criticism for being too close to Staten Island police officers, and he later announced he would hold grand jury proceedings. In December, a grand jury decided not to indict the police officer who killed Garner.
In a New York Times interview earlier this year, Donovan touched on the video that captured the chokehold.
"I can understand why the public, the general public, would read accounts that a medical examiner used the word 'homicide,'" Donovan said. "That they saw a videotape—first of all, any violence looks awful—and see a videotape and hear Eric's last words and say, 'How could this be?'"
Donovan, who is running to replace GOP Rep. Michael Grimm in Congress in an election next week, has seemingly made little mention of the Garner case since February.
Ferguson, Mo.
On Aug. 9 of last year, Michael Brown, 18, was shot to death by a police officer in Ferguson, Mo. Robert McCulloch, the lead prosecutor in Brown's case, faced criticism that he moved too slowly to act, and that his personal bias toward law enforcement—his father, a police officer, was shot and killed by a black man while on duty—could sway the case. Darren Wilson, the white police officer who shot Brown, was never arrested for the incident, and was never charged with a crime.
At a press conference announcing his office's decision not to charge Wilson, McCulloch turned the blame on the media and offered the verbal equivalent of a shrug. One reporter asked McCulloch to explain how his office's decision constituted justice for Brown and his family.
"I understand some people have made up their minds—both ways—and are not going to change. There isn't a whole lot I can do," McCulloch replied. "What I would urge them to do is express those feelings, express them in a constructive way, and try to make some changes so that nothing like this ever happens again."
In a follow-up question, McCulloch was asked what changes can be made to prevent such cases from happening in the future.
"It's impossible to answer questions like that because there are so many variables that play into every case. There's just no real way to answer a question like that. So you have to look at every bit of information in every case that comes in. The idea, I hope, is to avoid ever being in that situation," he replied. "I think the people in the community, they need to make their voices heard. And they need to address those issues, so that we get those issues, so that we're never in this position again."
Mosby was asked a similar question on Friday, and gave a more definitive response:
Reporter: what will prevent another Freddie Gray? Mosby: Accountability. R:There hasn't been any for so long. Mosby:You're getting it now.

— stacia l. brown (@slb79) May 1, 2015
Cleveland
On Nov. 22, Tamir Rice, 12, was shot to death by a police officer in Cleveland within two seconds of the officer arriving on the scene. Rice died the next day.
The office of Cuyahoga County Prosecutor Timothy McGinty will present evidence from the case investigation to a grand jury, after which the grand jury will decide whether to file criminal charges against the two police officers involved. As the sheriff's office investigation is still ongoing, the grand jury has yet to hand down a decision.
In a press conference the day after Rice's death, McGinty said he was confident in the grand jury's ability to find justice in the case.
"I think these cases are so serious, so important that there should be a citizen review, not just an arbitrary private review by an elected county prosecutor," McGinty said. "The decision to charge or not charge ultimately rests with the grand jury in these cases.
"The prosecutor's review is only a review to see if criminal charges are appropriate," he continued. "We did not review tactical issues, if tactics were perfect or imperfect, or could be improved or improper. These are policy issues at that point. These cases, whether they regard guns—and most of them regard guns with the individual—or drugs, or whatever the collateral issue is, those are things that we're not discussing today. Those are broad policy pictures for the public, for the political process, or for internal police review."
Still, calling his own role in the Rice investigation "arbitrary" rings a bit odd here. For the state prosecutor looking to save face, employing a grand jury in a sensitive case is a win-win: Turning over the ruling to a panel of citizens gives the appearance of remaining accountable to the public while allowing the state attorney's office to eschew some responsibility for the case's outcome.
In a separate wrongful-death lawsuit filed by Rice's family, the city of Cleveland originally alleged that Rice was "directly and proximately" responsible for his own death—a stance that the city walked back and apologized for after members of the public expressed outrage.
Baltimore
Freddie Gray's case is still ongoing. Six officers have been charged in his death—an unprecedented step in this type of case seen over the past calendar year. But aside from the facts of the case, the simple directness with which Mosby addressed her community was a shocking reminder of how law enforcement can help rebuild trust that has been eroded.
Where Mosby directly addressed the black community, McCulloch, Donovan, and McGinty distanced them with vague calls to "make some changes" and "make their voices heard." Mosby has been the first attorney in a recent case to hear that pain, personalize it, and truly respond to it.
"I heard your calls of 'No justice, no peace,'" Mosby told her city on Friday. "However, your peace is sincerely needed as I work to deliver justice on behalf of Freddie Gray."
If there is to be a turning point in the national conversation on police brutality against unarmed black men, Mosby may have delivered just that.
We want to hear what you think about this article. Submit a letter to the editor or write to letters@theatlantic.com.
Emma Roller
is a former staff correspondent for
National Journal
.