Why is Hillary Clinton Tacking Left?
It could be politics or it could be principle. Her team wants you to believe it's both.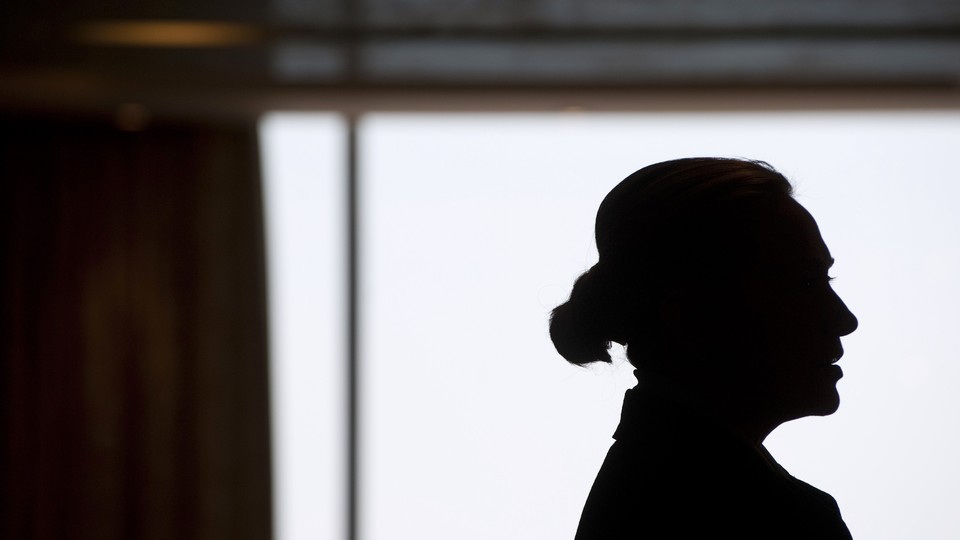 Hillary Rodham Clinton 2.0 is far more liberal than the centrist who ran in 2008 because: (a) her views have evolved with time; (b) she has long been a closet liberal and this is her authentic self; (c) she's an opportunistic phony.
As somebody who has known and observed this complex public figure for nearly 30 years, I am open to being convinced that any one of those rationales are true.
But not all three.
For some inexplicable reason, her advisers are talking openly with reporters about the political rational behind her policy shifts (aka: flip-flops), giving credence to the most cynical interpretation of her motives. "Advisers do not dispute that Clinton has a finger to the wind of the national mood," writes my former colleague Anne Gearan in The Washington Post, "but they insist her positions are not driven by polling."
Gearan could have put a period after "mood." The rest of the sentence is patently false. How do I know? I read the rest of her story, which had the full cooperation of Clinton's political network and included this extraordinary paragraph:
"The campaign's overall calculus relies on a mix of polling—including both internal and public surveys—internal focus groups and what advisers described as gut feelings about the national mood. It also reflects what Clinton backers say are her firmly held personal convictions and her pragmatism.
Clinton's advisers want us to believe that her liberal shift is equally the result of politics and principle—that deep inside their cross-tabs resides, conveniently, "the real Hillary."
"Her approach to this really is not trying to take a ruler out and measure where she wants to be on some ideological scale," Clinton campaign chairman John Podesta told Gearan. "It's to dive deeply into the problems facing the American people and American families. She's a proud wonk, and she looks at policy from that perspective."
I can attest to the fact that Clinton is a wonk. She loves the nitty-gritty of policy, particularly those policies that influence the lives of women and children.
I can also confirm that the former first lady is ideologically more liberal than her husband. Bill Clinton's advisers in Arkansas and at the White House constantly complained about the friction between his triangulation and her absolutism.
And, like most voters, I'm willing to give any politician some leeway to "evolve" on issues, particularly one like gay marriage that has rapidly gained acceptance in the public square.
But is she really this progressive?
"Clinton's full embrace of same-sex marriage in the first days of her campaign was followed by clear statements in favor of scrapping get-tough immigration and incarceration policies—many of which took root during her husband's administration," Gearan writes.
She has also weighed in with liberal takes on climate change, abortion rights, and disparities in income and opportunity between rich and poor.

All are issues that have been divisive in the past for both Democrats and Republicans. But none are now judged to be radioactive for Democrats, which gives Clinton more elbow room.

By taking such positions, aides and advisers hope Clinton will not only inoculate herself against a serious challenge from the Left in the primaries, but that she also will be able to push on through the general election. Her campaign believes American public opinion has moved left not only since Bill Clinton won election in 1992 on a centrist platform, but also since Barack Obama won on a more liberal one.
Indeed, polls show that while the United States remains a center-right country, liberals are on the ascent. Whether or not Clinton strategists are betting too heavily on this trend won't be known until November 2016.
Even after all these years, I don't know whether her full-throated liberalism is a genuine reflection of her views or an echo of the polls. I guess the answer could be "both," but I doubt it. That just seems to be too neat of a coincidence.
I suspect she'll try to explain herself, but when? She refuses to talk to the media in any great detail.
I suppose voters could take her at her word, but why? Trust is an issue. Legitimate questions about her government email and family foundation were met with disingenuous responses.
I imagine she can get over the authenticity hurdle, but how?