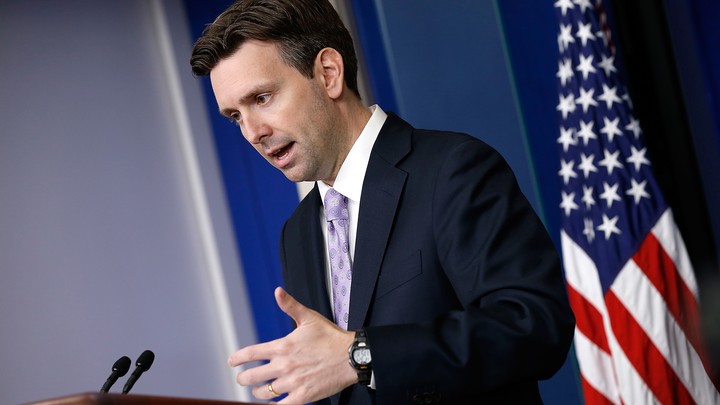 Calling the Amtrak train derailment a "horrific incident," White House press secretary Josh Earnest said investment in upgrades to the rail system's infrastructure remain important to the administration. And President Obama, he said, has long advocated for Amtrak investments that would "benefit the traveling public."
But Earnest was quick to note in his press briefing Wednesday that congressional Republicans have blocked such investments in the past.
"Unfortunately we have seen a concerted effort by Republicans for partisan reasons to step in front of those kinds of advancements," Earnest said, noting that the cause of the crash is still under investigation, and it's unclear whether infrastructure problems were involved.
At least seven individuals have died since Northeast Regional Train 188 derailed outside of Philadelphia late Tuesday night, and more than 200 have been treated at area hospitals in the wake of the crash. Two of those killed have been identified as an Associated Press video software architect and a U.S. Naval Academy midshipman.
The train, which originated in Washington and was bound for New York, was carrying 238 passengers and five crew members. Amtrak's Northeast Corridor, where service has been suspended in the wake of the crash, is the country's busiest rail line.
Earnest said that the president spoke with Philadelphia Mayor Michael Nutter and Pennsylvania Gov. Tom Wolf, and told them he was "pleased with the way their state jurisdiction and local jurisdictions responded to the incident."
Earnest noted Wednesday that whereas the Obama budget proposal includes a nearly billion-dollar increase in funding for Amtrak infrastructure upgrades, "Republicans are, unfortunately, considering legislation at the committee level that would actually cut funding from Amtrak's budget by, I believe, a quarter of a billion dollars a year," Earnest said. He softened his comments, though, by indicating that lawmakers are still in the early stages of the appropriations process.
When asked if there was anything more the president could do to press for investment in infrastructure, Earnest said Congress has "the power of the purse, and so for significant investment in infrastructure, we're going to need to see congressional action."
"The president has put forward his own plan that would be fully paid for" to invest in mass transit, he said. That plan involves closing tax loopholes to generate revenue, an idea he said has some support from Republicans.
"But we haven't seen a lot of movement of this on Capitol Hill," Earnest said. "We're going to continue to try to push it."
Earnest's comments come as investigators from the National Transportation Safety Board are on the ground in Philadelphia, attempting to discern what caused all seven of the train's cars to come off the tracks. The train's event recorders—akin to an airplane's "black box"—have been recovered and are being examined.
President Obama released a statement earlier Wednesday addressing the derailment.
"Along the Northeast Corridor, Amtrak is a way of life for many," he said. "From Washington, D.C. and Philadelphia to New York City and Boston, this is a tragedy that touches us all."
This story has been updated with more comments from Earnest on infrastructure investment.
We want to hear what you think about this article. Submit a letter to the editor or write to letters@theatlantic.com.
Nora Kelly
is a senior editor on
The Atlantic
's politics team.