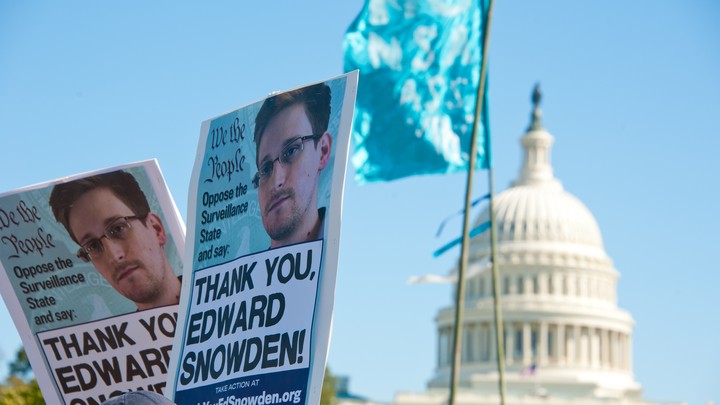 The Capitol Hill Patriot Act standoff continues, and absent a deal, the National Security Agency's domestic phone-spying dragnet revealed by former intelligence contractor Edward Snowden will expire June 1.
Administration officials said they have already begun winding down the massive metadata program in anticipation of a lapse, as a May 22 deadline to reauthorize the program via the Foreign Intelligence Surveillance Court has already passed.
But other tools the intelligence community says are critical to preserving national security are hanging in the balance, too. So what happens if Congress can't decide what to do before the end of the month?
By far the most controversial and consequential of the Patriot Act's three surveillance provisions on death watch is Section 215, which allows government spies to seize "any tangible things" considered relevant to a terrorism investigation.
In the years following the Patriot Act's passage shortly after the terrorist attacks of Sept. 11, 2001, Section 215 was often referred to as the "business records" or "library records" provision, and civil libertarians mostly worried about how the FBI could exploit broad interpretations of the word "relevance."
But Snowden's leaks revealed that the NSA was interpreting the law to vacuum up in bulk millions U.S. call records every day, via secret 90-day court orders granted by the Foreign Intelligence Surveillance Court. The NSA keeps the phone metadata—the numbers, time stamps, and duration of a call but not its contents—in a massive database, which it can query with FISA Court approval to look for potential linkages among terrorist suspects.
While some worry about the national-security consequences of such a sudden termination, the NSA's phone-records program has been deemed ineffective by a presidential review group and a majority of the Privacy and Civil Liberties Oversight Board. It was also ruled illegal earlier this month by a federal appeals court, which said that the government's interpretation of "relevant" to mean "everything" was misguided and never intended by most members of Congress.
But administration officials are quick to point out that Section 215's expiration would hamper the intelligence community far beyond the NSA's phone dragnet. It would additionally result "in the loss, going forward, of a critical national security tool that is used in a variety of additional contexts that do not involve the collection of bulk data," National Security Council spokesman Ned Price said earlier this year.
Those changes include losing Section 215's loose relevancy standard in favor of a pre-9/11 authority demanding "specific and articulable facts" indicating that records searched are believed to be connected to a foreign terrorist group. The reversion would also limit the types of records that could be obtained by the FBI.
Because an expiration of Section 215 would prompt a reversion to an earlier—and tougher—legal standard for government snooping, the NSA's bulk collection of U.S. call records would immediately shut down, according to the administration and congressional staffers knowledgeable about the program.
Officials have said they will not use a grandfather loophole in the Patriot Act that allows for an ongoing investigation to continue the bulk vacuuming of records. But the administration has not ruled out using those rules to allow other investigations—carried out by the FBI and other intelligence services—to continue.
In addition, the administration is reportedly weighing whether to allow NSA analysts to continue retrieving phone records collected over the past five years, even if Congress fails to extend Section 215.
To some defense hawks like Senate Intelligence Chairman Richard Burr, the concerns over losing a broader Section 215 are not sufficient reason to support the House-passed USA Freedom Act. While that bill would end the call-records program and usher in other surveillance reforms related to transparency and oversight, it would preserve much of the other powers granted by Section 215, in addition to the lone-wolf and roving-wiretap provisions also staring down a June 1 expiration.
Passing the Freedom Act is "one and the same" with letting the Patriot Act provisions lapse completely, Burr has said repeatedly. Among his concerns are that the Freedom Act relies too heavily on good-faith compliance from telephone companies and that the transition to the new system—currently pegged at six months in the Freedom Act—is too fast.
Burr's suggestion that passing the Freedom Act is no different than letting the Patriot Act authorities lapse entirely is strongly rebutted by reformers—and even some vocal defenders of NSA surveillance.
Section 215 possesses value "quite independent of the NSA metadata program," said Stewart Baker, former general counsel of the NSA. "So in my view, losing all 215 authority would hurt our security more than losing the metadata program."
Many senators echo that sentiment, but remain unconvinced that Freedom Act is the best path forward.
"Global collapse. The sea rises. Arctic snow melts," Republican Sen. James Lankford of Oklahoma said Tuesday, tongue-in-cheek, when asked what would happen if the authorities end. "Obviously it's a busy week, but we can't just leave it sitting there."
GOP Sen. Rand Paul of Kentucky, who led a 10-and-a-half-hour "filibuster" Wednesday, however, argues that it would be fine to "just rely on the Constitution" if the three sections expire.
Sen. Patrick Leahy of Vermont, the top Democrat on the Judiciary Committee and an author of the Freedom Act, suggested that some fears about the authorities expiring are disingenuous, as his legislation would preserve much of Section 215 in addition to the lone-wolf and roving-wiretap provisions—while providing for a new system of phone-record surveillance that even Director of National Intelligence James Clapper supports.
"If these authorities expire, are we suddenly going to be engulfed in ISIL taking over Washington, D.C.?" Leahy said earlier this week. "Some would like us to think that. That's not going to happen. If people are concerned about them expiring, pass the bill."
Even Sen. Dianne Feinstein, the top Democrat on the Senate Intelligence Committee who is often perceived as hawkish on some national-security matters, said Thursday that a temporary lapse in the spying authority would not be disastrous. "I don't think it's problematic if it's a day or two, or for a short period of time," the California Democrat told reporters. Feinstein has said she will vote for the Freedom Act.
But senior administration officials convened a press call late Thursday to make the case that the Senate must adopt the Freedom Act immediately to avoid operational and legal "uncertainty" for the intelligence community's surveillance activities. The tight time crunch, compounded by the House being out of town until next month, makes the reform legislation the only vehicle on the table that can quickly get to the president's desk and stave off an expiration, the officials said.
Meanwhile, two other Patriot Act provisions set to expire—roving wiretap and lone wolf—are relatively uncontroversial and would be extended unchanged under either the Freedom Act or a clean reauthorization.
The roving-wiretap provision allows investigators to obtain court orders allowing them to follow a suspect who switches phones, instead of needing an individual warrant for each device. The FBI has historically said roving wiretaps are an important tool that allows them not to go dark on targets who might use burner phones.
The lone-wolf language allows intelligence services the ability to spy on non-U.S. suspects not believed to be connected to a terrorist organization or a foreign government. The FBI has said that this authority has never actually been used.
Both roving-wiretap and lone-wolf will also be turned off if the June 1 expiration occurs.
This story has been updated.
We want to hear what you think about this article. Submit a letter to the editor or write to letters@theatlantic.com.
Dustin Volz
is a former staff correspondent for
National Journal
.