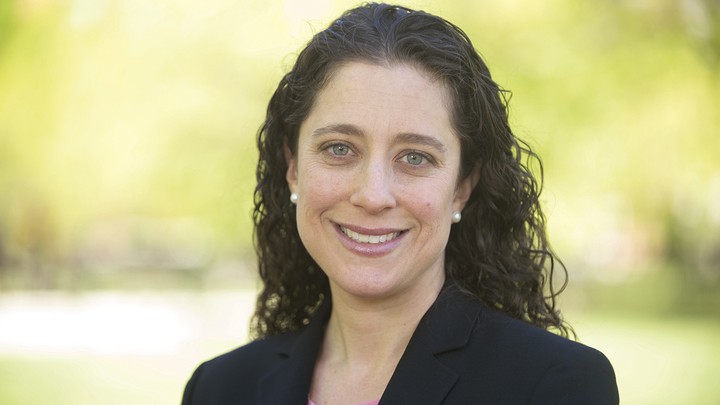 At the White House
Carrie Bettinger-Lopez is White House adviser on violence against women in the office of the vice president. (Chet Susslin)Carrie Bettinger-López
White House Adviser on Violence Against Women, Office of the Vice President
This past March, Vice President Joe Biden announced that Carrie Bettinger-López, 39, would be the new White House adviser on violence against women. The Miami native says she had been feeling like she really wanted "to do something very concrete to move forward women's rights in the U.S.," and then she got the call. "It seemed that the stars were aligned," she tells me. In her new role, which was created under the Obama administration, Bettinger-López, who has spent her career advocating for women on issues including sexual assault and domestic violence, reports directly to the vice president. She serves on the White House's Council on Women and Girls and represents the White House "on all matters of violence against women." Immediately before starting her current job, Bettinger-López was an associate professor of clinical legal education at the University of Miami School of Law and director of its Human Rights Clinic, which she founded.
Around the Agencies
Chanelle Hardy is the new chief of staff to the Federal Communications Commission's Mignon Clyburn. (Chet Susslin)Chanelle Hardy
Federal Communications Commission
When Chanelle Hardy was tapped to be the new chief of staff to Federal Communications Commissioner Mignon Clyburn, she was proud to accept the job as the "eyes and ears" of the first woman and the first African-American woman to serve as acting chairwoman of the FCC, she says. Her new role, which she began May 1, also includes handling the press and "staying on top of what the Hill wants and needs"—and it is one she confesses she had been eyeing for a while. "While certainly this opportunity was very welcome, it was something that had been in the back of my mind for years," she says. Hardy, 37, was previously senior vice president for policy at the National Urban League and executive director of the League's Washington bureau. There, she led policy and advocacy efforts on economic-empowerment issues, including housing, education, employment, and access to health care. Before that, the Olney, Maryland, native served as counsel and chief of staff to former Rep. Artur Davis of Alabama.
Trade Associations
Susan Haney is the vice president of operations for the Beer Institute. (Chet Susslin)Susan Haney
The Beer Institute
This week marks Susan Haney's anniversary at the Beer Institute, where she started 14 years ago as an executive assistant to the organization's late president Jeff Becker. Recently promoted to vice president of operations for the trade group, which represents America's brewers, beer importers, and industry suppliers, Haney says she was always "really interested in the organizational-management side of things" (she majored in office management at Ricks College in Idaho) and that her rise within the organization was a "natural progression." In her new post, Haney, 38, will oversee organizational operations, industry affairs, and government affairs for the group. The Newark Valley, New York, native seems likely to celebrate more anniversaries with a pint: "It's a great industry," she says. "What's not to love about beer?"
Trade Associations
Nicole Gustafson is the vice president for public policy and government affairs for the National Football League. (Chet Susslin)Nicole Gustafson
National Football League
When the National Football League suggested that Nicole Gustafson become their chief Republican lobbyist, the lifelong fan of the pigskin sport couldn't say no. "I'm a huge Iowa Hawkeyes fan," she says, adding that she follows Iowa players when they go pro. "And the chance to combine football with politics—what's better than that?" The former aide to House Majority Whip Steve Scalise (and, before that, then""House Majority Leader Eric Cantor) joined the NFL's Washington office in March as vice president for public policy and government affairs. The job has her splitting time between the league's Gridiron  PAC—where she determines, among other things, which lawmakers and committees to give money to—and lobbying on the Hill. Gustafson, 38, who has a law degree from the University of Iowa, says she has no regrets about veering off the traditional path. "A lot of my law-school classmates went on to practice law," she says. "I got to make the laws that they practiced."
Trade Associations
Danielle Coffey is the vice president of public policy at the Newspaper Association of America. (Chet Susslin)Danielle Coffey
The Newspaper Association of America
Earlier this year, Danielle Coffey, 38, left the Telecommunications Industry Association, where she had worked for more than a decade, most recently as vice president and general counsel of government affairs. Now, the Los Angeles native is using the skills and knowledge she gained during her telecom days to help the Newspaper Association of America advocate for its members in a rapidly changing media landscape. "It was very exciting, because it's another industry transitioning toward the digital space," says Coffey, "and, based on the work I've done in the past, it was a very natural fit." As vice president of public policy at NAA, Coffey—who graduated from Columbus School of Law, the Washington-based law school of the Catholic University of America—will lobby Congress, the administration, and independent agencies for everything from stronger copyright protections to updates of outmoded regulations. The goal, she says, is to "foster innovation across all news platforms, which include print, digital, and mobile."
We want to hear what you think about this article. Submit a letter to the editor or write to letters@theatlantic.com.