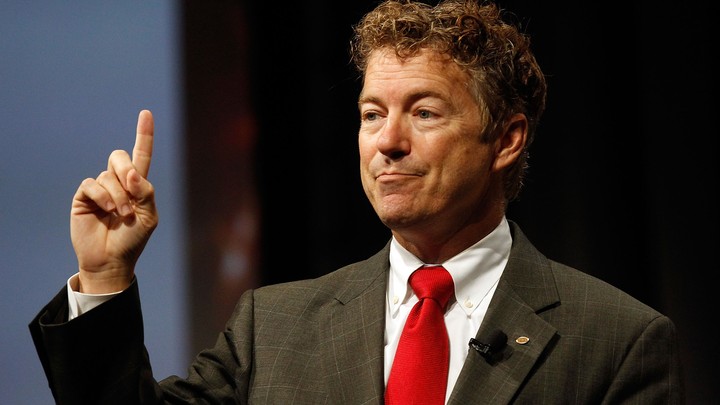 On Wednesday, not one but two Republican likely presidential prospects attacked Sen. Rand Paul for his stances on terrorism and National Security Agency surveillance.
First, New Jersey Gov. Chris Christie put Paul and Sen. Mike Lee on blast for opposing the Patriot Act, and accused them of "siding with" Edward Snowden, the former NSA contractor.
"He's a criminal and he's hiding in Russia, and he's lecturing to us about the evils of authoritarian government while he lives under the protective umbrella of Vladimir Putin?" Christie said in a Fox News interview. "That's who Mike Lee and Rand Paul are siding with? With Edward Snowden? Hey, come on."
Later in the day, the office of Louisiana Gov. Bobby Jindal sent out a press release saying Paul is "unsuited" to be commander in chief, after Paul attacked Republican hawks on MSNBC's Morning Joe Wednesday morning. "ISIS exists and grew stronger because of the hawks in our party, who gave arms indiscriminately, and most of those arms were snatched up by ISIS," Paul said.
"We have men and women in the military who are in the field trying to fight ISIS right now, and Senator Paul is taking the weakest, most liberal Democrat position," Jindal responded in the statement. "It's one thing for Senator Paul to take an outlandish position as a senator at Washington cocktail parties, but being Commander in Chief is an entirely different job. We should all be clear that evil and Radical Islam are at fault for the rise of ISIS, and people like President Obama and Hillary Clinton exacerbate it."
Christie and Jindal are united in three ways: They are Republican governors; they fall on the hawkish side of foreign policy; and they (most likely) would like to see themselves in the White House at some point in the future. However, polls show that Jindal—and to a lesser extent, Christie—are struggling to gain that all-important momentum with Republican primary voters. A recent Fox News poll found that 6 percent of respondents would like Christie to be the Republican presidential nominee in 2016, while just 1 percent of respondents would want Jindal to win the nomination.
Shannon Bates Dirmann, Jindal's spokeswoman, told National Journal that she sees the statement as a criticism of the direction the country could be headed, a point that makes sense coming officially from the governor's office.
"The governor has weighed in on radical Islam for the past six, seven, eight months," Dirmann said. "It's absolutely something he can weigh in on as the governor."
We want to hear what you think about this article. Submit a letter to the editor or write to letters@theatlantic.com.
Rebecca Nelson
is a staff correspondent for
National Journal
. Her work has appeared in
TIME
,
Chicago
,
Ms.,
and
Washingtonian.
Emma Roller
is a former staff correspondent for
National Journal
.