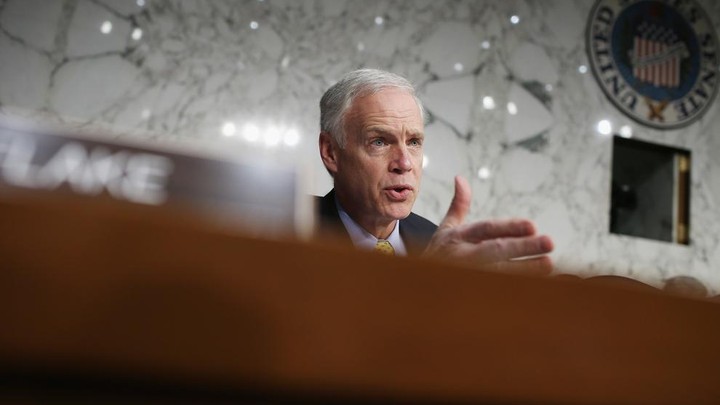 If Sen. Ron Johnson of Wisconsin loses his job, it won't be because his constituents lost their health insurance under President Obama's signature law.
That's the hope, or so it seems, behind Johnson's plan in case the Supreme Court rules in the much-anticipated King v. Burwell case to eliminate subsidies received by 8 million people enrolled in health care plans purchased under the Affordable Care Act's federal exchanges.
Although Republicans want to repeal Obamacare just as badly as ever, the Court could end up striking down the ACA's subsidies long before any new replacement health care law could take effect, potentially making coverage unaffordable for thousands, if not millions, of people and throwing the insurance market into chaos.
Johnson isn't the only vulnerable GOP senator who has a strong incentive to put forward a solution should the Court rule against the Obama administration. Several Republicans in danger of losing their seats to Democratic challengers represent states with federal exchanges, and the demise of the insurance market is not good fodder for any reelection campaign.
These vulnerable Republicans include Sens. Johnson, Richard Burr, Rob Portman, Mark Kirk, Roy Blunt, Pat Toomey, and Kelly Ayotte.
"I think if the Court rules for King, you'll have the number one political issue of the year. I don't see any other way," said Doug Holtz-Eakin, president of the American Action Forum, a center-right think tank. "This is the president's signature domestic accomplishment. It's threatened. It would require a legislative fix. It is highly unlikely Republicans would do what the president asks."
But only some of the at-risk senators have said what they would do if King wins.
The challenge to Obamacare hinges on four words appearing in the part of the law dealing with coverage subsidies, which are designed to help people afford health insurance that is mandated under the ACA. The law says, the plaintiff's argument goes, that these subsidies apply only to exchanges "established by the state"—excluding the 34 exchanges set up by the federal government.
Republicans generally have three options to choose from if the Court sides with King: They can do nothing, they can try to pass a "repeal and replace" bill, or they can put forward a response targeted to the King ruling.
President Obama's reaction to the first two options is fairly predictable, Holtz-Eakin said: blame the GOP.
"I don't think it takes a great deal of imagination to think about the president with the power of the pulpit coming out of the White House talking about how Republicans have crassly and indifferently tossed 7.7 million people off of their health insurance," he said. "They can do some sort of repeal and replace, and then the president will counter with, 'They are just taking advantage of this moment to do what they've been trying to do for political reasons for seven years, which would take us back to when insurance companies ran American health care.'"
Obama isn't the only one who will blame Republicans: Senate Minority Leader Harry Reid recently said in an interview that if King wins, "that's a problem that the Republicans have."
So that leaves the targeted-response option, which could include Johnson's legislation, as the most attractive. While it would never pass under Obama, Johnson's bill has gained the support of many of his GOP Senate colleagues—including other vulnerable incumbents like Illinois's Kirk and Missouri's Blunt who represent states most affected by the ruling—by marrying conservative principles with a politically favorable outcome, delaying any potential loss in coverage for months after the 2016 elections.
"I think people are looking—if the Court rules as it should, with what the law states—what's our response," said Johnson in an interview this month. "And I think it's a pretty reasonable response. It encompasses the objectives of giving us another chance to repeal and replace Obamacare."
Johnson's proposal—like most of the other King fixes that have been floated—extends some form of financial assistance until a new president is in office. If it's a Republican, he or she would sign the Obamacare-repeal bill that Obama wouldn't.
But Johnson's bill, which would extend the eliminated subsidies until August 2017 while also repealing Obamacare's individual and employer mandates, hasn't caught on with every threatened Republican from a federal-exchange state. Toomey of Pennsylvania, Burr of North Carolina, and Ayotte of New Hampshire have yet to sign on as cosponsors. Neither has Ohio's Portman, who filed an amicus brief on the side of the plaintiff with five other GOP senators, giving himself another layer of responsibility if King wins and almost 200,000 Ohioans lose their subsidies.
These senators have several other options to consider. Sen. Ben Sasse has introduced legislation that would allow Obamacare enrollees to continue receiving assistance, and Sens. Orrin Hatch, Lamar Alexander, and John Barrasso have proposed a transitional period allowing people to keep their coverage and states to set up their own insurance markets. Sen. Bill Cassidy has outlined a plan that would allow states to opt out of Obamacare, saying his plan would build on the others.
Dan Mendelson, CEO of Avalere Health, an independent consulting firm, thinks there is an advantage to those who act before the Court announces its decision.
"If the Court rules for King and there is a groundswell of discontent and anger that bubbles back against the candidate, they can't then try to put the horse back in the barn," Mendelson said. "They have to take a stand before the Court rules in order for this to be an effective communication strategy. If they don't, they're going to look like they're just responding to public pressure—because there will be public pressure."
Holtz-Eakin isn't so sure pitching a fix before the Court announces its decision is necessary, or even beneficial. He also doesn't think it will matter whether or not a vulnerable senator put forth his or her own solution or supports someone else's.
"I think it's going to depend on the candidate," he said. "Richard Burr has a long history in health care. He doesn't have to demonstrate that he has ideas on the issue. It's not obvious to me you have to demonstrate you have ideas on this, as long as you are a part of making sure there's a solution."
Burr, along with Hatch and Rep. Fred Upton, introduced legislation replacing Obamacare prior to the March King oral arguments. But in a February interview with Fox News, he said he didn't think Republicans would be able to rally behind a single replacement plan this session.
"We're going to know a lot more after the Supreme Court hears the King v. Burwell case, and that's going to be a short-term interim response," he said. "The long-term is, how do we revamp this in 2017 and after so it works for America's patients?"
It's unclear if Republican senators really need to choose; a dozen of their new colleagues won seats in 2014 without having to elaborate on a specific Obamacare alternative. Over half of the public hasn't heard of King v. Burwell, according to a March Kaiser poll, although 65 percent of Americans believe Congress should act so that people in every state can be eligible for financial help to purchase health insurance.
Of course, post-King legislation alone won't determine the election. And should subsidies be taken away and then somehow legislatively fixed, it's realistic that 2016 GOP candidates could find themselves in the same old boat of discussing how to repeal and replace Obamacare down the road.
But for all the colorful language Republicans use to talk about the law's shortcomings—Burr called it "the President's health care debacle" in his February replacement-plan announcement—replacing is no simple task and there is no one-size-fits-all solution.
Fergus Cullen, a former New Hampshire GOP chairman who purchased health care under the federal exchanges after losing his coverage, said in an interview, "It is inadequate to [only] say I'm for repealing Obamacare," as many Republican voters see the "nuance and see gray."
"It's not an abstract debate or an abstract discussion," Cullen added. "It's one that is very real and affects real people in our community, the people that everybody knows."
We want to hear what you think about this article. Submit a letter to the editor or write to letters@theatlantic.com.
Caitlin Owens is a health care reporter at National Journal. Her work has previously appeared in the Los Angeles Times, The News & Observer and The Charlotte Observer. She is a graduate of the University of North Carolina at Chapel Hill.
Alex Rogers covers Congress as a staff correspondent for National Journal. He previously worked as a political reporter at TIME. He is a native of Bethesda, Maryland and a graduate of Vanderbilt University.