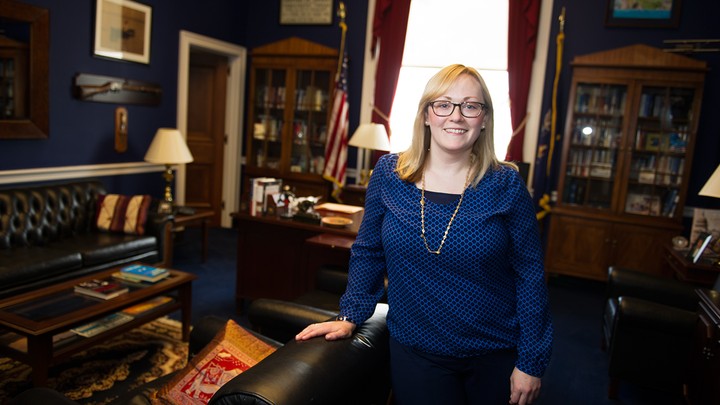 When Tricia Russell was a Senate intern looking for a permanent job on the Hill, she applied to every entry-level job she could find.
She was working in Sen. Edward Kennedy's office—to the delight of her Irish Bostonian family—and sent in an application one day to be an administrative assistant. What Russell quickly learned, however, was that the ad she responded to was for a much higher position: She'd mistakenly applied to be someone's chief of staff.
Now chief to Rep. Steve Israel, Russell imagines what the recipient of her resume must have thought.
(RELATED: Why Some Male Members of Congress Won't Be Alone with Female Staffers) 
"Who is this kid from Boston who thinks they can start out at the top?" she says.
But 10 years later, she's there—at the top. As Israel's chief and close adviser, Russell, 32, has had a hand not only in leading the New York Democrat's policy and constituent-services agenda, but also in his leadership roles among House Democrats. And she has a "good combination" of experiences from legislative and messaging angles, one colleague said, that influences her work.
Israel stepped down from his position as head of the Democratic Congressional Campaign Committee in November after a tough midterm election for House Democrats. This year, he became chair of a new group whose mission is to avoid a similarly devastating fate in 2016: the Democratic Policy and Communications Committee, which will be streamlining the caucus's messaging. Russell oversees the DPCC's team, making sure the 15 other Democratic members have an input on the caucus-wide effort.
(RELATED: What's It Like to Be a Woman on Capitol Hill?) 
The caucus's diversity was the reason why the DPCC was founded in the first place. After House Democrats lost 13 seats in the midterms, leadership—including Israel himself—said the caucus's failure to establish a unified message had been problematic. Republicans are known for adhering to the party line; Democrats, not as much.
Israel said that when the DPCC was being launched in January by Minority Leader Nancy Pelosi, Russell was the one who made sure the "infrastructure" of the group was representative of the "full values and diversity" of House Democrats.
Part of the group's focus—and, thus, Russell's—will be to craft a message "that the American people can be motivated by," and to make sure the party sufficiently responds to the GOP, Russell said.
Karen Lightfoot, communications director and policy adviser for Sen. Brian Schatz of Hawaii, said she sees Russell playing a "very critical role" not only in Israel's success, but in the House Democrats' gains as well.
(RELATED: The 20 Most Powerful Women Staffers on Capitol Hill) 
Russell has been working for Israel her entire professional career, starting as a staff assistant in 2006 and working up through the office until becoming chief of staff two years ago. As a legislative assistant and then legislative director, Russell focused in part on energy and the environment, including water and energy appropriations and the "Cash for Clunkers" legislation her boss introduced in 2009.
Rachael Bornstein, chief of staff to Rep. Suzanne Bonamici of Oregon, worked with Russell on the Sustainable Energy and Environment Coalition when it was established in 2009. Israel was a founding cochair of the group, and Bornstein said Russell was integral in helping members sort out their policy priorities. The group needed to establish one voice, and Russell was successful at discerning which policies to promote and how to do so.
"The great thing about Trish is, she was not only good at messaging but she was really good at the policy," Bornstein said. "It seems like that's easy on the Hill, but it's really difficult to find staff who understand how all the different parts interact."
Israel said that not all chiefs of staff are equally capable with policy, politics, and messaging, but Russell is. He remembers being on the House floor with Russell and noticing something surprising.
"I would watch other staffers approach her on the floor asking her for advice, and what really thrilled me is when other members were talking to her," he said. "She's just established this reputation as someone whose judgment you can count on and who just [understands] how to get answers to questions, whether you're a member or a staffer."
Elizabeth Stanley, chief of staff to Rep. Nita Lowey, said she's worked closely with Russell in their capacity as chiefs to Democratic New Yorkers in neighboring districts.
The offices can get pretty competitive with each other as they vie for attention in the high-profile local media market; as Russell notes, getting noticed can be tricky when constituents' daily paper is The New York Times.
But the New York delegation, particularly in the greater Manhattan area, is tight-knit, Stanley said, and the Israel and Lowey offices work together on their common interests.
"She's a chief of staff that I am perfectly comfortable picking up the phone and having a straightforward, honest conversation with" and not have to worry about "anybody throwing elbows or "¦ staking territory," Stanley said. "It's easy to work with Trish towards just an end and building consensus and a game plan to get something done."
And Russell wants it that way. She compares the Hill to "400-plus small businesses" wherein everyone "operates in their own unique ecosystem." Being a chief can be overwhelming, she said, and she aims to support others in her position. This time of year, too, she said, she takes a lot of meetings with young people looking to work in Congress.
"I believe in the karma of Capitol Hill," Russell said, describing how she tried to secure her own meetings as an intern when seeking a job. "You never really know where somebody is going to end up and you never know if you would be where you are if people hadn't met with you."
Correction: An earlier version of this story incorrectly referred to Sen. Brian Schatz as a House member.
We want to hear what you think about this article. Submit a letter to the editor or write to letters@theatlantic.com.
Nora Kelly
is a senior editor on
The Atlantic
's politics team.